Inventory inaccuracies. Disconnected systems. Wasted time. All this and more hampered Superprem's growth until they found Acumatica cloud ERP. In this first post of our new series featuring Acumatica customers, the company's success story is a great example of how your company can use Acumatica to overcome the same growth-hindering challenges.
"Inventory was a nightmare. We would only get accurate inventory once a month," says Kevin Chiang, Chief Business Development Officer for Superprem Industries. Sound familiar? Fortunately, there's good news: the company transformed its business processes—increasing inventory, communication, and reporting efficiency and upping their customer satisfaction—after implementing Acumatica's easy-to-use and customizable cloud ERP, which has been ranked highest in usability by Nucleus Research for three years in a row.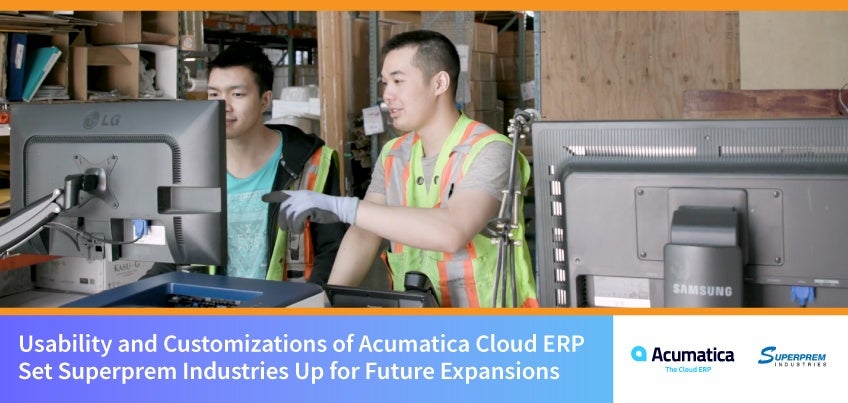 Superprem's success with Acumatica cloud ERP
Superprem, with headquarters in Richmond, B.C., Canada and distribution centers in Calgary and Montreal, imports sinks, plumbing fixtures, small appliances, and other household products from China and Europe, selling and distributing them throughout Canada. The company was formed in 1998 by John Chiang, who started it as a Diamond Tool distributorship for counter top makers.
When Kevin joined the family-run business in 2013, the company was doing well—but further expansion was hindered by their outdated, disconnected financial system. He knew their four locations (each one running on separate Sage databases) needed to be linked and in a way that provided real-time inventory, visibility, and communication while also allowing all users to log in at the same time.
Kevin began to research his options and found that no other ERP vendor's cloud ERP software could compare to Acumatica. One major difference was Acumatica's unique unlimited user model. Because Superprem has low usage but a high number of users, it was an attractive benefit. In addition, he'd heard how Acumatica, the true cloud ERP, not only invests in their product and ERP platform as well as offers two major releases every year (the most recent being Acumatica 2018 R2, which focused on customer satisfaction and usability), but also requests customers' feedback to direct future developments.
"Acumatica was newer, and (reference) consultants said they had a very vibrant community pushing the (Acumatica development) envelope compared to legacy ERP software companies who were not making many changes or improvements," Kevin says.
Superprem chose Acumatica VAR The Answer Company, to help them implement Acumatica's Intercompany module.
"Acumatica's intercompany module has been incredible," he says. "We have two companies, the company that holds the stock, and then another that does distribution, so there are a lot of cross transactions and the accounting was a nightmare in Sage. But it's all integrated in Acumatica, saving us tons of time. The system does it all for you, and intercompany transfers are now a breeze."
They also implemented Acumatica's Financial Management, Distribution, and Customer Management editions. They're looking forward to the additional functionality and interoperability these ISV extensions will bring them: American Payment solutions (APS), EazyStock, and Scanco Warehouse for Acumatica.
Here's a list of the impressive benefits they've experienced since they selected Acumatica cloud ERP:
Streamlined operations and communication
Real-time inventory visibility
Reporting efficiency
Improved customer transparency and satisfaction
Increased data analyzation
Boosted sales
Superprem no longer struggles with disconnected databases, inventory discrepancies, or communication breakdowns. With Acumatica's easy-to-use, flexible, and customizable cloud ERP software and ERP platform, the company's efficiency, customer service, and profitability have sky-rocketed. Their desire to expand further into Canada is now possible.
"All in all, Acumatica will transform the way our firm conducts business…," Kevin says.
Hear and see more about Superprem's satisfying experience with Acumatica's comprehensive cloud ERP.
Acumatica cloud ERP can do the same for you
You and your organization can have the same results as Superprem. Look into Acumatica's adaptable, award-winning cloud ERP software and ERP platform. You can start your research by downloading Gartner's recent Magic Quadrant report for free. In it, you'll find that Acumatica was scored the highest in customer satisfaction among the 11 other evaluated cloud financial solutions. We also invite you to attend Acumatica Summit 2019, taking place January 27-February 1, 2019 in Houston, Texas to learn more.
For any questions or for a demonstration, contact our team.
Kevin is glad he did. "I am constantly amazed with how Acumatica seems to just "work." Anything we seem to imagine the system could do, we've been able to make happen without the assistance of external modifications."
We hope to hear from you!