Acumatica believes that customers deserve better cloud ERP business application vendor practices. That's why we've created a Customer Bill of Rights, and we challenge other cloud ERP software vendors to follow our lead.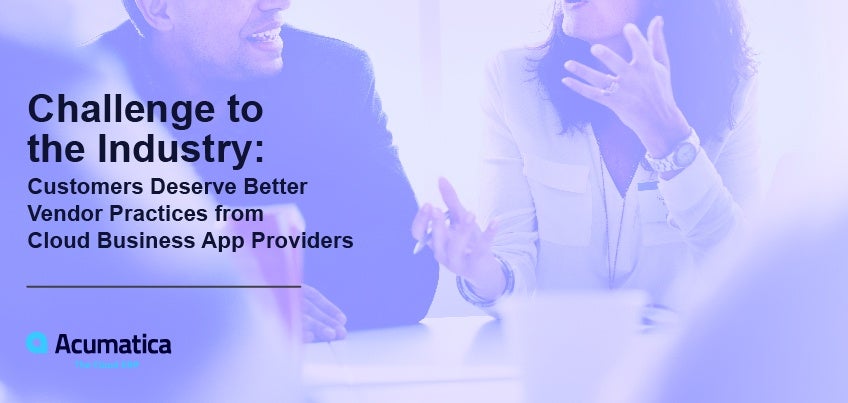 You likely know the Latin term "caveat emptor." It means buyer beware, and it puts the burden of due diligence on consumers before they purchase a good or service. This is especially critical for large expenditures, such as a cloud ERP system.
Selecting the right SaaS business applications is more than researching what the product can do. Your selection must also be influenced by the cloud and SaaS vendor's software business and SaaS End-User License Agreement (EULA) practices. Unfortunately, these practices are not always above board, creating a huge challenge for customers. However, Acumatica has accepted this challenge on their behalf.
We believe in protecting customers against unscrupulous practices and are dedicated to keeping our customers' needs and wants at the forefront of our product roadmap. Their satisfaction combined with our focus on innovation is vital to our continued reign as the fastest growing cloud ERP solution on the market.
We also believe that customers have certain inalienable rights, but we're not just talking about it. Instead, we're honoring these rights by establishing an "Acumatica Customer Bill of Rights."
Acumatica's Customer Bill of Rights
Acumatica customers have a right to:
Easy to understand and not frequently modified End User Licensing Agreement (EULA)
A flexible, open platform for rapid integrations
Consumption-based licensing that does not inhibit business growth
Sustainable pricing with annual increases of no more than 3%
ERP implementations without hidden fees
Deployment flexibility
Ownership of and access to THEIR data, anytime
Consistent, 24/7 customer service
Local business expertise
Dual layers of support
The list is long, but we've been successfully guaranteeing these rights from day one.
For example, Acumatica's SaaS end-user application agreement is unique in that it is easy to understand, unlike competing cloud ERP vendors.
Another example is Acumatica's unique pricing structure, which is based on the computing resources you use, not on the number of users permitted into the system. You're not required to pay for additional licenses, even when you add casual users, suppliers, and customers to the mix. Instead, we base our pricing on three related factors: what applications you want to use now; what type of license you choose (SaaS Subscription or Private Cloud Subscription); and what your projected level of consumption is based on the volume of your business transactions and data storage. Customers should not have to lose sleep over additional costs limiting their growth.
Acumatica is the only vendor that offers both public and private cloud deployments, which can be switched as needs change. Data ownership? It's your data, and you can access it at any time. ERP implementations? They're handled by our expert Acumatica VARs without hidden fees, and we do not charge for training. In fact, the Acumatica Open University is an amazing, free resource available to anyone who wants to learn about Acumatica's cloud ERP software.
Finally, Acumatica is committed to providing our customers with a fully integrated, innovative, and constantly improving solution based on an open, flexible platform. Twice-yearly releases (our most recent was Acumatica 2019 R1) are based primarily on user feedback and provide enhancements that increase usability and customer satisfaction. And over 70% of our employees are in R&D as we continue to adopt new and emerging technologies such as AI, machine learning, and more.
Challenge issued. Who will meet it?
I'm issuing a challenge for other cloud ERP vendors to fix their unscrupulous business practices. Whether they accept or decline, our current and potential customers know that they matter to us, and that their rights are always a top consideration.
If you're seeking a reliable, affordable, innovative, and trustworthy cloud ERP vendor, then you've found it with Acumatica. I don't say this lightly and invite you to investigate our claims by comparing our SaaS cloud ERP with other solutions. You're also invited to contact our experts with any questions and/or to request a demonstration, and check out our customer success stories for more information.