Defining Field Service Management and considering the benefits of implementing mobile field service software increases a business' ability to meet customers' high expectations and give them an edge over competitors. Adopting an all-encompassing ERP, such as Acumatica, integrates field service needs with financial and reporting procedures, streamlining your operation for optimum performance.
"Our employees now easily save an average total of 10-20 minutes per customer, as all customer-related and job related information is integrated and in one place. The whole process, from sales to operation to finance, is much better, as this is now controlled and processed through Acumatica."
This quote, from One Hygienic Managing Director Wong Tshun Peei, explains why service companies around the world are turning from a legacy system with end-of-life software to cloud-based field service dispatch software as a way to streamline their operations, save money, and provide the highest quality customer service possible.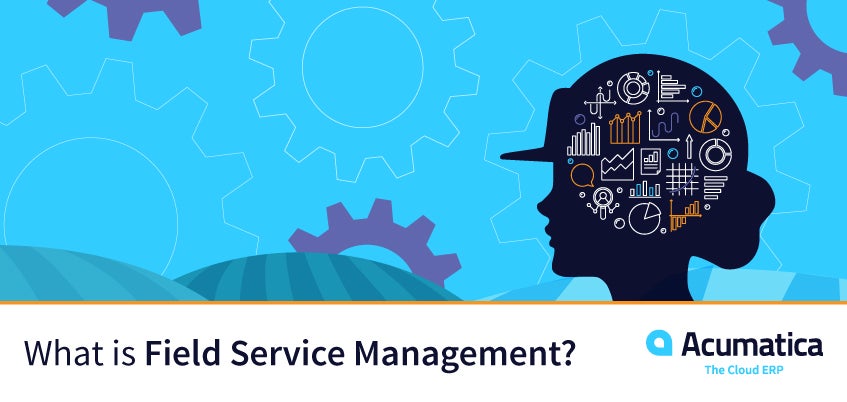 We'll take a closer look at One Hygienic and the financial strides they took resulting from implementing Acumatica as their integrated ERP in a moment. First, let's talk a bit about Field Service Management and how it may impact your service-providing company.
A look at Field Service Management and its substantial benefits
Field Service Management (FSM) is defined as simply managing your company's resources and work force – who are deployed in offsite locations or who do their job at the customer's location – using mobile field service software. Examples of industries who utilize FSM are telecommunications and cable, in-home health care providers, utility, landscaping, home/office cleaning, and HVAC repair businesses. The technicians work directly with the consumer and may sometimes be the only direct contact between the customer and the company; their interaction is significant to the overall success of the operation. With this in mind, the intent behind implementing field service scheduling software is enabling companies to meet – and hopefully exceed – customer's expectations in terms of efficiency, timeliness, cost, and satisfaction.
Because customer satisfaction is a cornerstone for every business' success, Acumatica's recently released Field Service Edition focuses on meeting our customer's needs through streamlining, dispatching, and reducing response times (among many other things) through our web-based, fully mobile applications. Our mobile field service software is not an additional application but is integrated within Acumatica's all-encompassing ERP. In other words, it's not an afterthought, but rather an integral part of the end-to-end service we offer our customers.
Traditional service organizations may see the value in updating their field service methods but sometimes the tried-and-true measures are comfortable and safe; upgrading sounds like a challenging task. While this may be true, the numerous benefits of automating your field services operations make it all worthwhile. Here are a few reasons why:
Mobile Service Management: Field technicians and headquarters remain connected throughout every service; each technician has complete access to all service information and customer data whether on a phone, iPad, or laptop. The "field" aspect of field management has evolved from being "out-of-reach" to being "in constant contact" – the ability to autonomously handle every situation with access to easily available resources.
Scheduling: Efficiently dispatch the proper personnel with the appropriate skills to each unique worksite; service requests, customer information, product history, and required materials are instantly at the technician's fingertips, equaling time saved for everyone. Schedules are created automatically or by using tools on the graphical dispatch board, identifying the status of service orders easily.
Route Planning and Map Integration: Dispatchers utilize web-based mapping applications to chart routes, using the real-time information to reduce driving time. Emergency service calls are no longer an emergency – add the unplanned appointment to the already planned routes with ease. Notify the technician instantly and send the new service order directly to their mobile device.
Equipment Maintenance and Inventory Management: Integration of sales, service stores, inventory, and purchasing means technicians manage their equipment and inventory of tools and repair parts efficiently and easily. Tracking records are updated and accessible for every job.
Dashboards and Business Intelligence: A personalized dashboard takes unfiltered data and transforms it into progress and trend reports.
Acumatica's Field Service Edition provides all of these benefits and more. At this point, the idea of returning to spreadsheets, the work order paper trail, and communicating with calls or emails may sound time-consuming, inefficient, and not the best way to meet rising customer expectations – nor a way to beat the competition. The list above doesn't even include the benefits of Service Contract and Warranty Management along with the ability to Track Project Costs through Acumatica's FSM Suite. You can read about more details and benefits here.
Success story underscores the benefits of mobile field service software
"We are always on the go, and being able to check important information, such as updates on appointment timings or cancellations, new appointments, new leads requesting a site visit and demo, as well as recurring scheduled appointments, from any tablet and smartphone, ranked very high in our selection process. We also have different people on different platforms (Windows and Mac) and it was important that both platforms could use the new ERP," says Peei.
One Hygienic, headquartered in Malaysia, provides residential and commercial indoor cleaning using advanced technology and natural, organic cleaning compounds. They needed to switch from Excel and SQL accounting software to an ERP that had the capability to implement quickly and meet governmental compliance standards for taxes and reporting. Acumatica's functionality, SaaS option, user interface, and remote access gave us the winning edge.
Peei says, "Overall, productivity gains with no time wastage translate into cost savings and better profits for a business like ours, where man-hours are a critical cost factor."
There's more to their story that may encourage any company considering field service scheduling software as a way to boost business and customer satisfaction. Please find here the rest of the story of successful ERP implementation.
Field Service Management is a key component in customer satisfaction
As you've read, Acumatica's Field Service Edition works with CRM, sales, inventory, purchasing, accounting, and financial reporting – all of which smoothly integrate to provide every field service organization with an automated, all-encompassing system for simplifying and streamlining customer service. Field Service Management software has replaced traditional methods. Is it time for your business to come on board? Contact us so that we can discuss what that means for you and the future success of your company.
Stay tuned for an upcoming blog post about what questions to ask when evaluating mobile field service software providers.