User satisfaction greatly impacts a buyer's decision to purchase a product, and G2 Crowd leverages the power of thousands of peer reviews to help you with these decisions. Their newest report comparing accounting products places Acumatica cloud ERP ahead of the pack.
One of the best ways to know if the software you're planning to buy is the right one for your organization is by reading peer reviews. This is where G2 Crowd comes in. They're the leading business software review platform, using over 400,000 verified user reviews to compare software options. Their new report compares user satisfaction on accounting product software and pits Acumatica against three established competitors. Out of 26 categories, Acumatica won 16.
"We are extremely proud of these results, leading in 16 of 26 categories," said Jon Roskill, CEO, Acumatica in a recent press release. "This is a testament to the quality of the product and services and support provided to Acumatica customers. As customers modernize their businesses Acumatica Cloud ERP is at the center of their digital transformation."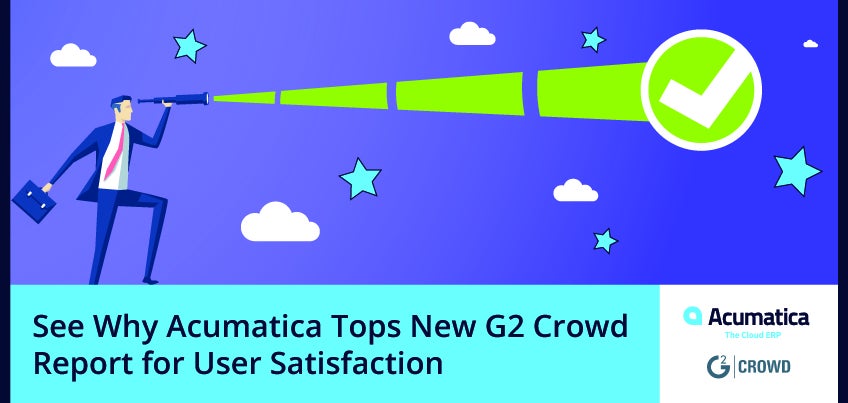 Users rate Acumatica cloud ERP 4.2 out of 5 stars
In the free G2 Crowd Comparison Report, the 26 categories users rated the four vendors on include:
AR Automation
Invoice Customization
Audit Trail
Customization
Budgeting/Forecasting
Multi-Entity/Consolidation
Inventory Pricing and Costing
Data Import and Export Tools
Custom Reporting
Time and Expense
And more
G2 Crowd comparison reports are based on reviews by confirmed users, and these reports, according to G2 Crowd, go even deeper than their Grids. They only use data from public sources. Technology buyers, investors, and analysts can confidently compare their software options before making their selection.
"Our comparison reports feature a side-by-side assessment of up to six competing products based on customer satisfaction ratings, while highlighting the leading product for each metric," said Rob Light, research principal, G2 Crowd.  "Acumatica achieved high levels of user satisfaction compared to similar ERP products in the market, highlighted by AR Automation, Invoice Customization, and Output Document Generation."
The end user's experience is our top priority. Acumatica is a true cloud ERP. What makes us different is that our platform was built using modern, cloud-based, and innovative technology from the ground up. Our modern cloud ERP platform allows you to focus on growing your business and not on the technology that runs it. From one system, you can access financials, CRM, manufacturing, distribution, and more. And it's fully customizable.
Gartner's Magic Quadrant for Cloud Core Financial Management Suites for Midsize, Large and Global Enterprises names Acumatica as having the highest customer satisfaction of all vendors surveyed. Users based their scores on Acumatica's usability, quick and easy implementation, above-average core ledgers, and ability of our cloud ERP software to meet their needs.
Analysts at Nucleus Research ranked Acumatica as the highest in usability in their ERP Technology Value Matrix 2017 report. They wrote, "Excelling in several industries including manufacturing, wholesale distribution, retail, food and beverage, nonprofits, and services, part of Acumatica's strength comes from the ability of its platform to address the needs of almost any customer."
One nonprofit organization that evaluated many ERP providers and ultimately chose Acumatica is Great Commission Publications (GCP). The company, which produces Sunday school curriculum, needed a cloud ERP solution that could handle their financial and operational data needs.
Director of Operations Jerry Wallace said this when they found Acumatica: "It seemed like it fit everything we would need or might even imagine ourselves doing in the future. I called two or three Acumatica users; I asked if it was robust enough. They laughed and said they weren't using 10% of its capabilities."
Since implementing Acumatica's ERP software, they've benefitted from having an Acumatica partner located near them for face-to-face meetings, using Acumatica's numerous reporting capabilities, having remote access to the system, and being able to manage their customer order flow more efficiently.
"Acumatica is definitely a financial and operations platform that is helping GCP get the data it needs to make decisions and execute operations quickly and efficiently," he says. "I'm pretty excited about what it's going to look like going forward."
Their full story (along with other stories of customers who have found success using Acumatica cloud ERP) is available for you to read.
Find out if Acumatica's cloud ERP software is right for you
Doing your due diligence before making a large purchase, such as a cloud ERP system, is necessary. G2 Crowd's report is one source of unbiased, factually-based information.
You can also evaluate Acumatica's ERP software and platform in person is by attending Acumatica Summit 2019 in Houston, Texas (January 27-February 1, 2019). You'll have the chance to network with actual users and with Acumatica partners and executive team members, who make it a point to be available during the entire event.
Finally, you can contact us at any time. We want to help you to find out if Acumatica's complete, streamlined, and adaptable cloud ERP solution is right for you.