Who doesn't want to work smarter rather than harder? Acumatica's second release of the year, Acumatica 2020 R2, introduces enhanced usability features to help cloud ERP users do just that.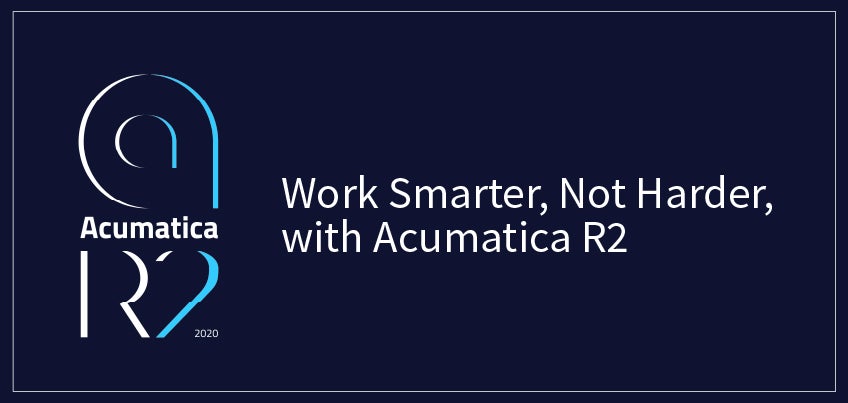 The idea of "working smarter, not harder" originated in the 1930s. It's attributed to American industrialist Allen F. Morgenstern, the creator of the work simplification program. Though the quote is nearly a century old, the meaning still holds today: Finding the easiest, most efficient way to complete a task saves a lot of wasted time and effort.
We're 100% onboard with this idea here at Acumatica. We've made our cloud-based ERP solution easy to use and to understand for every user, and our new release, Acumatica 2020 R2, is designed to increase that usability even further.
Usability and Acumatica 2020 R2
In a recent post, I explained why making ERP usability a priority when evaluating and selecting your cloud ERP options is necessary. By doing so, you'll choose a user-friendly cloud ERP solution that will increase user/employee satisfaction, productivity, and business growth.
ERP usability is also a differentiator. Nucleus Research's 2020 ERP Technology Value Matrix—an evaluation of 23 cloud ERP software vendors on their usability and their functionality and potential ROI—says Acumatica customers feel our usability differentiates us from our competitors. Specifically, Nucleus Research analysts note that users can:
Be onboarded quickly
Collaborate efficiently across departments and geographies
Configure their implementation to match existing best practice while promoting the move away from siloed data and processes
To further enhance this ERP usability for our customers, our second release of the year, Acumatica 2020 R2, provides several usability enhancements, discussed in our now on-demand Acumatica 2020 R2 Virtual Launch Event. Here's an overview:
Save time and reduce expenses by automatically creating AP documents from vendor bills
Access up-to 500 recently visited records list instantly
Troubleshoot import errors with in-cell error reporting
Save time with address lookup and enrichment
Retrieve data more quickly with query join suggestions and previews
Automatically refresh dashboards in common areas
Consolidate notification engines under Business Events and reduce confusion
Easily change the screen ID of generic inquiries with the Change Screen ID button, reference a screen with a hidden key field, and preview inquiries in a side panel
Acumatica 2020 R2 enhances Acumatica's already user-friendly, intuitive cloud ERP solution. Our customizable screens, workflows, and processes, as well as cloud ERP personalization (among many other things), helps simplify end users' daily business management duties.
Work smarter, not harder with Acumatica Cloud ERP
With every new release, users can expect usability enhancements to Acumatica's award-winning cloud ERP software. We're dedicated to making doing business easier, even more so during these unprecedented and stressful times.
"Digital transformation has become a requirement," Acumatica CEO Jon Roskill says in the Acumatica 2020 R2 press release. "With so many businesses operating from remote locations and home offices now, it's more important than ever to have a single source of business truth that is accessible to anyone, anytime, from anywhere, which can also integrate easily with mission-critical applications such as Shopify or new requirements such as videoconferencing or group chat."
Our ERP usability has played a massive role in Acumatica being named an ERP leader by G2, IDC, and Nucleus Research. For more details on our most recent awards, check out what G2 reviewers have to say, why Acumatica is again named a G2 mid-market Leader, why Acumatica is an ERP system Leader by G2, and why IDC names Acumatica a Leader.
Acumatica is committed to helping you work smarter, not harder. To learn more and/or to schedule a demonstration, contact our team today.