Why does xByte Technologies recommend Acumatica cloud ERP to companies looking for a modern ERP solution? Partnering with Acumatica cloud ERP has provided amazing benefits, including upping their already stellar customer service game.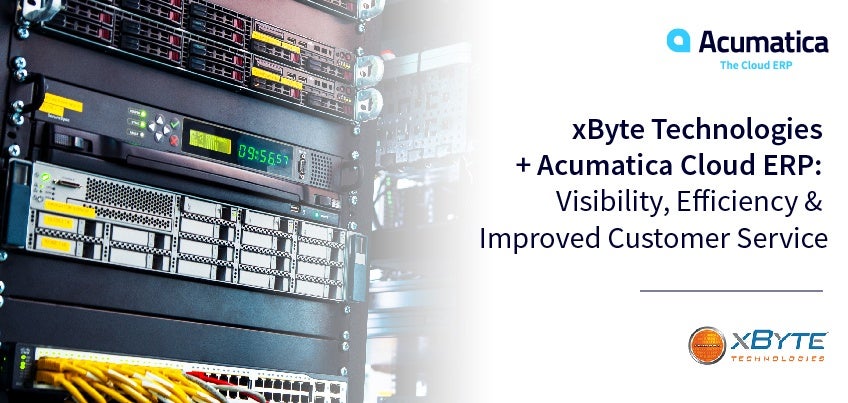 The founder of xByte Technologies, Tom Santilli, believed customer service should be a priority. Due to his lack of "service" during his time as an IT Director, he determined that his business would treat customers how he expected to be treated. xByte's incredible growth testifies to his success, but when the company's ERP system began to show signs it couldn't handle their growing operations, the need for a modern, cloud ERP solution became clear.
"We knew…we would have to move to a platform that was more future-proofed and to an ERP that could automate many of our operations," says CEO Ryan Brown in xByte's customer success story.
xByte's complex processes no match for Acumatica cloud ERP
xByte Technologies provides refurbished Dell servers and network switches. "We break servers down into individual parts with serial numbers, but since we don't necessarily sell them as that part, our inventory process can be a bit complex," Brown says.
His search for B2B eCommerce software, CRM software, distribution management, and financial management software that could not only handle their complexity but exist within a single solution had him bypassing NetSuite and Microsoft Dynamics and landing on Acumatica. Acumatica's flexibility, customizability, dashboards, ongoing development, and automation capabilities proved to be a winning combination.
"Acumatica also makes it very easy to integrate with other software and has many more features," he says.
Acumatica VAR Crestwood Associates assisted xByte throughout the implementation process, and Ryan considers them the "perfect partner" because of their knowledge of distribution. With Crestwood's help, xByte implemented Acumatica Financial Management, Acumatica Customer Management, Acumatica Distribution Edition, and Acumatica Commerce Edition, which includes the Kensium Magento Connector for a tight integration with the leading eCommerce platform, Magento.
Ryan explains that the Acumatica and Magento integration is exactly what they needed. "We love it. We've seen many times when we've needed to add customizations, and it's been able to scale with us every time. The Magento and Acumatica [Connector] is perfect because it works together—integration is already built."
How has xByte benefitted from Acumatica?
The benefits of implementing Acumatica's cloud ERP software include:
Improved visibility into financials (including AR)
Faster look-up capabilities, saving them a couple hours a day and increasing sales responsiveness and productivity
Greater flexibility in connecting with third party software with ease, such as FedEx
Major time savings by shaving three hours a day from daily invoicing
Increased efficiency through streamlined warehouse operations
And they've benefitted from Acumatica's game-changing mobility. "I was at dinner with a customer recently who asked if we had any availability on a part. With Acumatica, I was able to pull up our inventory on my phone, see exactly what we had, and let them know," Ryan says.
His ability to respond immediately to customer requests helps him fulfill Tom's mission to provide superlative customer service. Ryan tells Jon Reed in a 2018 digonomica article, "We want to be a different kind of company. We are relentless at that customer service standpoint. If something goes wrong, we trip over ourselves to be able to make things right for them."
In the same digonomica article, Ryan discusses using Acumatica's BI options (e.g. Acumatica's dashboards, Excel, and Power BI) to build their pricing engine. "For us, business intelligence is pulling from multiple sources to get the data. There is no possible delay on that kind of stuff," he says. "We'll actually have crawlers that go to various locations that we'll not disclose, to pull information to give us pricing, availability within the market out there."
"Definitely recommend" Acumatica
Now that xByte has logged several years with Acumatica and has accrued tangible benefits, Ryan says, "We definitely recommend Acumatica to anybody. The flexibility we've seen, what they can deliver, and the performance—we really couldn't do it with any other system."
They've won several awards/honors (including America's Fastest-Growing Private Companies Inc. 5000, Tampa Bay Business Journal 2015 Best Places to Work, and Acumatica 2017 Customer of the Year) and plans to continue expanding by utilizing Acumatica's cloud-based ERP solution and our unlimited user licensing, which allows them to add users without penalty.
"We know that we can increase our sales—and we have been increasing our sales—and not have to increase our warehouse staff," Ryan says. "It's been a big plus for us to keep slim and trim while expanding our business."
They also plan to continue serving their customers with extraordinary service. The last line of their Mission Statement says it all, "How our customers perceive us is what really counts."
To learn more about xByte's Acumatica experience, check out the company's customer success story. To learn more about Acumatica's B2B eCommerce software, CRM software, distribution management, and financial management software, contact our experts today.