We've found the idiom 'Time flies when you're having fun' to be very true for 2019. Acumatica CEO Jon Roskill reviews the enjoyable year we've spent improving our already intuitive, value-filled cloud ERP solution.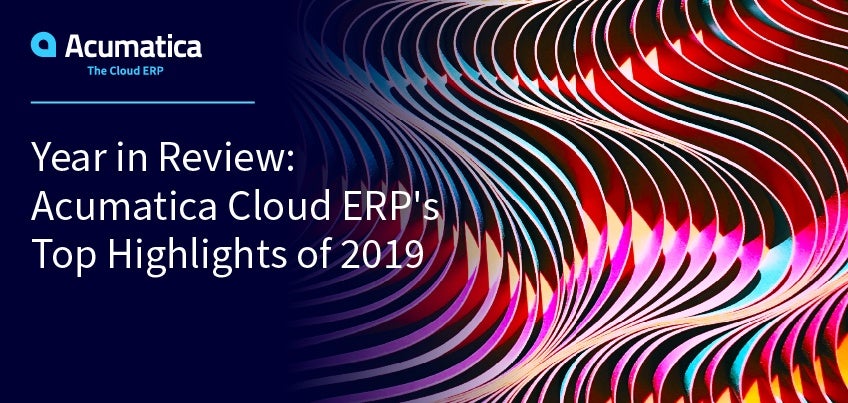 Where has 2019 gone? It's been an amazing year filled with hard work as we improved our innovative cloud ERP solution through your feedback and through the problem-solving power of technology. We've enjoyed every minute of it, and today, I'll share our top highlights and achievements of 2019.
2019: A stellar year for Acumatica cloud ERP and our community
In my 2018 year in review, I noted my five top highlights. This year, I've upped it to eight. Here they are in (mostly) date order, starting with the amazing growth we've seen in our community and at our annual Summit.
1. Record-breaking Summit and customer growth
Acumatica Summit 2019 opened to record attendance with over 1,500 customer, partner, media and analyst participants converging on the Marriott Marquis Houston in Texas. It was a fantastic week centered on Acumatica's cloud ERP software. We examined why (and how) being a connected business is essential in today's digital economy, announced our exciting agreement with Cegid, the leading business management software provider in France, our record-breaking customer satisfaction ratings, and celebrated an amazing achievement: Acumatica exceeded the 5000th customer mark!
We're confident these numbers will continue to climb, especially with our 100% commitment to meeting our customers' cloud ERP needs, something our latest user reviews tells us we're doing right.
2. Acumatica cloud ERP: PCMag Editor's Choice Award for Best ERP Software
In January 2019, PCMag rigorously evaluated ten leading cloud-based ERP solutions, and for the second year running, Acumatica received an "Excellent" rating as well as 4.5-out-of-five stars. We were also the proud recipient of PCMag Editor's Choice Award for Best ERP Software.
Editor Ted Needleman explains why. "Acumatica's intuitive design, enterprise scalability, and flexible pricing model help make Acumatica an excellent choice for enterprise resource planning, general ledger accounting, and inventory management. Designed as a Software-as-a-Service (SaaS) application, Acumatica delivers an excellent option for those needing a scalable financial and enterprise planning (ERP) platform."
3. The Acumatica Partner Program receives 5 Stars from CRN
Partners power our business, so we've created a superlative Acumatica Partner Program that provides in-depth training, education, and non-compete sales support. We also offer generous terms. Since 2015, we have been awarded The Channel Company's 5-star rating for their CRN Partner Program Guide, and we're happy to announce that we've retained our 5 stars for 2019.
4. Two major product releases: Acumatica 2019 R1 and Acumatica 2019 R2
Every year we provide the Acumatica community with two major product releases. Each one is geared towards what our customers need, consistently bringing upgrades and improved efficiencies that they can tap into to further their success.
The launch of Acumatica 2019 R1 in March brought enhanced usability and functionality to the Acumatica Cloud xRP Platform, our Financial Management and Project Accounting business applications, and to numerous industry-specific applications (including Order and Inventory Management, Field Services, Manufacturing, and Construction).
Acumatica 2019 R2 was released in September, and it contained more than 100 improvements, enhancements, and new features (many requested by our community members through the Acumatica Feedback site). As I noted in a recent post, Acumatica 2019 R2 is all about practical innovation, making our cloud ERP solution even easier to use and customize while enhancing cross-module workflows to improve productivity. Details can be found in this overview.
5. Acumatica and IFS join forces under EQT ownership
In June, we announced that EQT Partners, a leading investment firm, brought Acumatica cloud ERP and IFS AB, a global enterprise applications company, together to form a global cloud ERP powerhouse. The sharing of ISV reseller communities, technical resources, roadmaps, and best practices while still operating as separate entities will empower customer and partner growth for years to come.
6. Setting the standard for Usability
Any cloud ERP vendor would be proud to be a standard setter, and Acumatica is no exception. Per Nucleus Research and its ERP Technology Value Matrix 2019, Acumatica is "setting the standard for usability in the market."
Out of 22 evaluated vendors, Acumatica was declared a Leader and the vendor with the highest Usability for four years in a row. "As it continues to aggressively expand its install-base, Acumatica is focused on ensuring that any technologies it deploys can deliver value to customers out of the box."
Nucleus Research has written, "What's the point in having the best functionality if few people within the business can actually use it."
What's the point, indeed. Thus, high usability, which leads to high customer satisfaction, is at the center of our development universe.
7. Acumatica forms strategic relationship with BDO
Small to mid-size enterprise businesses with complex needs, large national or international requirements, desire independent ERP selection or implementation processes, and are undergoing digital transformation will be happy to hear of Acumatica's partnership with BDO USA.
Eskander Yavar, National Practice Leader of Management Advisory Services and Manufacturing & Development Industry Group Leader of BDO says in Acumatica's press release, "As middle market organizations embark on their digital transformation journeys, having a strong business process management solution is imperative. Organizations can realize an even greater ROI by coupling Acumatica's cloud-based ERP solution with the deep industry, digital and change management knowledge throughout BDO's 60+ offices and 350 alliance partners in the U.S. This represents a strong growth opportunity for current and future Acumatica clients."
As a customer-centric organization, Acumatica views this collaboration as another way we can give current and potential customers the business management solution they need be digitally enabled, which leads to high customer satisfaction.
8. Acumatica named Leader, Champion, and a popular cloud ERP vendor
Forbes, G2, and Gartner all released their Fall 2019 user reviews, and Acumatica's cloud ERP software was rated highly by users.
Forbes reports that in its Emotional Footprint Report on Enterprise Resource Planning, SoftwareReviews rated Acumatica a Champion. The rating was based on 960 customer reviews and 25 questions regarding the value they received for what they paid and how they feel about the 18 vendors profiled.
G2's Fall 2019 Momentum Grid Report gave Acumatica a score of 82 (the highest overall Momentum Grid Score) and a 4.5-star rating, making us a Leader among the 40 vendors included in the report.
And Gartner Peer Insights and Gartner Digital Markets (Capterra, Software Advice, GetApp) shows Acumatica with 91% and 94% of users respectively giving us a four-or-five-star rating.
Technology + customers + value = Acumatica cloud ERP
The Acumatica team and I are humbled by the recognition and awards we've received, both by leading research companies and actual users. We're inspired to keep doing what we've been doing, taking our true cloud ERP solution to the next level, utilizing innovative technology, keeping our customers front and center, and offering value-filled functionality.
If you'd like to see what our cloud-based ERP solution can do for you, I invite you to join us at Acumatica Summit 2020 in Las Vegas, Nevada at the Cosmopolitan of Las Vegas. You'll learn everything you need to know from cloud ERP experts in a dedicated learning environment.
If you can't make it but still want to learn more, contact our team today.