Cloud ERP Provider Earns No. 1 Ranking from Users Across 17 Separate Categories; Delivers New Features to Address Customers' Real-world Challenges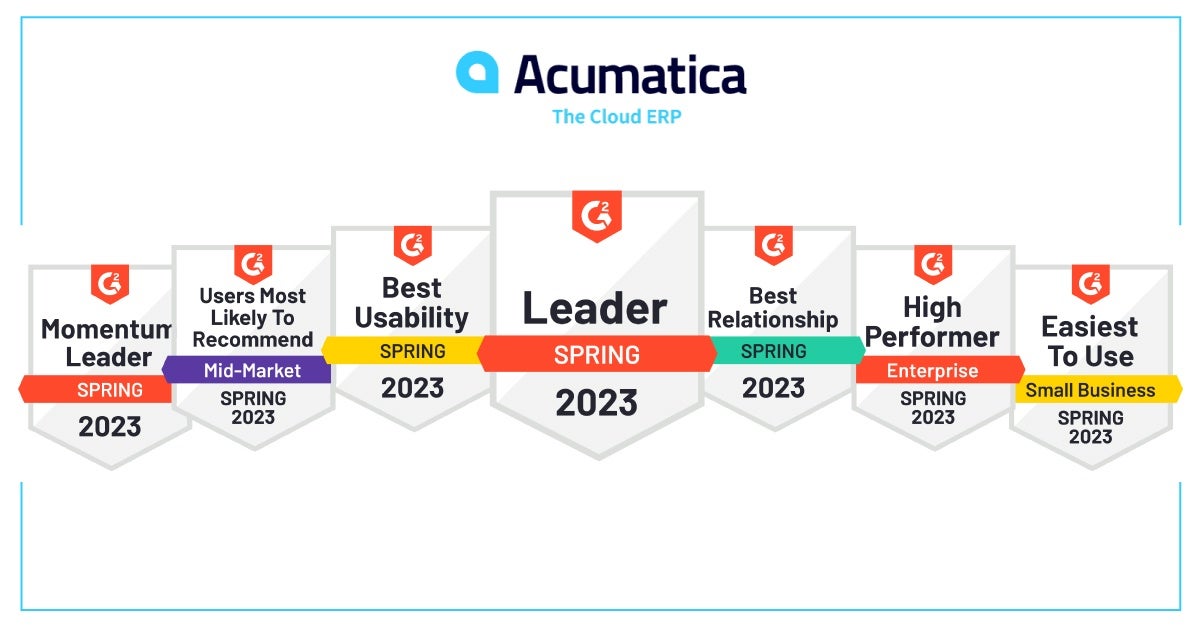 Kirkland, Wash., – April 10, 2023 — In the latest user survey from G2, Acumatica, an industry-leading cloud ERP vendor, placed first across 17 separate categories measuring the strength of customer relationships, product usability and market momentum – further bolstering the company's reputation of exceeding customer expectations. Acumatica's strong performance in the G2 Spring 2023 reports comes as the company released Acumatica 2023 R1, its latest product update focused on helping businesses address their real-world needs.
The G2 reports leverage user reviews and feedback to highlight businesses' ability to provide customers with products that meet and exceed their needs. Demonstrating the breadth of its performance across several categories, the cloud ERP provider ranked in the top five of an impressive 74 reports. The Spring 2023 reports mark the fifth consecutive quarter Acumatica has earned multiple No.1 rankings for its unmatched relationship-building, usability and market momentum.
Acumatica 2023 R1, generally available this month, emphasizes the company's mission to collaborate with customers to build and deploy innovative solutions on a consistent basis. In 2022, the company received 600 customer ideas, and 200 of them were featured in product updates. More information about how R1 will deliver enhanced usability and functionality to users across industries is outlined in the recently posted blog Acumatica 2023 R1: A True Manifestation of Customer-Driven Innovation.
"Our impressive performance in the latest G2 reports reflects and affirms our unwavering commitment to delivering satisfaction to our customers and to improving our solutions to meet their evolving business needs," said John Case, CEO of Acumatica. "These results are especially gratifying as they reflect the enthusiasm of real users and validate our focus on developing the tools they need most to thrive in today's challenging business landscape."
Last quarter, Acumatica placed No. 1 across eight G2 reports. Acumatica has now expanded its industry-best performance by achieving the highest score across the following 17 categories:
Relationship Index
Best Overall for Distribution ERP
Best Overall Project-Based ERP
Best Mid-Market for Distribution ERP
Best Mid-Market ERP
Best Mid-Market Project-Based ERP
Best Small Business ERP
Best Small Business Distribution ERP
Best Small Business Project-Based ERP
Best Advanced Planning and Scheduling (APS)
Usability Index
Best Overall Distribution ERP
Best Overall Small Business ERP
Best Mid-Market ERP
Best Mid-Market Distribution ERP
Best Mid-Market Discrete ERP
Best Small Business Project-Based ERP
Best Mid-Market Discrete ERP
Momentum
Leader in Project-Based ERP
Leader in Distribution ERP
# # #
About Acumatica
Acumatica Cloud ERP provides the best business management solution for transforming your company to thrive in the new digital economy. Built on a future-proof platform with open architecture for rapid integration, scalability, and ease of use, Acumatica delivers unparalleled value to small and midmarket organizations. Connected Business. Delivered. For more information, visit https://www.acumatica.com.