What are the Essential Manufacturing KPIs?
As discussed, KPIs for manufacturing provide critical data—data you can use to measure your progress against your organizational goals as well as to report on your overall progress. The reports offer insights on where and how to make value-filled improvements that will result in a lean, money-making manufacturing operation. It's important, however, that manufacturers do not overload themselves with an unmanageable amount of KPIs.
According to LinkedIn, between five and 10 KPIs are the right amount for organizations. "KPIs must support each other. More than 10 KPIs will almost certainly break this rule; rather than support each other they will contradict each other and cause terminal confusion."
With this in mind, here are the five foundational manufacturing metrics your team should consider plus three KPIs focused on determining the overall efficiency of your business.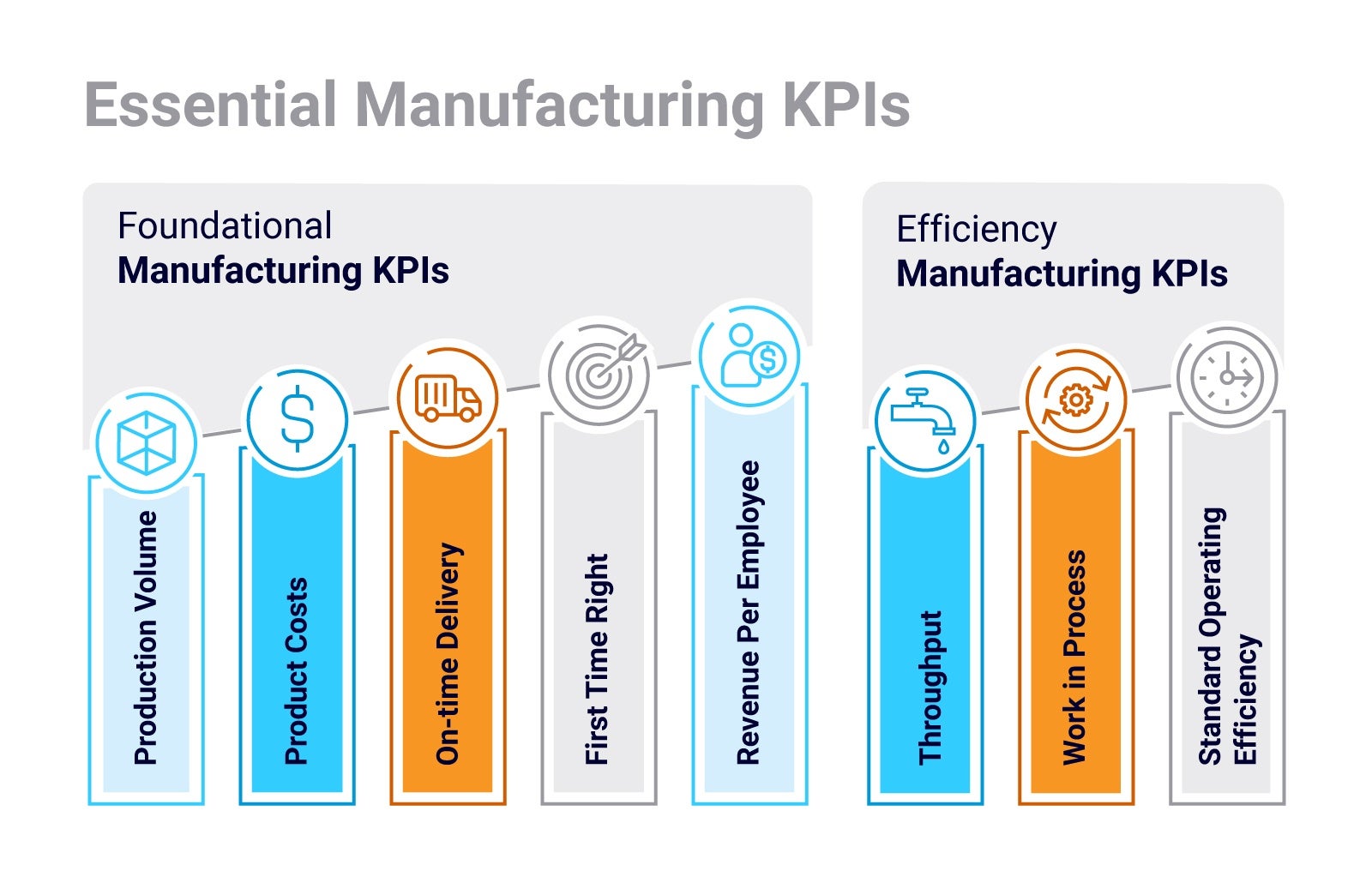 Foundational Manufacturing KPIs
Production Volume: Production volume measures the number of units manufactured in a specified period (e.g., daily, monthly, yearly, etc.). You can compare this information to similar timeframes to get a clear picture of what is—and is not—working, thus informing you of adjustments needed to be made.
Production Costs: Knowing how much it costs to manufacture a product will help you know how to lower expenses, thus improving operations. The costs can include materials, labor, and energy use, as well as rent, overhead, and taxes. Because these costs evolve over time, continually monitoring production costs will reveal areas that are too costly.
On-time Delivery: On-time delivery is calculated by comparing products delivered on time to the total volume of delivered products. Though on-time delivery is not often one of the top manufacturing metrics, it does indicate how well you're meeting customer demand and ensuring customer satisfaction—and customer satisfaction is a major requirement for success.
First Time Right: First Time Right (FTR) is the idea of manufacturing a product correctly (e.g., without flaws) the first time and every time. As a metric, FTR lets you see how often hiccups—which may be caused by defective equipment, human error, or material issues—occur in the manufacturing process and puts a spotlight on where improvements must be made.
Revenue Per Employee: Per Shopify, Revenue Per Employee (RPE) is the "average amount of money any given employee makes for the store." Such information is important because it provides a high-level view of employee productivity and efficiency, helping you identify areas needing improvement in employee relations.
Efficiency Manufacturing KPIs
Throughput: Measuring the rate of production and machine output—how many units a machine produces during a specified timeframe and dividing that number by the total number of units produced—provides insight into how long it takes you to produce your product or service. Investopedia notes, "If you can identify areas where there are backlogs, bottlenecks, or slowdowns, company managers can address these and improve efficiency. Quicker throughput times increase return on investment (ROI) and profitability."
Work in Process: Work in process (WIP) refers to the goods that are in mid-production. WIP is calculated by taking the beginning work in process in a specified time period plus the manufacturing costs and then subtracting them from the total cost of goods manufactured. This calculation enables you to see how efficient you are at producing a finished product.
Standard Operating Efficiency: Calculating your standard operating efficiency reveals changes in labor costs as well as other expenses over a given period of time. To get your standard operating efficiency score, divide the total number of products produced in a certain period by the number of total products produced at or below estimated costs in the same time frame.