Are you dealing with 2021 supply chain challenges? If so, you're not alone. Acumatica's Divya Ganesh discusses how to handle such challenges today.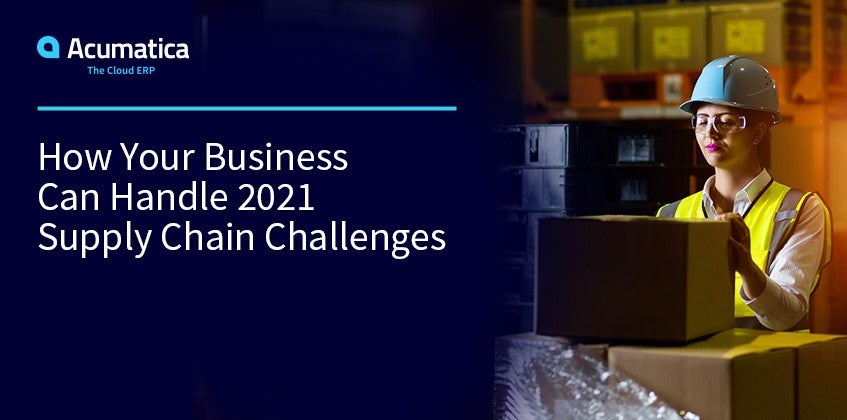 For businesses that manufacture, distribute, or sell (or all three combined) products that rely on components from various suppliers, 2020 and 2021 have been <insert own word> (I was going to say "rough", but you may have a better word) years. Case in point, a myriad of 2021 supply chain challenges have arisen from the COVID-19 shutdowns, a container ship grounding in the Suez Canal, natural disasters (including a huge winter storm in Texas), cyberattacks, and—very importantly—a global chip shortage.
Unfortunately, those organizations that put off their digital transformation plans (perhaps because of the cost, time it takes, and fears of failure) made these unexpected and unprecedented challenges even more difficult. On the other hand, those who implemented modern technology, such as a cloud ERP solution, were able to pivot and meet the challenges head-on.
Who is affected by 2021 supply chain challenges?
Before delving into how cloud ERP software helps with supply chain challenges, we need to address the question, who is affected by them? The easy answer is every business with supply chain requirements and those who need/want their products.
In addition to the chip shortage, plastics, lumber, metal, and steel have been hard to come by. Factor in labor and transportation concerns, and you have a perfect storm. Those who manufacture, distribute, and sell are finding it difficult to get their raw materials; if they do get them, they are grappling with how to get them into their customers' hands.
Those same customers are ready and waiting to receive their products (e.g., cars, TVs, and computers), but they are experiencing cost increases and delays.
How can businesses handle the 2021 supply chain challenges?
Yossi Sheffi, an MIT professor and director of the MIT Center for Transportation and Logistics, wrote a book about supply chains titled The New (Ab)Normal: Reshaping Business and Supply Chain Strategy beyond Covid-19. In it, he writes, "Although Covid-19 may have exposed the fragile links lurking in the global economy, it also accelerated the adoption of a great many technologies and practices that will make the global economy more robust over time."
A comprehensive cloud ERP solution is one of those technologies.
In a nutshell, an ERP solution acts as a single business management platform for businesses in any industry. It connects business records, data sources, and systems in a centralized system and integrates seamlessly with business-critical applications. Data from every department is synchronized and is easily accessed via a web-enabled device whenever and from wherever. Depending on which ERP solution you choose, it may offer distribution management software, including warehouse management, inventory management software, and order management software, and integrates with the company's financials and sales activities.
This means that organizations that implement a cloud-based ERP solution have set themselves up for supply chain success, even in uncertain times. For example, they now have:
Planning and forecasting capabilities for managing inventories/resources, supplier deliveries, and production schedules
The information and flexibility necessary to adjust to changing circumstances
The ability to analyze data, assess operational constraints, and determine alternative solutions
Though the 2021 supply chain challenges are significant, cloud ERP software allows businesses to evaluate and track inventory, material requirements, and logistics. They can then move forward, confident that they are operating with updated, accurate information. They can also reassure their customers, thus strengthening their relationship.
Which cloud ERP solution can best help businesses with 2021 supply chain challenges?
We were recently crowned Best ERP Solution by the 2021 SIIA CODiE™ Awards and ranked a Leader and the highest in customer satisfaction by G2's Momentum Grid® Report for ERP Systems. We believe Acumatica Cloud ERP is the best solution for helping businesses overcome the 2021 supply chain challenges.
To learn more about Acumatica Cloud ERP and to become an Acumatica customer, contact our team today.