Business succession planning is the exit strategy created by and for business owners who want to ensure their business continues when they're no longer at the helm. When this transition of power takes place, Acumatica's COO feels it can be beneficial for the business to undertake a cloud ERP upgrade.
'Inevitable' means something is going to happen, and you can't stop it. Sounds negative but in reality, it's just a fact of life. If you're a small-to-medium business (SMB) owner, passing the baton—due to retirement, new opportunities, illness, death—is inevitable. Knowing this transition is unavoidable, you should be readying yourself and your business before it occurs. Business succession planning is a positive, proactive method for ensuring the future success of your business. It's also the time to consider a cloud ERP upgrade.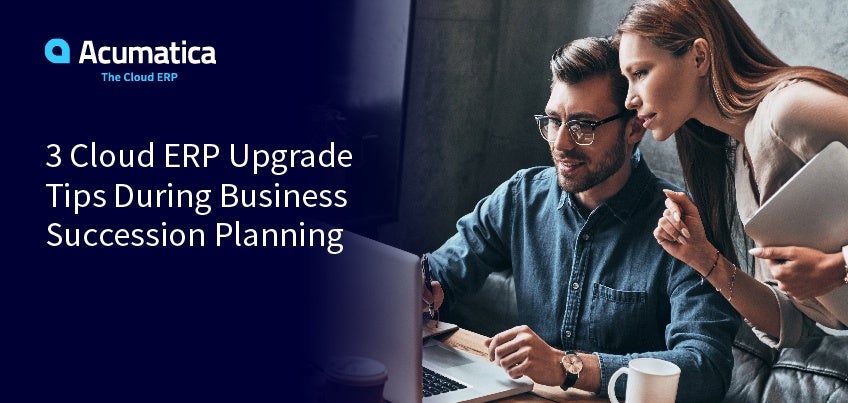 What business succession planning is all about
Investopedia defines business succession planning as a "strategy for passing on leadership roles—often the ownership of a company—to an employee or a group of employees." Investopedia also notes that succession planning "ensures that businesses continue to run smoothly after a company's most important people move on to new opportunities, retire, or pass away."
For the purpose of this business succession planning discussion, we'll assume that we're referencing a successful business, one that has existed for many years. Knowing who is going to take the reins of the business should be a conversation the current owner or owners discuss now and continuously until the day comes for him, her, or them to step down.
Depending on who you ask, business succession planning requires an SMB owner or owners to do a few important tasks. These tasks include—but are not limited to—deciding in advance whether the business is to be handed down to a family member or to be sold, assessing the potential of current employees to advance into critical roles, and ensuring there's training in place to help with their advancement. An SMB owner or owners must also know what legal and financial paperwork needs to be filed when transitioning the business to new leadership. And having a written succession plan, which is reviewed and adjusted regularly based on employee changes, is highly recommended.
Business succession planning requires thoughtful decision making and an understanding that it shouldn't disrupt the business as much as possible. It's an appropriate time to evaluate the business' processes, procedures, and tools, and the time to ask whether these things are being optimized.
This is where cloud ERP comes into play.
Business succession planning should include a cloud ERP upgrade
Now, remember the assumption we made earlier that we're discussing a successful, long-term business? There's a chance that the ERP system it's been using has been in place for a long time. If this is the case, then the business evaluation during business succession planning would have unveiled the business' lack of connection, automation, mobility, and more. Upgrading to a modern cloud-based ERP system will solve these issues.
In my opinion, an opportunistic time to upgrade to a cloud ERP solution is before the person (or persons) who is to step into the ownership or leadership role takes over but after they've been selected. Transitioning to a new modern cloud ERP solution provides the new leader an opportunity to learn the business at a deeper level and concurrently evaluate business processes to align with their vision and goals. They won't need to worry about running the business while transitioning out of a legacy system.
So, what's the best way to upgrade to the right cloud ERP software? Here are three tips:
Find a good ERP provider: Easy to say but it will take some effort on your part. You'll want to compare your cloud ERP options, and I suggest including Acumatica's easy to use and award-winning cloud-based ERP solution. Our open, flexible cloud xRP platform and fully integrated business management applications (Financial Management, Project Accounting, CRM, Commerce Edition, Construction Accounting Software, Field Service Edition, Distribution Edition, and Manufacturing Management) offers businesses the agility and functionality required in today's digital economy.
Find a good partner: Once you've selected your cloud ERP provider, you'll want an experienced partner to walk you through each step of the implementation process. They'll help you navigate the intricacies of switching systems while also continuing to serve customers. Acumatica relies solely on our Value-Added Resellers (VARs) to sell and implement our cloud ERP software, which means we support them with the resources and training they need through the Acumatica Partner Program. The result? Acumatica VARs are dedicated, experienced partners.
Get organizational buy-in: This might need to happen before finding an ERP provider and a partner. Without organizational buy-in (e.g. the support of the leadership team—including the new owner or leader noted during business succession planning—and employees), implementing a new ERP system will not happen. Period. Implementing an ERP system is a major project requiring financial backing, support, and resources and the leadership team, as well as the employees, must be willing to provide them for it to work.
As I noted in 3 Reasons Why Financial Teams Should Embrace Technology, technology, such as cloud ERP software, isn't something to shy away from. Instead, it should be embraced as the pathway to business growth and longevity through identifying business challenges and new business opportunities, aiding in cost management, and increasing customer satisfaction.
Business succession planning and cloud ERP
So, let's tie this all together.
Business succession planning is essential if businesses want to remain in business. They must have a plan in place for who will take control when the owner or owners and those in leadership positions move on. The transition period, when the new leaders have already been designated, involves evaluating the business and its processes. This is the perfect time to upgrade inefficient legacy systems to modern, cloud ERP solutions that promise to increase productivity, functionality, and more.
Now is the time to prepare your business for your departure. It's also the time to combine it with a cloud-based ERP upgrade. Contact our team today and we'll help get you started.