This document explains how you can move generic inquiries between Acumatica applications. The article also provides insights into customization projects.
Environment: 6.00.1129
Data: SalesDemo demo data from partner portal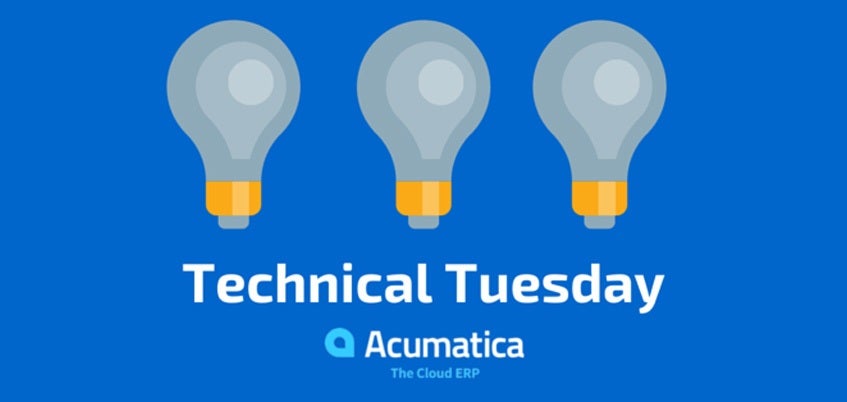 Scenario Overview
Business Problem
Acumatica 6 utilizes Generic Inquiries for dashboards, pivot tables, and connections to PowerBI. Vertical markets have specific reporting requirements, so packaging and moving inquiries between applications is important. 
There are two ways to move inquiries between applications:
One at a Time: The Generic Inquiry tool includes export and import capabilities.
Packaged: Using a customization project, you can add several inquiries to a zip file that can be imported and published. This technique is useful if you have several inquiries or need to package inquiries.
Demonstration Scenario
I developed a package of generic inquiries for Acumatica 6 which I needed to transfer to sites that I was upgrading from earlier versions (5.3).
In this article we explain how to transfer inquiries using both the one-at-a-time and customization package techniques.
Acumatica Implementation
Method 1: Single Generic Inquiry Transfer
Transferring a single generic inquiry is a simple process which utilizes the native tools in Acumatica.
Navigate to the generic inquiry you want to transfer
Select the 'Export as XML' option from the drop down under the copy/paste icon

The file is automatically saved as a single XML file. This file is the XML representation of the generic inquiry. The actual generic inquiry is stored in the database in several tables:

GIDesign: Core information about the report
GITable: Tables that are part of the inquiry
GIRelation, GIOn: Relations tab information with joining conditions
GIWhere: Conditions tab information with where conditions
GIGroupBy: Grouping tab information
GISort: Sort Order tab information
GIResut: Results Grid tab information
After creating the XML file, you can easily import it into another Acumatica application.
Login to another application and navigate to the Generic Inquiry screen
Select the 'Import from XML' option from the drop down under the copy/paste icon

The generic inquiry is automatically created, if the same report already exists, the information is automatically updated in the database.
Method 2: Customization Package
When you have several inquiries or you want to create a package consisting of generic inquiries and other objects, the customization package is the best option.
Create a Customization Package
Creating a customization package is easy…
Navigate to System > Customization > Customization Projects
Add a new project (as illustrated in the image below), I called mine Dashboard Inquiries

To add inquiries to your project…

Open the project and click Generic Inquiries in the left menu (as illustrated below)
Click the + sign to add new inquiries to your customization project
Select the inquiries you want to include
Click save

All inquiries are added to your customization project. Note that you can add other information such as files, reports, database scripts, import/export scenarios, etc. to your customization project. In this example, we only added inquiries.

Return to the Customization Projects screen, check the customization, and select the Export button. This will automatically create and export a zip file.

The zip file contains a single file called project.xml. Just like the one-at-a-time export, the batch export converts the database information to an XML file – except in this case the XML file contains numerous generic inquiries.
Install the Customization Package
To install the package of generic inquiries in another system:
Login to your other system and navigate to the Customization Projects screen
Select the Import > Import New Project option

Select the zip file that you saved … in my case it is called DashboardInquiries.zip and it was saved in my downloads folder. Then, click the upload button.
Publish your application by selecting the row with your customization and pressing the Publish button.

Verify by going to the generic inquires screen to view the newly created inquiries
Additional Notes
If you unpublish and then delete your customization, the generic inquires will remain. Generic inquiries and site map entries are not deleted when you unpublish a customization.
Generic inquiries are automatically included when you create a snapshot. This is expected because a snapshot replicates the entire database and the generic inquiries are contained in the database.
Conclusion
Generic inquiries are a critical part of Acumatica because they allow you to easily retrieve data from the system without programming skills. Generic inquiries are utilized for external applications such as PowerBI as well as dashboards and screens within Acumatica. Data retrieved from generic inquiries enforces all security rules so you can manage all ERP data security from a single location inside Acumatica.
Porting and packaging generic inquiries is important for creating vertical offerings inside Acumatica. To make things easy, Acumatica provides two different ways to port generic inquiries from one system to another – one-at-a-time and packaged. Acumatica's customization tools allow you to build packages of generic inquiries that can be centrally maintained and pushed to clients.
Register to attend Acumatica Summit 2017 and we would be happy to demo these features in-person. We'll be in sunny San Diego January 29 through February 3. Join us!