Buyer's remorse for a small expenditure is acceptable. Buyer's remorse for a large expenditure, such as a cloud ERP solution? Not so much. Acumatica's new (and free) Whitepaper advises customers, who are planning a large ERP investment, how to avoid or eliminate a regrettable decision. 
Do you suffer from 'ERP platform remorse'? You do if you've implemented a cloud ERP solution and subsequently have regretted your ERP investment. If this is you, then we have an easy, inexpensive prescription: Download our new and complimentary Whitepaper, 3 ERP Investment Gotchas, and experience cloud ERP healing today.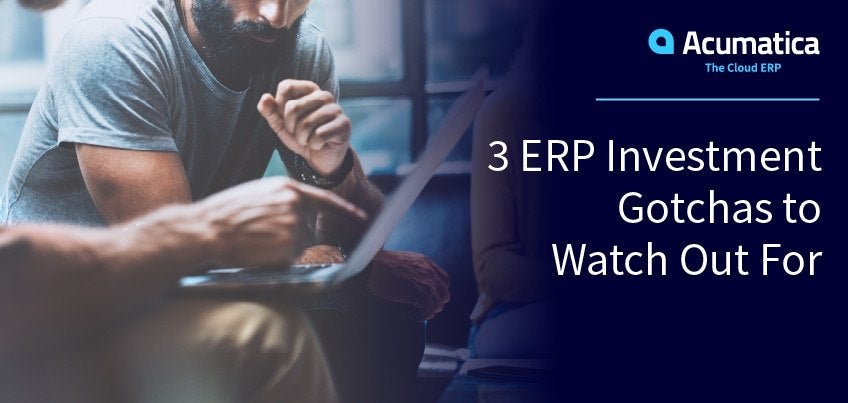 Cloud ERP healing in 3 steps
Obviously, I don't want to make light of what may be an expensive regret for you and your business.
Here at Acumatica, we understand the importance of placing the needs and wants of our customers at the top of our product roadmap. In fact, Acumatica CEO Jon Roskill has gone so far as to reveal the software industry's bad business practices and EULA games in an effort to educate customers before they make their ERP investment. You may be familiar with some of them, such as the "bait and switch" where software vendors make big promises then charge big (unexpected) prices for them. Or "data ownership woes" where the software vendor owns your private data.
To counteract these bad practices, we created an Acumatica Customer Bill of Rights. We assure our customers they have the right to an unchanging SaaS end-user license agreement; a flexible, open platform for rapid integrations; consumption-based licensing; sustainable pricing increases (no more than 3% when needed); ERP implementations without hidden fees; deployment flexibility; access to your data (anytime); consistent, 24/7 customer service; local channel expertise; and 99.5% uptime.
These rights tie directly to the Whitepaper. In it, you'll learn the 3 points to consider during your ERP research and before you make your ERP selection:
Know the Overall Cost – Your total cost is not just the initial purchase price. There are other pricing factors that come into play, including how much you may have to pay for training, support, and upgrades. The Whitepaper touches further on these and five other costs you'll want to calculate before moving forward.
Define the Benefits – Deciding to invest in a cloud-based ERP solution may be at your behest or you may be forced into it (e.g. legacy computer equipment gives up the ghost, you want to expand your business but your system can't scale with you, etc.). Whatever the reason, the ERP systems you check out should have—and be able to deliver—clear benefits. Easy-to-use interface for every user, full support for every aspect of your business (manufacturing, warehousing, field service, eCommerce) across multiple locations, and built-in document management/analytics (and more) top the list.
Do the Math – Point 1 helps you know all the cost factors to consider before an ERP implementation and point 3 enables you to calculate those factors. Acumatica provides return on investment (ROI) and total cost of ownership (TCO) worksheets that help determine the financial value of your ERP investment.
Eliminate ERP platform remorse
Eliminating 'ERP platform remorse' is very possible. The key is to truly invest your time in the research—utilizing the 3 gotcha points as you do so—before you invest your resources.
The team at Acumatica would like to help you in any way we can, from answering questions to demonstrating how Acumatica's cloud ERP software can provide a fully integrated business management solution for today's digital economy.
Contact us today.