What you get out of your business information is impacted by how well you can access it, tailor it, and enhance it. Our newest Infographic shows how you can do all of these things easily with Acumatica cloud ERP.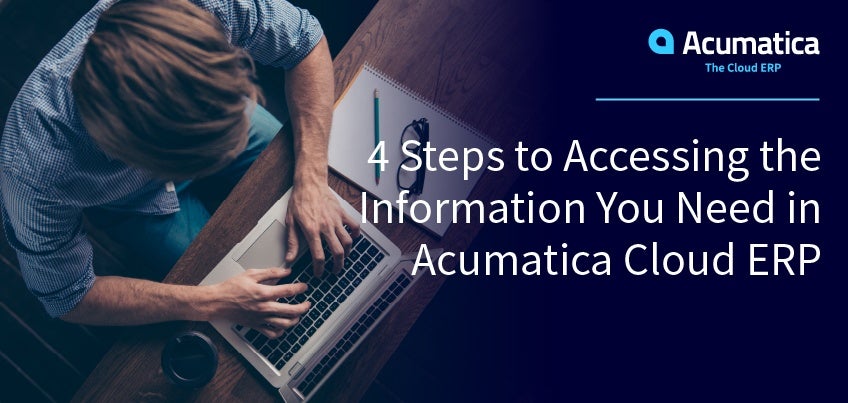 Have you heard the term 'infobesity'? The Macmillan Dictionary says it's another term for information overload, "an excess of information." In the cloud ERP space, 'infobesity' isn't really a thing. We believe the more information you have, the deeper the insight and visibility into your business. We also think you should be able to customize how you get and use your data. And we believe you should be able to access your information when you need it, from wherever you are.
Acumatica's cloud-based ERP solution makes this access easy. In fact, we've made it four-steps easy as outlined in the Infographic below.
Acumatica customer, Biopelle, a skin care company in aesthetic medicine, has experienced this ease of access. Finance Director Jodi Anstandig says in the company's customer success story, "I'm able to drill down and get information in ways I never could before. I like that the GL doesn't come with canned reports. I like that I can create what I want and get the information with just a push of a button."
She also says, "Now I'm able to work with data right and left. I can create reports knowing which customer ordered which item during which time with what special. I'm able to drill down and get information in ways I never could before."
With the help of Acumatica's Customer Management, Distribution Edition, and Financial Management software, Biopelle has access to the information, reports, dashboards, and analytics they need to grow.
If you desire to accelerate your business like Biopelle, contact our team today. We'll answer any questions you have about Acumatica's cloud ERP software as well as fill you in on how we handle ERP implementations and why Forbes, G2, and Gartner name us a Leader amongst cloud ERP vendors.