Acumatica VAR TriSolutions, Inc. has the solution for easily ensuring DCAA compliance for your engineering firm. They use Acumatica cloud ERP.
If you have a reliable cloud ERP solution that keeps you DCAA (Defense Contractor Auditing Agency) compliant, then these 10 words, "I'm from the Government, and I'm here to help you!", will not strike fear and trepidation in your heart.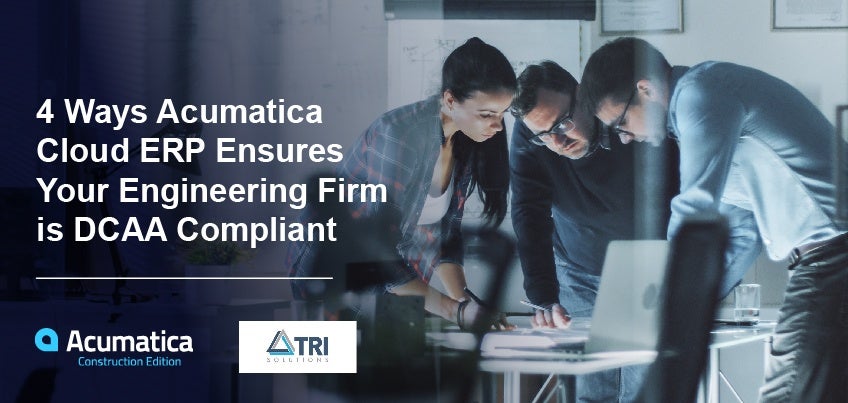 If you don't, then you may suffer heart palpitations and have difficulty answering these questions when the auditor comes knocking: Am I prepared for this? How much time is it taking me to prepare? What happens if I fail the audit? Are my contracts making money? Do I know without doubt that my accounting system, processes and procedures will pass an audit?
You have two choices:
1. You can curl up in a frightened little ball in the corner of your office sobbing inconsolably
OR
2. You can take action today to ensure that you are compliant so that when DCAA comes a knocking, you're ready and confident that you can efficiently demonstrate your compliance. It's just another day!
Cloud ERP to the rescue
In my experience the biggest compliance issues faced by Engineering and R&D Firms include:
Segregation of direct and indirect costs
Cumulative-to-date direct costs by WBS (work breakdown structure) element and cost element
Cost collection by pool and calculation and allocation of indirect costs by provisional, target, and/or actual burden rates
Segregation and identification of unallowable costs
Total time accounting and uncompensated overtime/effective pay rate calculations
Change audit trail for electronic timecards
Access/maintenance of electronic timecards limited to authorized personnel only
Recording of timecard electronic signature, submittal, and approval actions in audit trail
Purchasing system with multiple approval levels
Accurate recording of assets acquired specifically for the contract and are owned by the government
There is a lot of jargon in that list but let me remind you that these are government regulations, and they are written in government speak.
I suspect that if you are scratching your head, wondering what these requirements mean to you and your organization's processes, you are in danger of not being compliant.
If this is you, the easiest way from where you are today to a completely compliant system is to implement a cloud ERP system that has DCAA compliant processes fully built in.
When you fly Southwest Airlines, you will hear them say, "Thank You for Choosing Southwest! We know there are many choices and we appreciate you choosing us!" The same is true with cloud ERP systems. There are many options and many choices available. It is vital that you choose wisely.
That's why Acumatica is my ERP system of choice.
4 ways Acumatica cloud ERP solves compliance challenges
The Acumatica Platform solves these problems with a coordinated attack on four fronts:
Project Accounting
Advanced Financials
Order Management
Time Management
Project Accounting
The Project Accounting module within Acumatica's cloud-based ERP is a robust, flexible solution that provides cost accumulation, cost segregation, automated allocation of indirect costs, and customizable automated billing rules on a contract-by-contract basis.
Within this module, you can budget by project task, restrict who can charge to the project, capture contract details such as contract number, funding limits, and contract modifications. Reports and Dashboards capturing the underlying data can be generated and used 24/7 with the cloud-based solution allowing you real-time visibility to the financial status of your contracts or projects.
This is a great solution providing a single version of the truth: one fully integrated automated solution and gets your team out of multiple disconnected spreadsheets.
Advanced Financials
The Advanced Financials module provides full-cycle accounting capabilities (including Cash Management, Accounts Payable, Accounts Receivable, General Ledger, Tax, and Fixed Assets) to provide for all your reporting needs to meet both DCAA and GAAP reporting requirements. You will also find a flexible GL Account Structure to comply with the cost segregation requirements to ensure compliance with DCAA.
With 24/7 access via any mobile device, real-time decision making will be available at your fingertips.
Order Management
The Order Management module provides an audit proof purchasing solution to include a 3-way match with PO/Receiving/Payment along with a multi-layer approval mapping ensuring your system meets DCAA requirements for an approved Procurement system.
The Order Management module includes Inventory Management to track movement of inventory associated with contract.
Time Management
Time Management provides an integrated electronic timekeeping solution with the Advanced Financials and Project Accounting modules delivering real time data. It supports multi-level approvals, the ability to restrict who can charge to a project, and a comprehensive audit trail, including all timecard changes, late entries, approvals and rejections.
With the Time Management module, labor costs can be captured in the project status report as a commitment as soon as labor is recorded by the employee, providing real time status on cumulative costs to date.
No more tears with Acumatica cloud ERP
If you don't wish to be that financial person curled up in your office sobbing like a baby when the DCAA comes, I highly recommend you take a close look at Acumatica's cloud ERP software, and we at TRI Solutions, Inc. can help you through the selection and implementation process.
We use Acumatica DCAA compliant processes in our own business, and in many of our client's businesses, and consistently have satisfied the DCAA Auditors requests. What makes TRI Solutions different is that we understand the connection between technology and talent and have developed the ability to provide talent solutions as necessary to support your team with an ERP implementation.
There's no need to be scared that a lack of bandwidth within your business will prevent you from implementing a DCAA compliant system. We can get you started with a secure cloud-based system in as little as 90 days.
Acumatica is the real deal, and we'd like to show you how it can solve your problems. Contact us at (512) 615-4480 or check out our website.
If you're looking to sell or deliver an award-winning business management solution, then you may want to consider joining us and many other Acumatica VARs as an Acumatica partner. Their Acumatica Partner Program is top notch and their commitment to providing full support as a no-compete partner is absolute.
Learn More About Acumatica Cloud ERP