Acumatica's new Whitepaper looks at five key benefits of cloud construction management software. Undeniably, they have the power to transform your construction firm.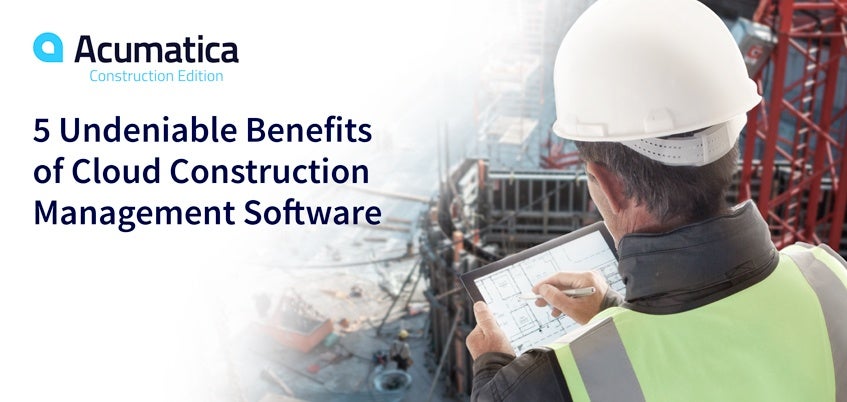 Are you a construction firm looking to replace your legacy construction solution? Acumatica's new, complimentary Whitepaper, 5 Undeniable Benefits of Cloud Construction Management Software, provides critical information you need before you make a decision.
Why you should choose cloud construction management software
Competing in today's market requires eliminating paper-based processes, manual workflows, and communication issues. Sounds daunting but finding a construction system that does all this and more is easier than you think. Cloud-based technology advancements have resulted in a myriad of cloud construction management software options, like Acumatica Construction Edition, with a myriad of benefits.
The Whitepaper takes a deep dive into five major benefits. Here's a quick look at each one.
1. Track projects in real time
In a unified ERP for construction industry, your teams in the office and in the field are able to store critical documentation (e.g. RFIs, daily field reports, and change orders) in one place and share project information (e.g. track costs, tasks, employee time, profitability, budget, compliance issues, and much more) in real time. Every team member is on the same page at the same time, making collaboration as easy as a click of a button.
2. Eliminate costly delays
Delays in construction are common, but do they need to be? With the right construction and accounting software, you can easily and immediately communicate project issues, expense reports, job costs, and more. The costly delays of the past are effectively eliminated.
3. Automate workflows to increase collaboration
Dealing with manual workflows can be a time-consuming, collaborative-killing task. An ERP system for construction companies automates tasks and processes, eliminating multiple steps, duplicate data entry, and expensive errors. Collaboration between all team members is possible when you become a connected business.
4. Streamline and enhance communication
Successfully turning your daily emails from a confusing clutter of information into streamlined and enhanced forms of communication is possible with the right cloud ERP software and a user-friendly Outlook Add-In.
Users can also centralize storage for drawings, photos, change orders, and any other important documentation that impacts a contract and informs the audit trail. Additional tracking capabilities include a job-specific dashboard and a program dashboard that offers insights into all open projects. This helps team members stay informed of what they need to do next, minimize downtime, and eliminate unnecessary costs and delays.
With cloud construction management software, you can:
Identify issues before they grow
Move projects along efficiently
Minimize downtime
Eliminate costs and delays
Store important documentation centrally
Use job-specific and program dashboards for insight into each project
Being informed and acting proactively can save your construction company a lot of time, effort, and money.
5. Log on anytime, from anywhere
The log on anytime, from anywhere capability found in cloud-based construction and accounting software mobile apps is the difference between an efficient and inefficient business. Cloud ERP technology enables office and field teams to update all project information from wherever they are, guaranteeing swift synchronization of said data so that everyone knows what is happening at all times. This constantly updated knowledge from a single source of truth enhances the ability of each team to make intelligent, insightful, and cohesive business decisions.
Are you curious about why Construction companies need to use Cloud ERP? Learn more about how Cloud ERP systems help fulfill the unique needs and challenges of the construction industry.
Be a smart, forward-thinking construction firm
As noted in the Whitepaper, staying ahead of the competition is possible by relying on cloud technology. "Smart, forward-thinking firms are moving their businesses to the cloud."
Onni Group, a trusted real estate developer, is just such a firm. They outgrew their ERP technology, platform, and database, and Ming Kwan, VP, Accounting and Enterprise Systems, knew a connected, cloud-based solution was necessary. "We needed to look for something that was one, integrated solution for all of our business needs."
They found exactly what they were looking for: Acumatica Construction Edition.
If you're ready to become a unified, accessible, collaborative, efficient, and mobile business, then we hope you'll contact our team to schedule a demonstration of our end-to-end solution and/or to ask any questions today. The benefits of cloud construction management software are undeniable, and we hope you'll take advantage of each one.