Businesses worldwide share the same desire: increase their productivity and accelerate their growth. Acumatica 2019 R2, Acumatica's latest release, can help make that happen with its practical innovation and community-driven features.
With more than 100 improvements, enhancements, and new features, Acumatica 2019 R2 was announced on Wednesday, September 11th. This release is Acumatica's most user-friendly release yet and is generally available on September 19th. Most upgrades came as suggestions from customers, partners, and developers on the Acumatica Feedback Site that were then vetted and selected through Focus Groups.
In addition to reading about Acumatica's latest cloud-based ERP enhancements, the best way to learn more is by attending our free Acumatica 2019 R2 Launch Event Series in 10 cities conveniently located across the U.S. The agenda is the same for each event and covers the practical innovation brought by Acumatica 2019 R2.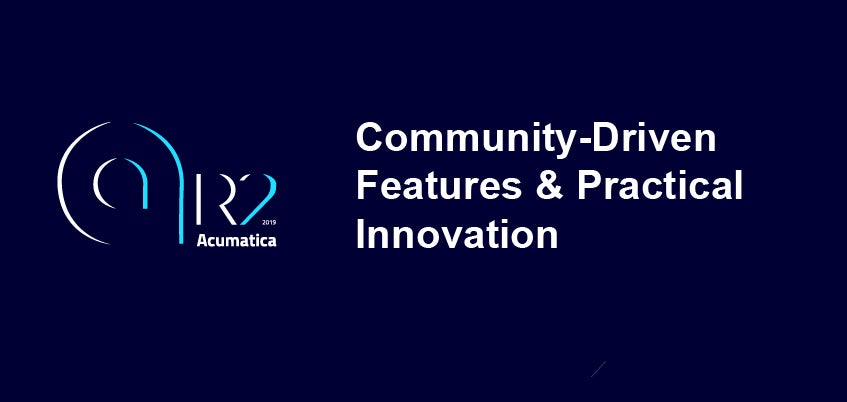 Acumatica 2019 R2: Practical innovation
Acumatica has always been a technology company first and foremost. We stay abreast of new trends to assess their benefits, effectiveness, and potential impact to our customers. When appropriate, we add or integrate those new processes and technologies to our solution.
The new and practical innovations in Acumatica 2019 R2 make Acumatica simpler to use and customize. It also enhances cross-functional workflows for productivity improvements.
Registering for the Acumatica 2019 R2 Launch Event Series gives customers, partners, and analysts the first look at our release's advanced enhancements.
Acumatica 2019 R2: Enhancements
From enhancements to Acumatica's Cloud xRP Platform and usability to improvements to many of our applications including Financial Management, Distribution, Manufacturing, Construction and Field Service Edition, Acumatica 2019 R2 touches almost every aspect of our cloud ERP solution.
Platform:
Users can now receive mobile text notifications (SMS) of business events without requiring the Acumatica mobile app installed on the recipient's device
Dashboards enhanced with the Pivot Table widget
Contract-Based APIs enhancements where developers can retrieve multiple kinds of detail lines in one request
Improved HubSpot integration
Usability:
User-defined fields on mobile devices
Conditional formatting for dashboard table widgets
Create expense receipts from images
Simplified company/branch selector to select a branch in one click
Improved File Management allows sort and filter attachments in any table or entity
Predefined User Roles for financial users establishes access to system functions without setting them up manually
Financial Management:
Corporate credit card support and reconciliation
Application of payments to particular lines of Accounts Payable documents
Simplified approval of Accounts Receivable invoices, credit memos, and debit memos
Accrual of the costs of non-stock items
Project Accounting
Budget control on document entry
Detail level of the project budget
Two-tier change management for change orders
Project budget forecasts allow comparisons of actual project costs and incomes with the forecasted, original, and revised budget amounts for each financial period.
Inventory and Order Management:
Prepayment enhancements
Changing the vendor in purchase orders
Enhanced linking of direct sales order invoices
Validation of customer order number on sales orders
Accrual of the costs of non-stock items to calculate their approximate net income.
Warehouse management System (WMS) advanced picking
Construction:
New Daily Field Reporting features make sure everyone is looking at the same information in a timely manner
Detailed Retainage Tracking allows users to track retainage at the line level on AR Invoices
Enhanced lien waiver capabilities assist in avoiding accidentally paying a vendor
Field Service:
Service orders automatically defined by user or appointment type
Supports creating service contracts, project schedules and tasks with default cost codes by service order type
Calendar enhancements for simplified appointment creation
Mapping enhancements to track technician location in the field
Manufacturing: 
Engineering Change Control (ECC) streamlines multiple change requests
Material Requirements Planning (MRP) improves forecasting and exception handling
Outside processing of manufacturing operations by suppliers
Acumatica 2019 R2: Community-driven
Acumatica's latest release provides extended functionality and has been powered by our users' requests. The upgrades, such as the SMS event notifications, dashboard pivot widgets, real-time project budget control, corporate credit card support, and non-stock item accruals, are designed to improve businesses' daily efficiency and yearly profitability.
Join us by registering for one of our Acumatica Launch Release Events as well as for Acumatica Summit 2020, happening in Las Vegas, Nevada the week of January 26-31, 2020. Both events will enumerate the extensive user benefits of Acumatica 2019 R2.
Any questions about Acumatica's cloud ERP software or our upcoming events can be directed to our team of experts, who would also be happy to schedule a demonstration.