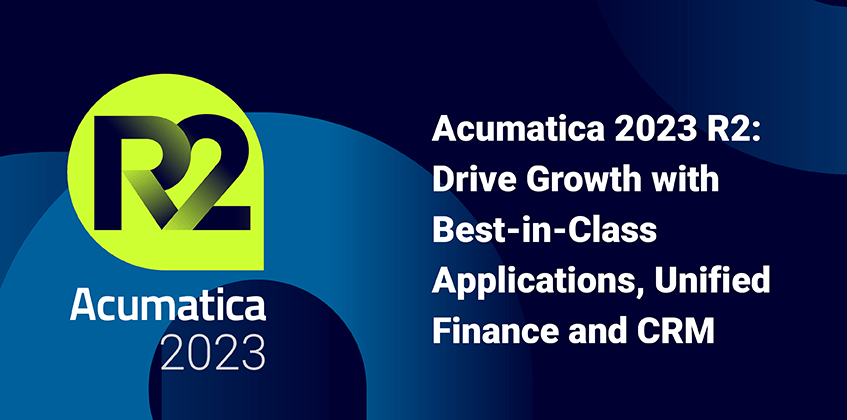 Acumatica 2023 R2, our latest release, is generally available. So today, in our second of three articles that dive in deeper on the themes that help define 2023 R2, we'll examine the new release's best-in-class cloud ERP applications, focusing specifically on the continued unification of our robust Financial suite and our customer-first CRM application. And we'll review the many pro-growth benefits small-to-midsized businesses (SMBs) like yours can expect after implementing Acumatica's comprehensive ERP technology and integrated financial management software.
If you missed my previous article on the 2023 R2 release, it's worth a look: "Acumatica 2023 R2: Reimagine Your Business with Intelligent Technology."
Growth Through ERP Technology
Financials are the hub of Acumatica's cloud ERP solution, connecting all other applications and industry capabilities, from distribution and manufacturing to construction and retail. Such powerful financial management software allows you to manage your critical business assets, income, and expenses using real-time information from a single source of truth, making the complex simple.
In a recent article, James Mallory, Acumatica's Sr. Product Marketing Manager, Manufacturing and Distribution, dives deep into this topic, discussing how ERP financial capabilities are the key to enhancing business productivity. He notes that a cloud-based ERP solution like Acumatica connects businesses end-to-end by pulling data from every department, allowing every team member to access the same data from a unified platform.
Essentially, Acumatica equips you and your organization with the features and functionality that drive business growth, including:
Multi-Entity and Intercompany Accounting
Project Accounting
Payroll
Reporting, Dashboards, and Business Intelligence
But that's not all.
Acumatica's ERP financial management software delivers a number of vital but often underappreciated financial capabilities powered by artificial intelligence (AI) and machine learning (ML). For example, you can enjoy seamless multi-vendor payments using automated payment processes, automated tracking of your payment due dates (whether they're your payments to vendors or your customers' payments to you), comprehensive cash flow management, proactive monitoring of rising costs, automated invoice processing, and more.
Understanding and appreciating these capabilities goes a long way to ensuring business growth but having a firm grip on your financials is only a part of the growth equation. How well you meet your customers' demands and satisfy their expectations is a huge factor in your success. Customer loyalty not only boosts your bottom line, but it also provides meaningful testimonials that help attract new customers.
Unifying Finance and CRM with Acumatica 2023 R2
With the importance of customer service in mind, Acumatica embedded our CRM (or ERP CRM) application within its core offering. By doing so, you have the marketing, sales, billing, finance, and customer data you need in one, centralized solution to effectively manage the customer journey from start to support.
Acumatica 2023 R2 improved Acumatica's already stellar and award-winning cloud ERP software by bringing Finance and CRM together.
Financials are at the core and the heartbeat of every ERP system. Acumatica's robust financial suite is designed for companies with complex requirements yet easy to use in smaller organizations and provides a feature-rich accounting portfolio seamlessly integrated with the product applications providing a financial engine for growth. In addition, Acumatica's embedded CRM provides system-wide visibility of customer data, empowering your employees to provide fast, informed, and more personalized customer service. Unified financials with CRM give you a financial engine for growth while providing a cohesive customer relationship experience to delight your customers.
And, with R2, we've boosted the capabilities in Financials with an integrated payment processing system (Acumatica Payments), improvements that make it easier to track employee hours and payroll, and upgrades to meet financial compliance obligations in the U.S. and Canada.  For CRM, R2 will help teams close more deals, organized contacts, enhance customer satisfaction and manage e-mail accounts.
Growing Businesses, Making Life Easier with Acumatica
The ultimate goal of every Acumatica release is to nurture significant business growth while making your life easier, like we did—and are doing—for Edward Cohen and Bruce Cohen, the CEO and president of Boca Terry, respectively.
Boca Terry is a family-owned and operated business launched in 1996. The company provides customers with top quality, luxurious bath robe and spa products and manages its own manufacturing, wholesaled distribution, and eCommerce operations. Unfortunately, brothers Edward and Bruce initially relied on QuickBooks for accounting, ACT! for CRM, and a customized Microsoft Access program for sales order entry.
The disconnected programs, hand-written orders, manual data entry, siloed information, lack of real-time financial information/reporting, and more led the Boca Terry founders to seek a better solution—one that could combine their three different applications. Sadly, their first choice didn't pan out.
"NetSuite was pretty difficult to use," Bruce says.
According to Bruce, NetSuite limited inventory IDs to a certain number of digits, which would have required a major change due to the fact that Boca Terry used dashes. In addition, the out-of-country support teams were difficult to deal with, so, as a result, they went back to the ERP drawing board.
And found Acumatica.
Says Edward, "Acumatica's integration and ease of use seemed better than NetSuite. When we viewed the demos, it was so much more outstanding than anything else we looked at. It fit like a glove and the integration of what we do as a company seemed like it would be a smooth transition."
After implementing Acumatica, they eliminated their frustrating challenges and began enjoying:
Full visibility into critical business information, enabling real-time, data-driven decisions.
Decreased number of days to ship an order due to accurate inventory data.
Improved order-to-cash cycle.
Automated administrative tasks, including order entry and tracking order status.
Automated customer order confirmations (saving Boca Terry $6,000 annually).
Remote access to information anywhere, anytime.
Now, with Acumatica's integrated ERP financials, CRM, and other applications, Bruce and Edward are ready to take Boca Terry to the next level. Says Edward, "Acumatica is a no brainer. Acumatica is allowing us to run the company better. We're much more efficient, we have answers quicker, and it gives us the confidence in what we're doing on a daily basis. We have accurate information at our fingertips and can make decisions quickly."
He adds, "Acumatica made my life so much easier. It's unbelievable."
We can do the same for you and your business. Contact our experts to find out more about our latest release and to schedule a demonstration. In the meantime, stay tuned for the third and final installment in our Acumatica 2023 R2 series, "Acumatica 2023 R2: Win in Your Markets with Tailored Industry Capabilities."