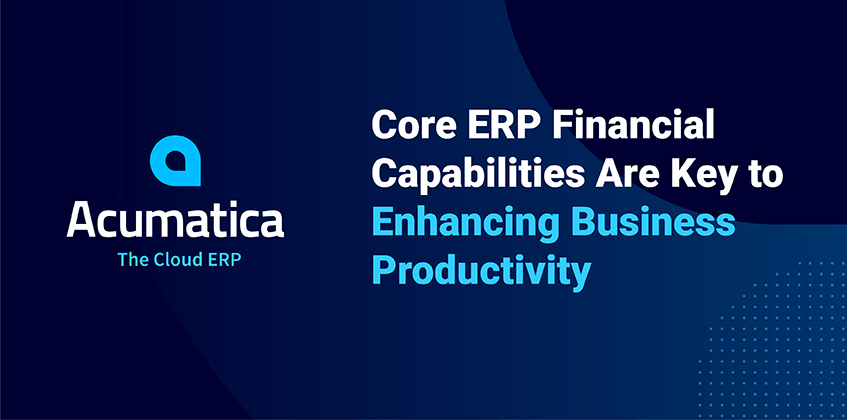 Every year, enterprising entrepreneurs launch new businesses, joining the over 33 million small businesses already in operation. And they have to get the basics right if they hope to be part of the 65% of new businesses that make it to their 10th anniversary. According to a Forbes article by contributor Melissa Houston, these "basics" include:
Focusing on the bottom line.
Knowing their market and their customers.
Developing a good marketing plan.
Managing their finances effectively.
As Houston writes, "It's essential to clearly understand how much money is coming into your business from sales and other income sources and how much money is going out on expenses such as payroll, rent, utilities, and inventory purchases."
Financial management is essential to running a successful business in today's digital economy. Both new and established businesses are becoming increasingly reliant on modern business management software—like Enterprise Resource Planning (ERP) solutions—to handle all their financial responsibilities, from tracking payments to completing payroll and everything in between.
Today, we'll explore how the right ERP solution can help a business manage its finances, increase productivity, and boost profitability.
A Powerful Tool for Business Productivity
So, how can a cloud-based ERP solution help? For starters, it connects a business end-to-end by pulling data from every department and making that data accessible to all team members. Everyone has the information they need to do their jobs, and it's all available from one unified platform.
That cloud-based ERP platform also provides accounting and other related apps that are great sources of real-time financial insights into the health of a business. The right ERP solution will include features like:
Multi-Entity and Intercompany Accounting to automate financial operations, produce sales orders, automate buy receipts, and expedite financial reporting, payments, and intercompany goods transfers for businesses with one or more subsidiaries.
Project Accounting to handle every financial transaction for all projects, give total visibility into costs, manage billing and revenue recognition, and provide multi-currency functionalities.
Customer Relationship Management (CRM) to store all customer contact, opportunity, account, and case data in one, organized system.
Payroll to automatically pull, store, and synchronize time and entry data from every department.
Reporting, Dashboards, and Business Intelligence to help businesses manage operations holistically, achieve comprehensive views of their companies, gain deep insights into organizational health, and accelerate data-driven decision-making.
Acumatica is the Right ERP Solution
Acumatica's Financial Management solution rests on a unified ERP platform that collects and aggregates accurate, companywide financial and accounting data—providing full visibility. It's a powerful instrument for optimizing all business operations through faster workflows, centralized data communication, and unlimited-user scalability.
Acumatica fills all the requirements of "the right ERP solution" and equips organizations with the features and functionalities that are relevant to today's businesses. For example:
Acumatica is Here to Help Businesses Thrive
From automating financial operations, producing sales orders, and expediting financial reporting to facilitating payments and intercompany goods transfers, Acumatica is the comprehensive financial management solution for any business seeking to grow.
Acumatica is committed to increasing business productivity through streamlined workflows and real-time insights. Its core ERP capabilities can be tailored to fill each business's unique requirements, as was the case for Acumatica customer Clive Coffee.
Amanda Datte, CFO at Clive Coffee, says:
As our business is growing so quickly, it's really important to have up-to-date information at our fingertips, at any point, any day, and at any moment. I can look at any point in time to see, 'Are we meeting our forecasted projections? And do we have the right infrastructure to continue to stabilize this growth? For month-end accounting, it's night and day. When we integrated Acumatica, I reviewed a checklist we had for our month-end procedures and was surprised that over half of them were eliminated, so it allows us to scale our business without having to hire more people to do this type of work.
Another Acumatica customer—Desy Wilson, President Director at PT. Multi National Equipment (MNE)—says, "With Acumatica, we've gained more visibility into our business. We can make better decisions that increase our profitability."
That's why we're here, and we can do the same for your business. Contact our experts today to learn more about our modern cloud ERP software and to set up a demonstration.