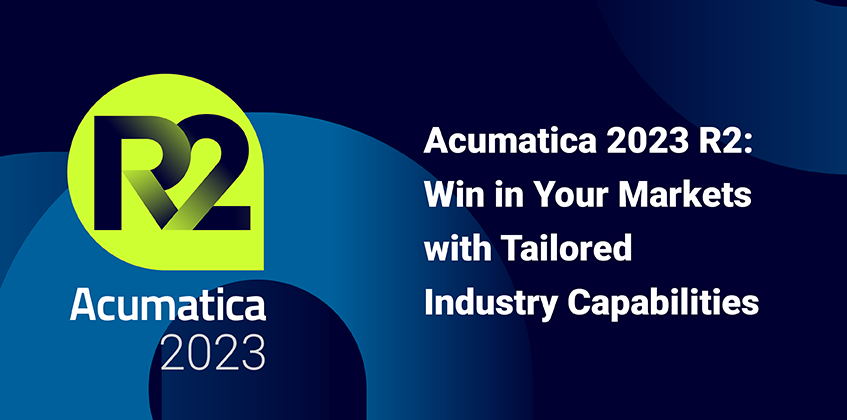 Acumatica 2023 R2, Acumatica's newest release, is now available and offers so many innovative updates we felt it was important that we highlight these many improvements in a three-part blog series.
In "Acumatica 2023 R2: Reimagine Your Business with Intelligent Technology," we looked at how businesses can use intelligent technology with ongoing, groundbreaking improvements—like Acumatica—to become more efficient and profitable. In "Acumatica 2023 R2: Drive Growth with Best-in-Class Applications, Unified Finance and CRM," we examined how unified Financial and CRM applications make your life easier while also helping you grow your business in the process.
Today, we're wrapping up the series by reviewing the industry-specific benefits brought by Acumatica 2023 R2, examining how they aid Acumatica customers in becoming more competitive in their markets. But first, we'll briefly explore why it's important for businesses to implement cloud ERP software designed specifically to meet the varying needs, requirements, and KPIs of their individual industry segments.
Your Business is Unique. Your ERP Solution Should Be Too.
Your business is different than your competitors. The way you manage your business—from the decisions you make to the people you hire to the technology upon which you rely—creates a distinctly unique experience for your customers.
The differences between competing businesses are exacerbated by the industry within which you reside. A manufacturing business's requirements differ from a distributor's requirements, which differ from those of a retail business. This means that the business management solution you choose must be able to provide the features, functionalities, and capabilities you need most.
Acumatica's modern, comprehensive ERP solution offers smart industry editions tailored for each industry yet delivers cutting-edge features that span the needs of businesses across the board. By centralizing business management technology onto a single, open platform, Acumatica enables businesses like yours to connect every department and provide every team member with accurate, updated data. Acumatica—powered by artificial intelligence (AI) and machine learning (ML) capabilities—also aids in the automation and streamlining of business processes, thus supporting increased efficiency, productivity, and profitability.
The updates found in our latest release provide specialized benefits for our manufacturers, distributors, retailers, commerce merchants, and service providers, enhancing their ability to be lean, competitive businesses in today's ultra-competitive digital economy.
Meeting Your Unique Needs with Acumatica 2023 R2
Here are the key feature benefits delivered by Acumatica 2032 R2.
Feature Benefits for Distributors, Retailers, and Commerce Merchants:
Improve profitability and provide transparency with capabilities that enable reviewing estimated margin percent and amount calculations during order creation for an entire order and individual line items.
Streamline mass stock allocation and deallocation for orders with the new Manage Sales Allocations screen; automate the allocation process and apply manual overrides to change or refine suggestions.
Protect margins with features that optionally exclude automatic line discounts, such as volume discounts from order lines for a particular price, such as promotional pricing.
Add the world's largest sales channel with the Amazon connector that connects Acumatica to Amazon's Seller Central marketplace, supporting FBA (Fulfilled by Amazon) and MFN (Merchant-Fulfilled Network) delivery models.
Open new markets and accelerate sales to business customers with Shopify's new B2B eCommerce platform by seamlessly integrating online sales with Acumatica's back-end fulfillment processes.
Feature Benefits for Manufacturers:
Improve manufacturing cost control and streamline implementation and setup for cost accountants with a new user role and the option to lock production order status.
Simplify production order ticket printing with the Acumatica DeviceHub service that includes automation schedules and predefined printer settings.
Extend Acumatica's Product Configurator via new web endpoints to leverage rules-based product options and values logic for configured orders from external apps like website storefronts, custom portals, or other applications.
Feature Benefits for Contractors and Service Organizations: 
Gain better insights with side panel access for multiple business document maintenance screens that improve end-user navigation.
Save time with capabilities that enable deactivating cost codes that are no longer used in projects. Once deactivated, the cost codes become unavailable but remain specified in documents so users can continue working.
Empower users with features that enable editing retainage information in subcontracts and purchase orders linked to change orders.
Improve project visibility with capabilities that support reviewing outstanding AR aging documents and their unreleased retainage for a particular date.
Winning In Your Unique Market with Acumatica 2023 R2
As we just discussed, Acumatica is committed to equipping our 10,000+ customers with the industry-specific features they require in order to succeed in their respective industries.  Alpha Insulation & Waterproofing Inc. (Alpha), a customer specializing in commercial insulation, waterproofing, and fireproofing, is a perfect example.
Founded in 1982 and acquired in 2017 by Installed Building Products, Inc., the company was running on an ill-fitting, construction-based project management and financial system.
To say the challenges with their multi-tenant legacy system were many is an understatement. From constantly crashing to the lack of SOX compliance features (Alpha had to painstakingly compile data and create reports manually), the system was completely unreliable, and the Alpha team—tired of the system's debilitating issues—was beyond ready for a new, more efficient solution.
Scott Lyons, Chief Financial Officer, and Cassandra Moore, Director of Accounting, did their homework before selecting a modern business management solution. Says Lyons, "We came up with a comprehensive list of requirements and then carefully evaluated each potential application to identify the best possible fit for our business."
After meticulously evaluating their ERP options, Alpha chose Acumatica and Acumatica Construction Edition. Our construction-specific software provided the ease of use, intuitive user interface, flexible inventory management (with updated job costs), self-service reporting, and reliable cloud-based platform they wanted.
"Acumatica had the most robust product roadmap, the most thorough understanding of the construction industry, and the best overall user experience," Lyon says.
Ultimately, the benefits experienced by Alpha since implementing Acumatica's industry-specific solution (e.g., complete visibility into all aspects of the organization, automated WIP reports, and faster and easier compliance public company requirement compliance with a SOX-compliant system) have confirmed that Alpha made a wise decision.
"In my opinion," says Lyons, "there isn't a better product out there for a specialty subcontractor."
Acumatica tailors its industry editions to overcome industry complexities, solve common and individualized pain points, and help businesses stay on top of developing compliance and regulatory standards. And with Acumatica 2023 R2, businesses in every industry have even more of the tools and resources they need to excel in their markets.
To learn more about the ERP industries we serve, contact our experts today.