Many cloud ERP vendors are clamoring for buyers' attention, each one promising their solution is the best. If you're a buyer, reduce the noise and confusion by focusing on industry-specific ERP solutions. We'll explain why today.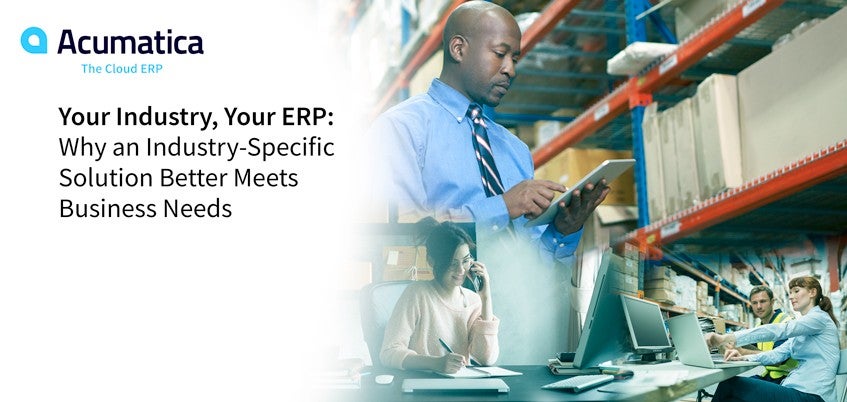 When something is broken or hurting, where do you turn for help? You turn to the experts. You call the plumber to fix your plumbing issue and the dentist for your tooth ache. Likewise, you should look to the experts when you're in the market for a cloud ERP solution, and today, we'll explain why an industry-specific ERP solution can better meet your business needs.
Why industry-specific ERP solutions are best
Choosing and implementing a cloud-based ERP is a serious, expensive, and long-term decision. It takes time and effort to differentiate between the many choices in the market. You must decide which one will meet your specific business needs today while having the flexibility to meet your needs when they inevitably change tomorrow.
Your options range from "generic" ERP solutions to industry ERP solutions. As to which is best, Sean Atkins, president and founder of ACC Software Solutions, took on the debate in his post, Industry-Specific vs. Generic ERP? Pros and Cons in the Postmodern Cloud ERP World.
In it, he explains that there's been a shift from the modern ERP MegaSuite to Gartner's Postmodern ERP due to the cloud, APIs, and the adoption of the Software as a Service (SaaS) model. He writes, "These developments made it possible for businesses to affordably invest in highly specialized, and sometimes industry-specific, applications that flexibly integrate."
Industry-specific ERPs, or vertical SaaS solutions, are—as the name implies—tailored to meet the needs of a specific industry. They're based on deep research into each industry's complexities, which provides unparalleled understanding of that industry's pain points. Along with that understanding comes a solution which solves for those pain points. They are also designed to help users easily adhere to ever-changing compliance and regulation standards.
With this in mind, it's easy to see why an industry ERP solution can meet your business management needs. Just as you trust your car to a highly-trained mechanic, you should also trust your <distribution, manufacturing, commerce, service, construction, and other> business to a cloud-based, industry-specific ERP solution that has been developed with the exact features you need to succeed.
Acumatica's industry-specific editions
Acumatica is a true cloud ERP solution that offers industry editions (e.g. Distribution, Manufacturing, Retail & eCommerce, Services, Construction, and more) that, as Sean says, "meet industry specific standards and support best practices without sacrificing flexibility, data integrity, or integrations."
Dave Munson, the founder and CEO of Saddleback Leather, is an Acumatica customer who has experienced the benefits of Acumatica's cloud ERP software. His company is in the retail and eCommerce industry, selling quality leather products (e.g. duffle bags, briefcases, backpacks, wallets, belts, and more) through their online store.
Unfortunately, they trusted their business to Oracle NetSuite.
According to Dave in the company's customer success story, it was a frustrating experience. "Nothing worked fresh out of the box. It took 14 developers and systems staff just to make it work. It was proprietary, so anything you wanted changed took 10 times longer than necessary to implement."
The Saddleback Leather team found that using NetSuite's front end as its first online store was impossible. The generic solution:
Couldn't connect with their financials
Was lacking in SEO capabilities for their website (resulting in slow load times)
Required a programmer to create new product landing pages
Hindered their ability to add customer reviews on their website.
They solved these major issues by switching to Acumatica. With the help of Acumatica partner Kensium Solutions, they implemented Acumatica Commerce Edition, which seamlessly integrated with Acumatica Financial Management; Kensium Solutions – Magento/Acumatica Connector; NETSTOCK – Inventory Optimization Solution; and ShipStation.
The retail and eCommerce business boosted sales and saved millions by switching to Acumatica's industry-specific solution with its targeted functionality. For example, Dave estimates they paid $230,000/annually and $4 million over a six-year period to keep NetSuite running. Additionally, he said millions were lost in online traffic and sales due to NetSuite inefficiencies.
Dave says, "Our organic traffic…is our best source of sales, and it's really paying off. Just that alone has covered the cost of all of Acumatica for the next ten years…and it's only because of leaving NetSuite. It's incredible."
Meet your business needs with an industry-specific ERP solution
So, let's recap why an industry ERP solution better meets your business needs.
It's tailored to meet your needs based on a deep understanding of the ins-and-outs of your industry
Your daily pain points in running your business are anticipated and solved for
The stress of keeping up with industry standards and regulations is eliminated
And, as demonstrated by Saddleback Leather, it can save you an enormous amount of time and money.
Acumatica continues to aggressively develop a user-friendly and user-approved cloud ERP solution on our adaptable Acumatica Cloud xRP Platform, meeting the specific needs of businesses in every industry. Our second major release of the year, Acumatica 2020 R2, is set to launch on September 16, 2020 during our Virtual Launch Event, and we can't wait for you to experience the advances in usability, our intelligent industry-specific features, and the mission-critical business capabilities that can help improve efficiencies and profitability.
For more information about Acumatica or to schedule a demonstration, please contact our team today.