Feel like there are too many cloud ERP vendors and not enough time to research them all? Nucleus Research can help. They've released their newest ERP Technology Value Matrix assessing 22 vendors for you to compare. Acumatica is not only a Leader, but is once again ranked highest in Usability.
"The conclusions of Nucleus Research demonstrate our success in cloud ERP across multiple verticals," says Jon Roskill, Acumatica CEO, in an Acumatica press release. "We continue to drive digital transformation and business modernization for customers. This is being achieved in large part due to our commitment to R&D, with nearly 75% of employees working in that area, and Acumatica's strong ISV and VAR partner ecosystem."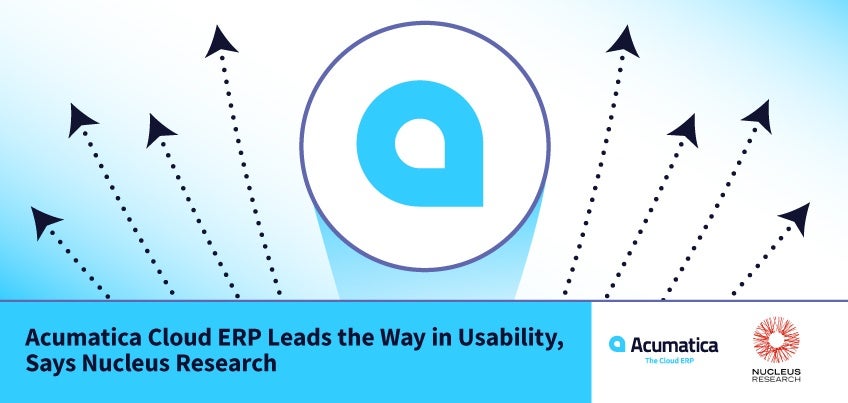 High usability and customer value from Acumatica cloud ERP
The Nucleus Research report (which we're offering as a complimentary download) says as cloud ERP software offerings mature, customers can expect to experience increased functionality. Customers have plenty of cloud ERP options, and vendors are working to distinguish their services from their competitors through verticalization, new product releases, consolidations, and Industry 4.0 capabilities.
Of the 22 vendors reviewed by Nucleus Research, eight were placed in the Leader quadrant, including Acumatica. Acumatica, however, rated the highest in usability against these well-established competitors. The Nucleus Research report explains why.
"The vendor [Acumatica] continues to lead the way in usability, serving several industry verticals… . High usability and flexibility are at the center of Acumatica's development philosophy and the vendor is looking to automate processes that it already delivers," writes Analyst Seth Lippincott.
The verticals he refers to include Acumatica's Commerce, Manufacturing, and Field Service editions along with our newest editions, Distribution and Construction. Our latest release, Acumatica 2018 R2, offers users pragmatic improvements across three core areas: Cross Industry Applications, Industry Specific Solutions, and the Acumatica ERP platform. Every Acumatica edition—including those mentioned above and Financial Management, Project Accounting and CRM—has been upgraded, improved, or otherwise enhanced. The details are available in our Acumatica 2018 R2 Overview.
This is what CEO Jon Roskill had to say about our latest release at the Launch Day Event in Boston: "Our focus in this 2018 R2 release on usability, customer satisfaction and compliance addresses the changing market requirements of today while also representing our targeted response to customer feedback."
Bruce Young, president and co-founder of Curran Young Construction, says his team compared other cloud-based ERP software to Acumatica, and found that Acumatica cloud ERP and Acumatica Construction Edition were the best—and only choice—for them. "Learning Acumatica and being able to run with it in just a few weeks speaks volumes. …We're not accountants but the learning curve has been short because Acumatica is easy to access, and its intuitive nature is awesome."
He continues: "We are all about efficiency. While some in the construction industry may not have heard of Acumatica, everything in the product is efficient, available at your fingertips and the flow of information and accessibility is incredibly powerful."
The construction company now has enterprise-scale financial functionality, has saved immense amounts of time by integrating their multiple and siloed applications, and has achieved seamless integration with necessary third-party applications (you can read about their implementation in more detail in the Curran Young Construction case study). The takeaway from their experience, and from the experiences of many Acumatica customers, is that Acumatica's cloud software offers users the highest level of customer service by providing the usability, flexibility, and mobility they need to stay viable and competitive in today's market.
Nucleus Research is not alone in its conclusions. Gartner, a leading information technology research and advisory company, and G2 Crowd, the leading business software review platform, both released reports (Gartner Magic Quadrant for Cloud Core Financial Management Suites for Midsize, Large and Global Enterprises 2018 and G2 Crowd Comparison Report) earlier this year that named Acumatica as the leading cloud ERP software provider for User Satisfaction. These reports are also available to you as free downloads in the links above.
Acumatica's cloud software leads the way
Nucleus' evaluation of "ERP market vendors based on their product usability and functionality and the value that customers realize from the capabilities of the product" led to Acumatica's placement as a Leader among top vendors. If you download the complimentary 2018 ERP Technology Value Matrix report, you can read about each vendor in detail.
To learn even more about Acumatica cloud ERP, we'd love to have you join us for Acumatica Summit 2019, coming January 27-February 1, 2019 in Houston, Texas. Attending Summit will give you an opportunity to experience the power of Acumatica solutions, network with peers in your industry, and speak with Acumatica Partners about their solutions to business problems.
Contact our team via phone or email with any questions or to request a demonstration.