The annual SIIA CODiE Awards are like the "Oscars of Software." Software leaders and those in the industry vote for the best software, and Acumatica Cloud ERP won the #1 spot for ERP solutions.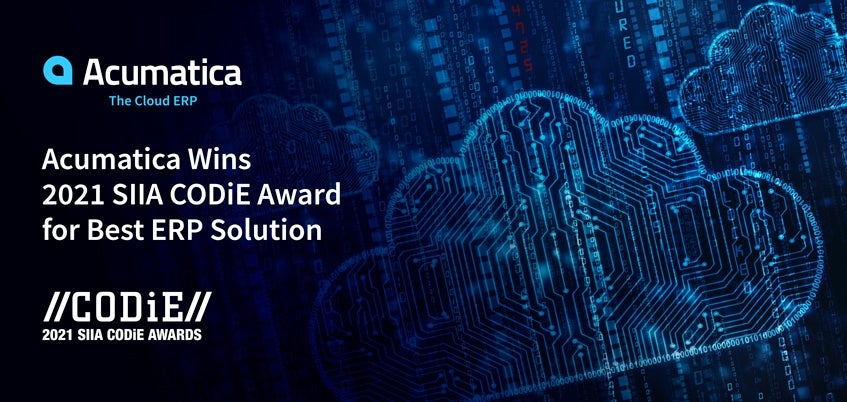 For 36 years, the Software & Information Industry Association (SIIA) has been handing out CODiE™ awards to celebrate excellence in business and education technology. We're proud to announce that Acumatica Cloud ERP was the recipient of the Best ERP Solution award.
The pandemic and the "Oscars of Software"
The arrival of the pandemic threw businesses around the world into a tailspin, especially those that didn't have the technology in place to smoothly transition their employees from working in the office to working from home. Digital transformations—digitizing manual, analog processes, providing remote access, and connecting businesses with cloud-based ERP solutions—became a 2021 SMB trend in response.
Though digital transformations can fail, they are more likely to succeed when you choose the right cloud ERP solution. According to the SIIA CODiE Awards (or the "Oscars of Software" as industry insiders like to refer to them due to the fact that they are the ONLY peer recognized competition in the education and technology industries), Acumatica ranks number one amongst ERP solutions.
The CODiE Awards fact sheet explains how the winners are determined:
"Each nominated product receives a detailed review by two expert judges (teachers and administrators in ed tech categories and executives, product leaders, investors, consultants and press in business technology categories). Products are judged against category specific criteria, and all nominees receive detailed feedback from their judges that can be used in marketing, promotions and to help guide future product development. Top rated products from the first round of review are elevated to finalists, and all finalists will receive a second- round peer review by SIIA members… . The scores of both rounds are combined to determine the winners, and the winners are announced during a special virtual awards celebration."
It's a rigorous process, which also includes live demonstrations. Acumatica's Director of Partner Enablement, Jessica Gadbois, superbly represented Acumatica with her demonstration and exemplified why she was recently selected as one of CRN's 2021 Women of the Channel honorees.
Acumatica Cloud ERP: Continuing to do what we do best
SIIA President Jeff Joseph says in the SIIA press release, "The 2021 CODiE Award winners continued to innovate, pivot and grow to develop truly remarkable products during a historically challenging year. Winners maintain the vital legacy of the CODiEs in spotlighting the best and most impactful apps, services and products serving the business tech market. Congratulations to this year's finalists on this well-deserved recognition."
We second the congratulations to all the CODiE Award winners. We also thank SIIA and to our peers who voted us Best ERP Solution for 2021.
Being selected by industry leaders and especially by our peers is an honor we don't take lightly. Instead, we'll continue to do what we do best: Deliver award-winning and user-approved cloud ERP software that enables a complete, real-time (and any time) view of your business and provide a full suite of integrated business management applications, including Financials, Distribution, Manufacturing, Project Accounting, Field Service, Retail, Construction, and CRM.
To learn more about Acumatica, including why Acumatica was also named a Leader and Gold Medalist in SoftwareReviews' 2021 ERP Data Quadrant and why Acumatica is rated #1 in customer satisfaction and ERP usability, contact our team today.