With the proliferation of cloud ERP solutions in the market, how can businesses choose? PCMag offers an excellent comparison resource with their best ERP software award reviews, and we are gratified that Acumatica has come out on top once again.
On the heels of our 11th Acumatica Summit, I am reminded how exciting it is to be part of a thriving community centered around Acumatica's innovative and comprehensive cloud ERP solution. I am also excited to have the opportunity to announce Acumatica's latest award, the PCMag Editor's Choice Award for Best ERP Software. For the second year running, Acumatica has received an "Excellent" rating by PCMag and continues to outperform the competition.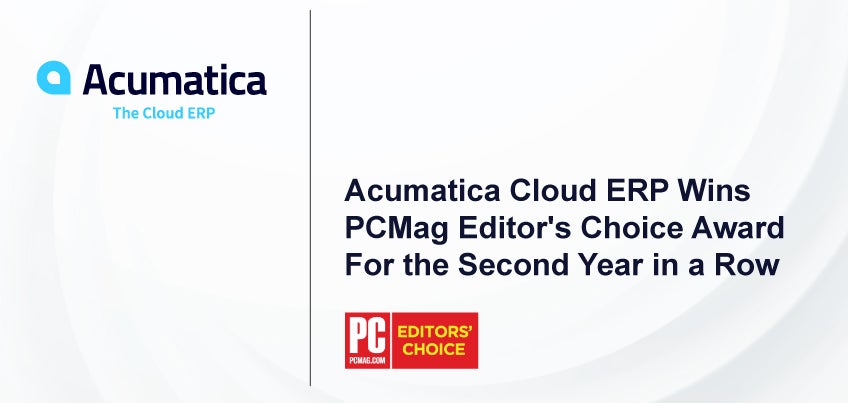 The best ERP software
Every year, PCMag reviews popular ERP solutions, putting each one through a rigorous evaluation. PCMag's detailed reviews act as an assessment tool for enterprise-level companies seeking an effective business management solution. Out of the ten leading enterprise-level accounting software solutions tested this year, Acumatica was one of three to receive 4.5 stars, beating out powerhouses like Sap Business One, Sage, and Microsoft.
"Acumatica's intuitive design, enterprise scalability, and flexible pricing model help make Acumatica an excellent choice for enterprise resource planning, general ledger accounting, and inventory management," Editor Ted Needleman writes. "Designed as a Software-as-a-Service (SaaS) application, Acumatica delivers an excellent option for those needing a scalable financial and enterprise planning (ERP) platform."
PCMag's detailed review begins with Acumatica's easy-to-use and customizable dashboards. They provide users with a view of their essential and real-time data through charts, data tables, Power BI tiles, KPIs, and more. Users can monitor and analyze detailed financial, operational, and organizational information from a single source of truth.
Needleman then continues to examine the full breadth of Acumatica's extensive capabilities, including:
Customization: Users can access all of Acumatica's source code, have easily-accessed import and export capabilities (noting that our system is Open Data Protocol (OData)-compliant), and enjoy an easily-understood account structure with multi-company operations and consolidation capabilities.
Mobility: In the office or on the go, users can access Acumatica cloud ERP on any web-enabled device or through Acumatica's Android and iOS apps.
Pricing model: Unlike other leading cloud ERP providers, Acumatica's unique pricing structure bases fees on resource consumption versus per-seat licensing. Users can choose SaaS Subscription or Private Cloud subscription—all of which disregards the number of users and focuses on the volume of key transactions for a user's business.
The review also covers Acumatica's other core offerings, including Manufacturing, Distribution, Inventory, Supply Chain, and CRM.
"Acumatica is a well-balanced app featuring a modular architecture that targets ERP, general ledger accounting, and inventory management. Its browser-based user experience (UX) is excellent, with a feature-rich environment accessible via an intuitive user interface (UI)," Needleman writes.
The Acumatica cloud ERP difference
The Acumatica team is honored to once again receive the PCMag Editor's Choice Award for Best ERP Software. This award, in addition to other awards and recognition in 2018 (including the SIIA CODiE Award for Best Cloud ERP Solution and Best Manufacturing Solution, highest customer satisfaction in Gartner's latest Magic Quadrant, and highest in usability in Nucleus Research's ERP Technology Value Matrix, to name just a few), exemplifies what sets Acumatica cloud ERP apart from other ERP solutions.
From our true cloud ERP platform to our continually pushing of technology boundaries—we are already utilizing AI, Machine Learning, and Natural Language within our true cloud offering—and from our reliance on our expert partner channel (which exclusively sells our product and provides third-party applications) to our bi-annual product releases, Acumatica is a fully integrated cloud ERP providing incomparable performance, efficiency, and productivity.
Needleman also points out that companies choosing to invest in cloud ERP software will see a better return on investment with a solution like Acumatica if their business needs a custom, complex, and comprehensive solution. If you contact our team, they will be delighted to demonstrate how Acumatica can make a difference in your company's success.