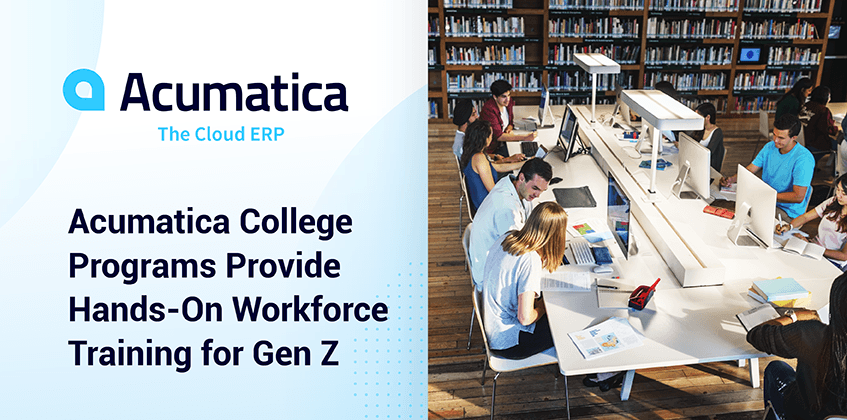 Recently, Acumatica introduced a comprehensive, hands-on course at Farmingdale State College. Through classroom instruction and real-world manufacturing scenarios, this course provides students—and employees—with training and deep insights into the importance and benefits of a modern Manufacturing ERP system. As our first ever Acumatica ERP-focused course, it's been an unqualified success. Today, we're excited to share information about another college course that incorporates Acumatica's award-winning cloud ERP solution.
The Digital Consulting Project course at the University of Texas at Dallas (or UT Dallas) offers Acumatica as a "capstone project," asking students to devise solutions for real-world problems. According to student Devangshu Mitra's review of the course, it's a transformative, value-filled experience.
"Prior to this, my understanding of ERP was limited to theoretical knowledge," he says. "However, through this course, I had the chance to explore the functionalities of Acumatica and understand the processes involved in an actual ERP consulting project. It was truly an eye-opening experience that shed light on the transition from the client onboarding stage to the final delivery."
Digital Consulting Project Course Details
Digital Consulting Project, part of UT Dallas's Management Information Systems program, is a graduate-level course taught by Professor Gaurav Shekhar. Student Tabinda Alam says it fills up quickly every semester—and she should know. She tried unsuccessfully to get in for three semesters before finally being able to take it in Spring 2022. And she believes it was well worth the wait.
In her article, "Must take this class at UTD, or you will regret it later!!!", Alam provides a thorough review of the course and says: "Overall, Digital Consulting Project has been an excellent learning opportunity. This class has been and will be a great benefit for students who want to understand consulting and have hands-on experience at the same time."
According to the course description, students, working in teams of five or six, will learn a "consulting methodology and how to apply the methodology to a digital project provided by a local firm." One of these firms is ERP Logic, an Acumatica VAR. After Digital Consulting Project students have completed Professor Shekhar's lectures and assignments, ERP Logic VP Sushil Banubakode (along with other consulting professionals) mentors the students in real-world business processes and strategies.
Topics covered in the course include:
ITIL (IT Infrastructure Library) Framework and Practices.
Change Management.
Incident Management.
Design Thinking.
Problem Solving.
The TOSCA Approach.
For Mitra, Digital Consulting Project has provided practical knowledge he can use as a functional consultant, preparing him in business analytics with hands-on experience. He says: "A unique aspect of this course was its practical nature and emphasis on group activities, enabling us to apply the service management skills we learned. Through working with actual businesses on real-world projects, the course enhanced our technical knowledge, business process understanding, and professional skills."
He adds, "It was a whole learning process that successfully closed the gap between theoretical understanding and practical implementation. It provided a platform for our professional and personal development, giving us the knowledge and outlook needed to succeed in the field of business analytics and cloud ERP systems."
As for student Maryam Safa, she writes that taking the course and working with ERP Logic was a learning-filled experience. "With industry-specific skills like Acumatica and transferrable skills like teamwork and project management, I believe it was time well spent and knowledge much gained."
A Rewarding Challenge
The UT Dallas Digital Consulting Project course is a challenging class that requires students to work closely with their peers to produce a successful project as consultants. Upon completing the course, students become Acumatica-certified Business Consultants and can earn badges in such areas as Business Consulting, Inventory, and Order Management on the Acumatica Portal.
And if they do exceptionally well, they may be considered for an internship or a full-time job at successful cloud solution providers, like ERP Logic. Banubakode, who is passionate about offering students a rewarding ERP experience, says, "We like to give these students projects that are relevant to our business—the skills that are relevant to our business—and if any of the students show promise during this project, then we can consider them for a full-time position."
At Acumatica, we couldn't be more thrilled that the next generation is learning firsthand about our innovative business technology and how to apply that knowledge in real-life situations. It's an amazing way to empower people through technology, and it exemplifies what our AcumatiCares program is all about—building a diverse, sustainable, and equitable community that works together to make a real and lasting difference.
For more information about the UT Dallas Digital Consulting Project course and about Acumatica's comprehensive cloud ERP solution, contact our team today.