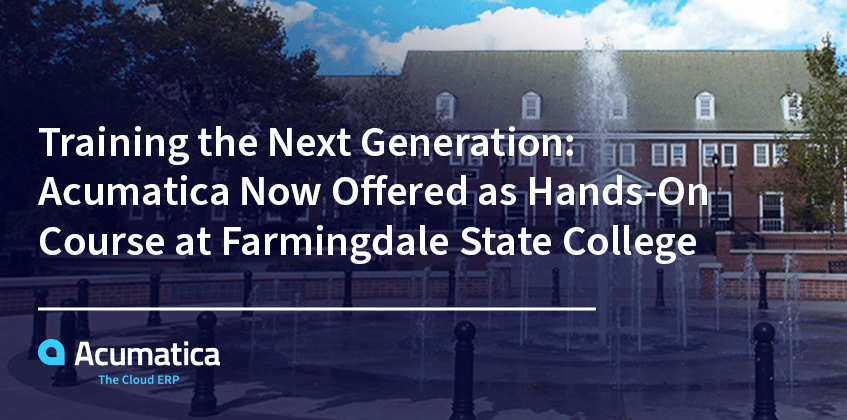 At Acumatica, our passion for making a positive impact on our communities includes sustainability and gender equity initiatives that represent the core of our AcumatiCares program. Collaborating with academia in preparing the next generation with these skills that are in demand is crucial.  As the provider of innovative business technology, we understand and appreciate the importance of developing STEM (Science, Technology, Engineering, Math) skills in the next generation.
To this end, we're excited to announce that we've partnered with a collaborative team of academic professionals and Acumatica Partners—to provide Farmingdale State College's students with a hands-on, Acumatica ERP-focused course as part of the college's Intro to ERP and Advanced ERP courses.
We are excited about this partnership and want to share with you the course details and learning objectives.
About the Acumatica ERP Course at Farmingdale State College
Fundamentals of ERP, the new Acumatica ERP software course, has been developed by Dr. Jill O'Sullivan, a professor at Farmingdale State College, and the Acumatica partner community. This is the first such course exclusively focused on Acumatica's ERP technology.
During the course, students will be introduced to manufacturing and Enterprise Resource Planning (ERP) software utilizing text, video, graphics, PowerPoints, live software exercise, and interactive testing. Topics include how an ERP system captures and processes information and how to apply this knowledge in real-world manufacturing scenarios. Additionally, students will use the actual software, cementing their understanding of ERP solutions generally and Acumatica specifically.
Said Dr. O'Sullivan, "The material content to be used in the classroom will arm students with knowledge sufficient to prepare them for the workplace and employees with information relevant to opportunities on the job." The course is designed to help students develop skills that "support their career paths in areas such as Business, Engineering, and Technology."
This course will provide students with the foundational business and technical skills that are needed by Acumatica partners and manufacturing companies.
The course is designed to achieve specific learning objectives, including:
Understanding the need and benefits of a Manufacturing ERP system.
Reviewing the importance of ERP and its history.
Learning the major processes of an ERP system and the relationships with functional areas in a manufacturing company.
Understanding how the integration of the processes can improve the control, efficiency, and profitability of a manufacturing business.
Performing "hands-on" exercises using an ERP system that mirrors what industry uses.
Understanding the challenges of manufacturing and how an ERP system can help solve them.
Identifying the underlying technical concepts that are used in an ERP system.
Learning about Acumatica, a leading cloud-based ERP system that is used to support this course.
The course offers real-life case studies of businesses that use Acumatica's cloud ERP solution.
Learn All About Acumatica Cloud ERP at Farmingdale State College
The Fundamentals of ERP course at Farmingdale State College (located in Farmingdale, New York) will provide students with a deep dive into the many features and extensive functionality of Acumatica's comprehensive cloud ERP software for manufacturing businesses. Students will discover how Acumatica's incomparable business technology helps businesses thrive in today's digital economy and how our unmatched customer support—which includes the cloud ERP industry's only "Customer Bill of Rights"—takes their success to the next level without added expense.
Our engagement in developing educational opportunities in the STEM field goes hand in hand with our broader company efforts to create a culture of empowerment through technology. Our efforts include putting programs, such as our new Women in Tech (WiT) forum, in place to build such a culture and by sponsoring external programs like Girls Who Code, a nonprofit organization passionate about closing the dramatic gender gap in technology. This aligns with the efforts of Farmingdale State College's Dr. O'Sullivan to promote women in manufacturing technology.
Acumatica's Chief People Officer, Martha Lucia Groulx, discusses our ongoing advocacy for women in STEM in a recent article on empowering women in tech. She writes: "Acumatica will continue to invest in diversity and prioritize hiring talented women and in spearheading a supportive and inclusive culture."
Acumatica will also continue to encourage all members of the next generation to research careers in technology, and more precisely, career opportunities at Acumatica. As a leading cloud ERP innovator, we offer global job openings and a high-energy, welcoming culture. And we believe the new Acumatica course at Farmingdale State College is the perfect steppingstone for student's opportunities in joining our community.
For any questions about the course or about Acumatica, contact us today.