Acumatica Construction Edition combined with Procore and other Acumatica third-party application providers creates a construction accounting software juggernaut. Construction companies everywhere can stop looking at multiple sources for their construction software needs and focus in on Acumatica as the one end-to-end solution.
When we released Acumatica Construction Edition in March of this year, we knew we were tapping into an industry that was lacking in modern, true cloud and comprehensive construction software options. The response from customers was immediate and overwhelmingly positive, as showcased by the growth we've seen in customer adoption. Cloud-based construction accounting software that seamlessly connects their front and back office processes is exactly what the construction industry has needed to keep their projects on schedule, on budget and be competitive.
The construction industry has been slow to adopt new back-office technologies. However, it's starting to see new technology solutions (such as Acumatica Construction Edition) emerge that address pressing needs from financials and project management and field to office communication.
Additionally, Acumatica's growing partner ecosystem is providing those same customers strong, integrated applications, such as Procore, the world's leading construction management software. The Acumatica/Procore integration, which is now available in the Procore Marketplace, extends their capabilities and sets them up for success.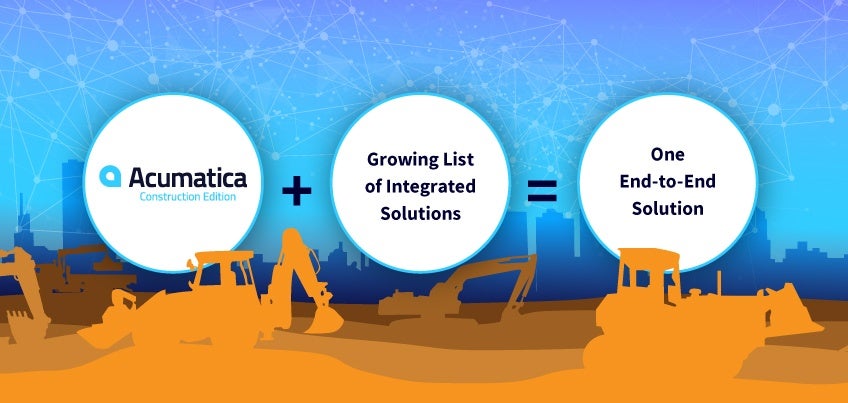 Acumatica Construction Edition and Procore
Acumatica Construction Edition, which has already received some user-based enhancements in Acumatica 2018 R2, is construction accounting software for homebuilders, general contractors, subcontractors and land developers. Users can gather and analyze their project information in one central location, using the "single source of truth" to make better decisions for their multiple projects. Residential and commercial construction projects will benefit from the mobility provided by Acumatica Construction Edition—accessing documents from any place at any time—as well as from Acumatica's Financials and Project Cost Tracking, which enables them to handle their budget, inventory, change orders, time sheets, billing, and reporting needs (and more) efficiently. Every stage of home, multi-family, commercial, mixed-use, land development and government projects are addressed by our comprehensive construction ERP.
With Procore, Acumatica Construction Edition users can manage their field operations seamlessly by synchronizing data between the two applications, including customer, vendor, project, cost codes, and more in real time, improving efficiency and accountability. The integration makes mapping data a breeze, updating information easily and quickly.
In a recent press release, Doug Gibson, Business Development Manager at Procore, says, "Acumatica provides the construction industry with a true cloud-based accounting solution. The integration with Procore is a great fit to enable a seamless connection between the field and back office at any time, from anywhere."
Expanding ISV ecosystem means one end-to-end solution for construction companies
As with Procore, Acumatica is building strong partnerships with Independent Software Vendors (ISVs) to give their construction customers the ability to meet their business management needs in one place, with customers such as Curran Young Construction.
"Once we made the decision to go cloud, other software couldn't compare to Acumatica's Construction Edition," says Bruce Young, president and co-founder of Curran Young.
After implementing Acumatica Construction Edition, the general contracting company gained:
Enterprise-scale financial functionality
Thirty percent more time using one tool vs. three siloed applications
Integration with Procore and other third-party applications
They also avoided paying for on-premises server technology and benefitted from Acumatica's unlimited user licensing. For Bruce, "it was a logical choice—with Acumatica, we can communicate and integrate with other tools easily, which is a big plus as we use tools like Procore, Excel, ProEst, and Building Connected."
You can read more about Curran Young Construction and their experience with Acumatica Construction Edition in the company's case study. You can also attend Acumatica Summit 2019 (happening January 27-February 1, 2019 in Houston, Texas) to see it in action. There will be dedicated construction breakout and training tracks where you'll learn how to configure and fully utilize our construction software.
If you're ready to join the ranks of those who have embraced cloud-based construction accounting software, then we encourage you to research your options—steering clear of fake cloud options—and to include Acumatica Construction Edition as a contender. We think you'll find that choosing an end-to-end construction solution will give your business the competitive edge it needs.
Contact our team today with any questions or to request a demonstration.