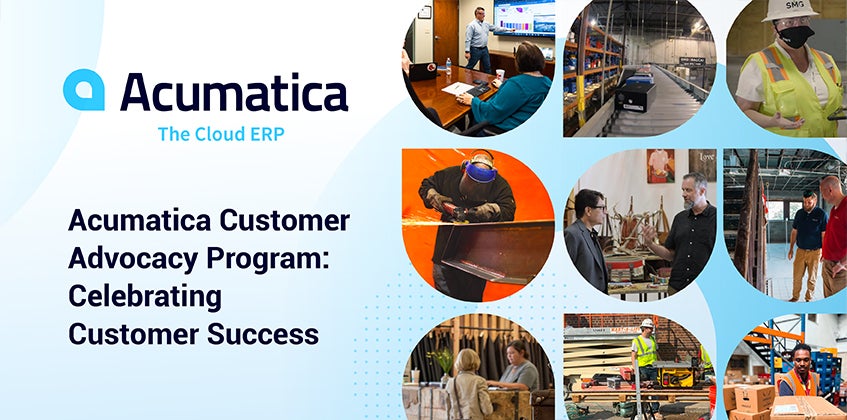 Acumatica delivers the most innovative cloud ERP solution on the market, with functions and features that expand the potential and possibilities of business management software. Our innovative product is built for customer success—meeting today's challenges and seizing tomorrow's opportunities. Beyond just the product, Acumatica is also a thriving Community of partners and creators that is relentlessly customer-focused.
An essential manifestation of Acumatica's customer-centric focus is our Customer Advocacy Program, which celebrates customer success and shines a spotlight on business achievement. These customer voices not only validate the value of our ERP solution, but also provide the essential direction we need to guide our software development roadmap.
The Acumatica Customer Advocacy Program is how we share the voices of our customers through their success stories, video interviews, and testimonials. It provides references for analysts and the media, and it allows real-life Acumatica users to inform the ERP research journeys of other companies that are looking for a business management solution to fit their unique needs.
Acumatica was recognized as a solid Leader in the SoftwareReviews 2023 Data Quadrant Report and the Fall 2023 G2 Mid-Market Grid® Report for ERP Systems. Both reports, which are based on data from real user reviews, show that customers truly love Acumatica and are enthusiastic about sharing their positive experiences. And prospects appreciate feedback from others like them—those in their industries or facing similar challenges—because they are a source of knowledgeable, real-life expertise.
Our partners are instrumental to the Acumatica Customer Advocacy Program because they are the representatives who take the customer voice to prospects—reaching out, engaging with companies, and guiding the ERP selection and implementation process. We work directly with partners to gather information about customers who want to share their success stories, discuss how Acumatica has solved their challenges, describe the system's benefits, and share how their partners made the ERP implementation process clear, quick, and personalized to their needs.
For an example of this, read our latest customer success story on luxury-hotel robe, towel, and linen provider Boca Terry, who—with the help of Acumatica and our partner i-Tech—improved inventory control, increased efficiency, and transformed their business operations with Acumatica Retail Edition.
It's very fulfilling to hear time and again how Acumatica has made a profound impact on our customers' businesses and in their professional lives, but the success of the Customer Advocacy Program wouldn't be possible without our dedicated partners.
If you are an Acumatica Partner and have a lead for a customer story, would like to suggest a product we should include in our Customer Showcase, want to recommend that a customer speak at Summit, or have questions about leveraging customer reviews, please reach out to me directly at tammy.exner@acumatica.com.
And, for more information about our customers and the Customer Advocacy Program, check out our:
Sharing experiences, success, and best practices is core to our customer-focused Community. Partners play a vital role in identifying the stories of success that can serve as an inspiration to all businesses seeking to thrive in today's digital economy.