Among large and established competitors, several of whom have been dropped off this Gartner Magic Quadrant, Acumatica (and Acumatica Financial Management) is holding its own as a Visionary.
In five years, Gartner—a leading information technology research and advisory company—predicts that 60% of all new midsize core financial management application projects will be public cloud implementations. This prediction and our ranking as a Visionary in Gartner's 2019 Magic Quadrant for Cloud Core Financial Management Suites for Midsize, Large and Global Enterprises has us excited for the next evolution of Acumatica and Acumatica Financial Management.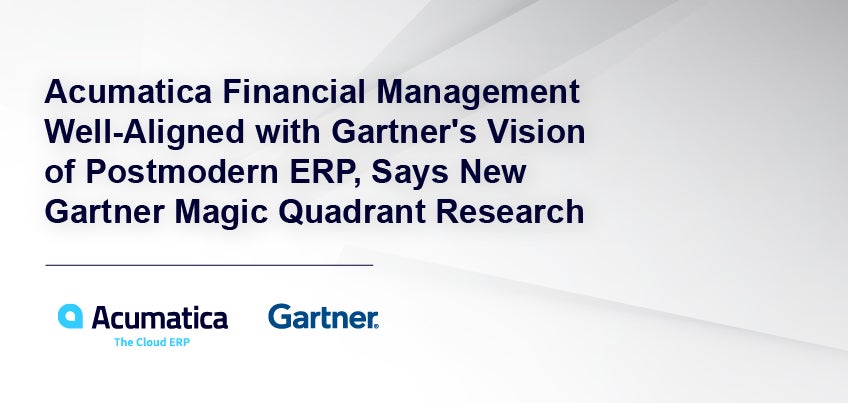 Cloud on the rise
Gartner's new, in-depth Magic Quadrant (MQ) report dives into what the market is doing now and what they predict it will be doing in the future regarding cloud deployment. Bottom line for the analysts is that more and more organizations of all sizes are looking into cloud financial management software versus on-premises and hosted solutions.
As to why the cloud is on the rise, the report points to key attractions such as users being able to easily stay on top of new releases, consumer-friendly interfaces, new digital capabilities (e.g. artificial intelligence (AI), machine learning (ML), etc.), greater agility, and less reliance on IT staff. The fact that Gartner believes the cloud often delivers a faster time to value than on-premises solutions doesn't hurt either.
With the interest in cloud solutions growing, Gartner's evaluation of cloud ERP vendors who provide a core financial management suite (marketed and sold as an independent purchase and as a cloud solution) is particularly relevant, especially for application leaders in the market for a cloud ERP vendor.
Acumatica as a Visionary
This year's Gartner MQ evaluates 10 cloud software vendors. Two vendors included in last year's MQ were eliminated due to their decision to sell or market their core financial management systems as part of their larger ERP offering and not as a stand-alone suite.
Gartner uses vendors' "Ability to Execute" (based on the vendor's product or service, overall viability, sales execution/pricing, market responsiveness/record, marketing execution, customer experience, and operations) and "Completeness of Vision" (based on market understanding, marketing strategy, sales strategy, offering/product strategy, business model, vertical/industry strategy, innovation, and geographic strategy) to rank them as Niche Players, Visionaries, Challengers, and Leaders. The analysts point out that every vendor, regardless of classification, offers a suite worth evaluating.
Acumatica has once again secured a position in the Visionaries quadrant because of our continued focus on the cloud, support of our partners and their extensions to Acumatica's functionality, and our core financial management software functionality for SMBs.
The Gartner analysts also outline Acumatica's strengths, including:
Our strong focus on SMBs and our partner strategy, which helps us serve multiple industries and geographies
Our digital technology roadmap (e.g. AI and ML)
Our product capabilities based on customer responses
Other points of praise are Acumatica's wide variety of APIs, flexible cloud xRP platform, and number of partner apps. Gartner also considers the Acumatica Financial Management suite to be well-aligned with their vision of postmodern ERP, which, according to Gartner's IT Glossary, is a "technology strategy that automates and links administrative and operational capabilities (such as finance, HR, purchasing, manufacturing and distribution) with appropriate levels of integration that balance the benefits of vendor-delivered integration against business flexibility and agility."
The Acumatica team is excited that Acumatica is well-positioned both for now and for the future and that our Acumatica Financial Management suite has improved its position among such large and established competitors.
Get ahead of the game with Gartner and Acumatica
Application leaders looking to move their core finance processes to the cloud and who download Gartner's 2019 MQ report will be ahead of the game. This free report provides a detailed description of the strengths and cautions of 10 viable vendors. It also lists the benefits and challenges customers will face when moving to the cloud, a market overview, Gartner's prediction for market development, and more.
For further information about the report, check out our press release on the subject. And for any questions about Acumatica's highly rated cloud ERP software or to request a demonstration, please contact our team today.