Acumatica Cloud ERP is one of the top ERP vendors in G2's latest reports. Because of Acumatica reviews by verified users, we're #1 in the Fall 2021 ERP Relationship Index.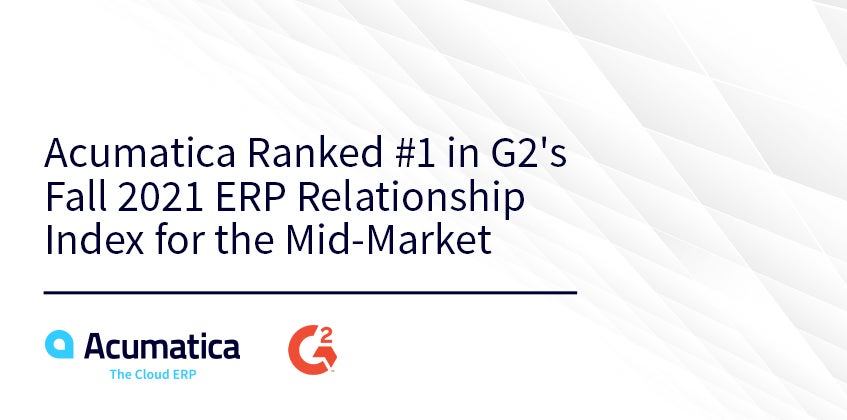 G2, a leading software review platform with over 1.4 million reviews, released their Fall 2021 reports, and we're honored to announce that Acumatica Cloud ERP is ranked #1 in the Mid-Market Relationship Index for ERP Systems report. G2 assesses top ERP vendors based on "authentic, timely" reviews. Acumatica reviews on Acumatica's G2 page provide an inside look into why we're number one with our users.
One five-star G2 review states, "User Interface is straightforward to use and adaptive among all modules and functionality. Their enhancement and new features for their release always think ahead of other ERP, industry trends and the needs of the end-users. And their pricing is very reasonable and flexible to fit the budget of any company size and special needs."
Another five-star review: "I enjoy that it is cloud based. You can do anything you need as long as you have access to the internet. It is clear and organized, so you can navigate easily. Adding new modules is easy as well. Training is available through Acumatica directly as well as support. Really anything I've needed help with I have been able to find in the online documentation or through support."
We're excited that we were also named a Leader in G2's Grid® Report for ERP Systems and Momentum Grid® Report for ERP Systems, adding the Leader, Momentum Leader/Mid-Market, and Best Relationship/Mid-Market Badges to our growing collection.
Though this past year-and-a-half have been uncertain, we've worked hard to provide the business continuity our customers needed to make it through unprecedented times. Acumatica CMO Todd Wells wrote about our efforts and the results in Covid-19 + Cloud ERP: How Businesses Are Embracing a New Way to Work.
"Through the power of cloud ERP technology, they've [businesses that have embraced the new state of work] ensured business continuity, which means they are accessing their business systems from anywhere (at any time), working in isolation without being isolated, safeguarding the security of their cloud data, and even thriving in an unsettled time."
The success of Acumatica community members is top priority for Acumatica, and our users see—and feel—it in everything we do. G2's Relationship Index report scoring was based on ease of doing business, quality of support, and likelihood to recommend data, and Acumatica received a total Relationship score of 8.88, with the closest runner up, SAP Business One, at 8.67.
Here's a quick breakdown of percentages for each factor:
Relationship Score: 89% (Average: 73%)
Likelihood to Recommend: 89% (Average: 79%)
Ease of Doing Business With: 85% (Average: 82%)
Support: 83% (Average: 79%)
G2 ERP Relationship Index for the Mid-Market | Fall 2021

For G2's Momentum Grid, ERP systems are ranked via their Momentum and Satisfaction scores. Based on G2's rating algorithms, Acumatica landed in the Leader quadrant as well as in the top 25% of the 58 ERP systems evaluated. Our Momentum Grid score is 74% (average: 48%).
G2 Momentum Grid® Report for ERP Systems | Fall 2021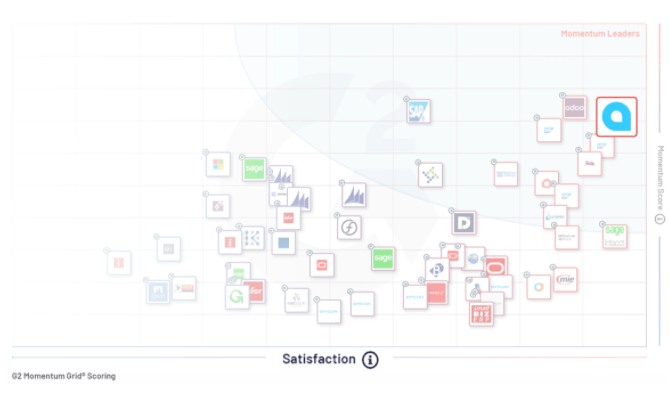 The Grid Report for ERP Systems (not the same thing as G2's Momentum Grid) evaluated 67 popular platforms, and Acumatica's Market Presence and Satisfaction scores placed us in the Leader quadrant with 22 other top ERP vendors. "Acumatica has been named a Leader based on receiving a high customer Satisfaction score and having a large Market Presence. 94% of users rated it 4 or 5 stars, 92% of users believe it is headed in the right direction, and users said they would be likely to recommend Acumatica at a rate of 89%."
G2 Grid® Report for ERP Systems | Fall 2021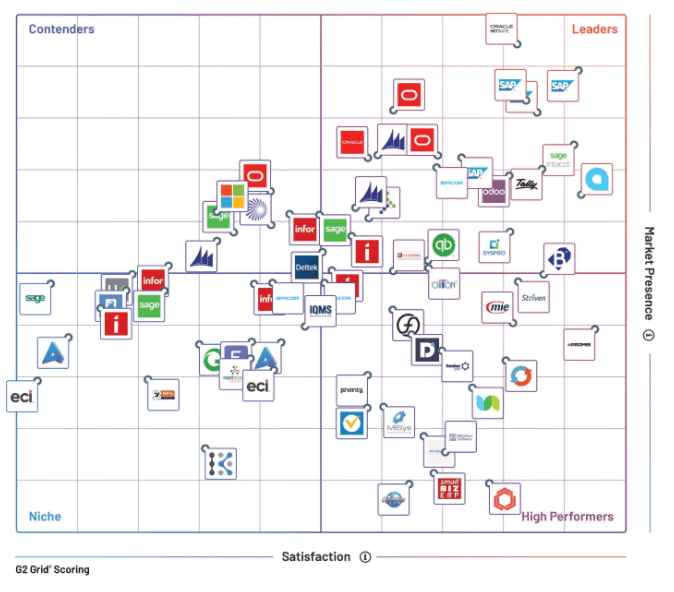 We're proud to be recognized by G2 and our users as an ERP leader. We're also proud to have recently received recognition by Stratus Awards, SoftwareReviews, and Gartner. Our commitment to providing innovative cloud ERP software and to helping businesses accelerate their success in the cloud is rock solid.
To learn more about Acumatica, contact our experts today.