SoftwareReviews' 2021 ERP Data Quadrant report analyzes 22 ERP vendors based on verified user feedback, and Acumatica Cloud ERP is excited to be named a Leader and a Gold Medalist winner.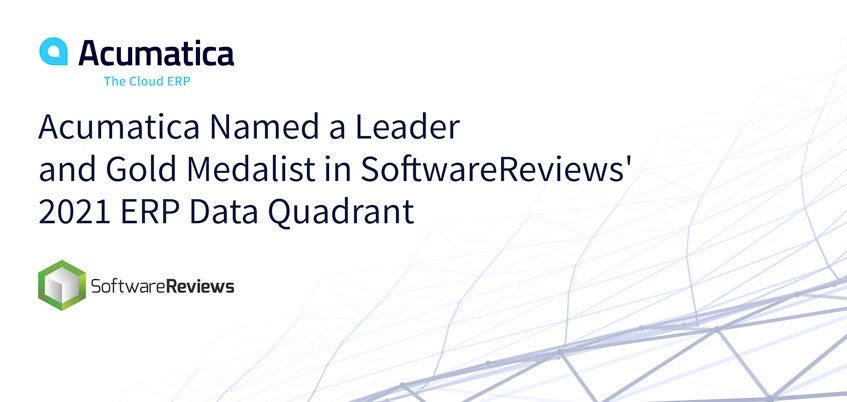 Implementing a cloud ERP solution is a huge undertaking. There are many steps to making it successful, and one of the first is making sure you choose the right solution for your company. To help, SoftwareReviews, a division of Info-Tech Research Group, evaluates ERP vendors based on feedback from IT and business professionals and ranks the vendors in their ERP data quadrant.
We're pleased to announce that their recently released SoftwareReviews' 2021 Enterprise Resource Planning Data Quadrant Awards named Acumatica a Leader and a Gold Medalist winner.
About SoftwareReviews' data quadrant
The SoftwareReviews' ERP Quadrant Report takes a comprehensive look at cloud ERP products and vendors through the eyes of real users. Their ERP quadrant is a quick and efficient way to compare ERP options. It's divided into four categories: Challenger, Service Star, Product Innovator, and Leader. To determine ranking, SoftwareReviews applies two standards.
One standard is Product Features & Satisfaction, which is a combination of the likelihood users will recommend the software and user satisfaction with the top product features. The mandatory features each vendor must provide include accounting/financial management, analytics and reporting, BI and performance management, industry-specific capabilities, and procurement management.
The other standard is Vendor Experience & Capabilities, which, according to the SoftwareReviews' report, is "calculated in a weighted average of the satisfaction scores tied to vendor capabilities (e.g., software implementation, training, customer support, product roadmap) as well as emotional response ratings toward the vendor (e.g., trustworthy, respectful, fair)."
Acumatica Cloud ERP is firmly placed in the Leader quadrant, ahead of Oracle NetSuite and the majority of popular cloud ERP competitors.
Acumatica's ranking as a Leader and Gold Medalist
Acumatica's SoftwareReviews' 2021 ERP Data Quadrant ranking consists of a Composite Satisfaction Score of 8.1 (vs. average score of 7.4); an Emotional Footprint rating of +84 (vs. average score of +70); a Likeliness to Recommend rating of 81% (vs. average score of 77%); and a CX Score of 8.5. Our strong overall rating is supported by Acumatica's scoring highest in several specific categories, including:
Vendor Capability Satisfaction: Business Value Created
Vendor Capability Satisfaction: Usability and Intuitiveness
Product Feature Satisfaction (Mandatory Feature): BI and Performance Management
Product Feature Satisfaction (Standard Feature): Human Capital Management
In addition, Acumatica was named a Gold Medalist as well as a Champion in Customer Experience and in Service Experience. These two areas are challenging to excel in, but Acumatica's customer-and-innovation-first mentality has ensured that customer satisfaction is our driving force. The benefits of this mentality include 98% of Acumatica users telling SoftwareReviews they plan to renew.
Acumatica delivers a full suite of integrated and remotely accessed business management applications. From Financials, Distribution, Manufacturing, and Project Accounting to eCommerce, Field Service, and CRM, Acumatica customers have a 360-degree view of their entire business. We sell our product exclusively through our worldwide network of partners, who provide expert implementation and advisory services. And we offer an all-inclusive user licensing model that makes Acumatica's cloud ERP software an affordable option for small and mid-size organizations around the world.
Digital Planet, a B2B2C company that manages smart-device fulfilment operations for financial institutions, chose Acumatica after evaluating 12 solutions on a scoring system. Pricing, flexibility, customization, functionality, and a partner with a proven track record were the deciding factors. It was the right choice, helping the company become empowered, efficient, and aligned.
Chief Strategy and Digital Officer Zane Zietsman says, "With our previous systems, departments would work in isolation as each had their own system focus with little consideration for how actions affected another department. With Acumatica's one version of the truth, the understanding and realization that what one department does affects another has created deeper alignment and decisively improved collaboration between departments."
He also says their automation capabilities through Acumatica's cloud-based ERP solution is a huge benefit. "Automation is going to be the thing that allows us to grow, but what it is really going to do is give us greater efficiency and allow us to focus on important work versus manual work, turning our workforce into knowledge workers as opposed to task workers."
Prioritize user reviews and feedback for cloud ERP success
Soliciting user feedback should be a priority for every company. User reviews provide insight into what is and is not working and a roadmap to improvement. They also help companies researching their cloud ERP options know which vendors have their users' approval.
Download SoftwareReviews' Data Quadrant ERP Report for what SoftwareReviews' calls a "thorough evaluation and ranking of all software in an individual category to compare software across every dimension." And check out Acumatica user reviews to learn why our users are highly satisfied with our product and service, including G2 users who rank Acumatica highest in customer satisfaction.
Contact the experts at Acumatica to learn more about Acumatica's award-winning ERP usability and functionality.