Which cloud ERP vendors offer the visibility, transparency, intelligence, and innovations your midmarket organization needs to succeed in this COVID-19 and digital economy? IDC's 2020 MarketScape report compares ERP vendors and names Acumatica a Leader.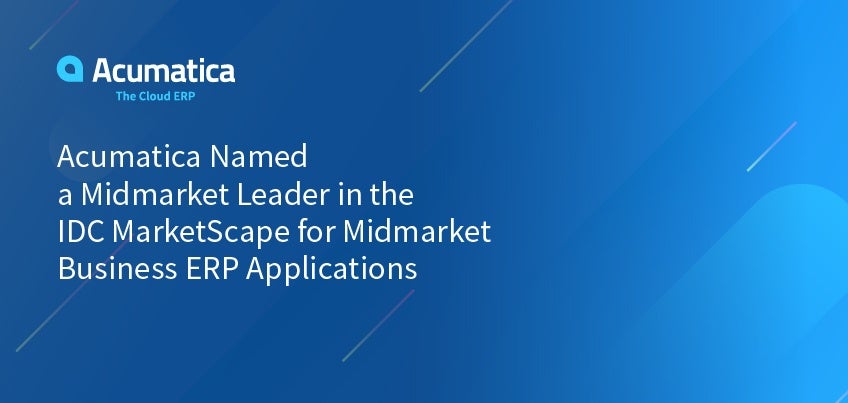 Midmarket businesses are, according to IDC, fighting to survive (and thrive in) the current COVID-19-impacted marketplace by investing in modern ERP systems. To help them evaluate their options, IDC analysts assessed 23 worldwide SaaS and cloud ERP applications for the midmarket, naming Acumatica's cloud-based ERP solution a Leader in the IDC MarketScape: Worldwide SaaS and Cloud-Enabled Medium-Sized/Midmarket Business ERP Applications 2020 Vendor Assessment report.
What the 2020 IDC MarketScape report has to say
IDC is the premier global provider of market intelligence, advisory services, and events for the information and technology industry. In their latest assessment, the IDC analysts and authors opine that the COVID-19 pandemic "became the tipping point for businesses to rethink their entire business as a digital organization."
Businesses in every industry have had to pivot to digital-based fulfillment procedures (in some cases, hybrid digital and physical fulfillment procedures) and to a remote workforce. They also have had to create a safe environment for essential onsite employees. It didn't take long for them to realize that modern technology—cloud and SaaS software—was a necessary tool to remain resilient in the face of unprecedented and ongoing changes.
Thankfully, the IDC report indicates that modern ERP technology trends (e.g. evolving business models, changing deployment models, convergence of workflows, and emergence of digital business) will help SMB buyers with their ERP decision. Now more than ever, midmarket companies are needing cloud ERP software to handle what IDC coins their "unique dilemma."
"They have much of the complexity of larger enterprise businesses as many of them are selling products and services globally; midmarket companies encounter all the same issues related to global complexity (i.e., currency issues, localization issues, shifting customs, transfers of goods and services, and tax regulations)," the authors write. "However, midmarket companies are often forced to cope with these issues with fewer resources than larger businesses while navigating the growing organizational complexity that comes with a growing business."
This unique dilemma has meant midmarket companies are seeking ERP software that can meet their new requirements:
More focus on the vertical markets
More emphasis on ecosystem
Better user experience (UX)
Want a trusted brand
Superior features and functionality
More agility through collaboration
Demand for greater process controls
The IDC report fleshes out these points and offers some advice for technology buyers, including understand your needs, do your research, and look to the future, before highlighting the vendors that made the 2020 IDC MarketScape report.
Acumatica Cloud ERP named a Leader
IDC positioned the ERP vendors on the IDC MarketScape graph based on two primary categories: capabilities and strategies. The y-axis pinpoints the vendor's "current capabilities and menu of services and how well aligned the vendor is to customer needs." The x-axis "indicates how well the vendor's future strategy aligns with what customers will require in three to five years."
With this in mind, IDC placed Acumatica in the Leader's category, positioning us above Microsoft, Oracle NetSuite, and Sage Intacct.
"This IDC study is a great acknowledgement of the huge R&D investment made by Acumatica to deliver a product that is both innovative and high on the usability scale," says Acumatica CEO Jon Roskill in the 2020 IDC MarketScape press release. "It accurately reflects the state of the cloud ERP landscape and what we consistently hear from customers."
Consider Acumatica Cloud ERP
Acumatica's cloud ERP usability and functionality has helped over 6,500 customers meet their business management needs prior to and during the COVID-19 crisis and will continue meeting their needs in the post-COVID-19 digital economy. Per the 2020 IDC MarketScape report, Acumatica excels at Innovation, Industry Focus, and Sophistication.
The analysts write, "Consider Acumatica when you are looking for a straightforward and adaptable ERP application that can be configured to fit your business."
When you do, remember that Acumatica was built for the cloud on the Acumatica Cloud xRP Platform, a versatile architectural framework and development platform using standard web technologies and development languages for easy modifications and personalization. This includes the ability to seamlessly integrate with value-adding third-party applications.
Download your free copy of the IDC MarketScape: Worldwide SaaS and Cloud-Enabled Medium-Sized/Midmarket Business ERP Applications 2020 Vendor Assessment report and see how Acumatica compares to other ERP vendors. You can also review Nucleus Research's ERP Technology Value Matrix 2020 and numerous Analyst Reports for Cloud ERP for more information.
We encourage you do a thorough ERP research, and our team is virtually standing by to answer any questions or to schedule a demonstration.