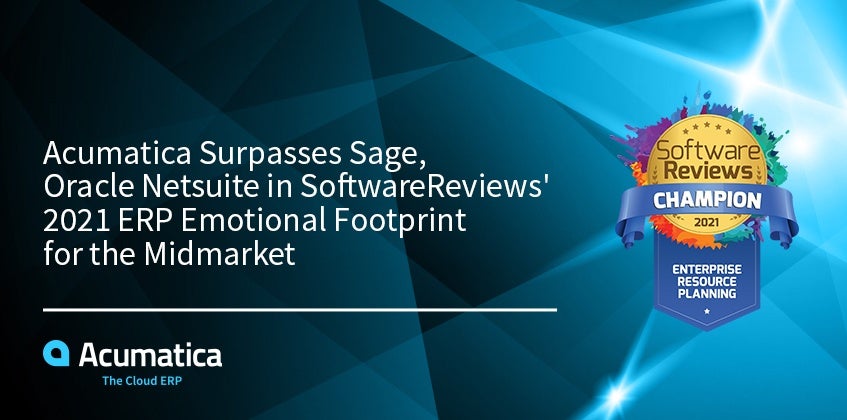 SoftwareReviews, a division of Info-Tech Research Group, recently published their 2021 ERP Emotional Footprint for the Midmarket report. We're excited to share that Acumatica Cloud ERP is a Champion and a Gold Medalist winner.
Net Emotional Footprint (NEF) Calculation
SoftwareReviews collects feedback from verified IT and business professionals to calculate software vendors' Net Emotional Footprint (NEF). The NEF is based on 25 "provocative" questions covering various categories, discovering how real end-users' respond emotionally to a vendor and the vendor's product long after the purchase has been completed.
According to the SoftwareReviews press release, "The Net Emotional Footprint (NEF) of each software vendor is a result of aggregated emotional response ratings across the areas of service, negotiation, product impact, conflict resolution, strategy, and innovation. The NEF is a powerful indicator of overall user sentiment toward the vendor and its product from the software user's point of view."
Once the NEF is calculated, SoftwareReviews positions the vendors in their Emotional Footprint Diamond as "Champions," "Relationship Builders," "Value Players," and "Contenders."
The results are released in a fact-based report, providing actionable insights for companies evaluating their software options.
End Users Crown Acumatica Cloud ERP a Champion
One of only seven Champions, Acumatica placed at the top of the Midmarket Enterprise Resource Planning Emotional Footprint Diamond, ahead of Sage Intacct and Oracle NetSuite ERP, and Microsoft Dynamics. According to SoftwareReviews, Acumatica "performed outstandingly for enabling productivity and including product enhancement."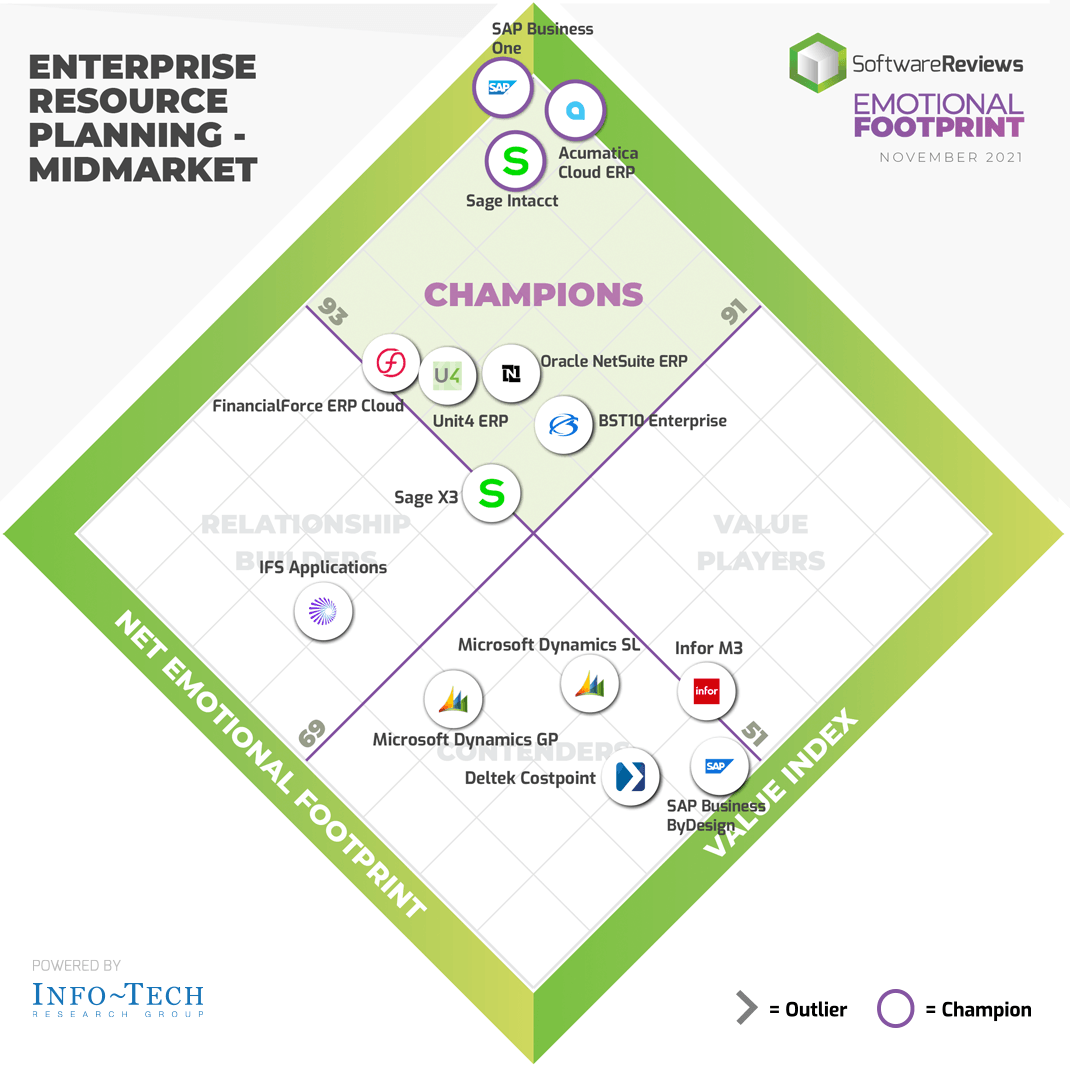 Below are just a few of Acumatica's scores:
Emotional Footprint: +90
Satisfaction that Cost is Fair Relative to Value: 89%
Importance to Professional Success: 94%
Plan to Renew: 100%
Vendor Capabilities: 85% 75% category average
Product Features: 86% 76% category average
Likeliness to Recommend: 86% 80% category average
In addition to their report, SoftwareReviews provides a scorecard detailing each vendor's ratings. The Acumatica Cloud ERP Product Scorecard reveals that Acumatica placed first in 13 categories, including 7 in Vendor Capability Satisfaction (Ease of Data Integration, Business Value Created, Ease of Implementations, Product Strategy/Rate of Improvement, Ease of IT Administration, Usability/Intuitiveness, and Availability/Quality of Training) and 6 in Product Feature Satisfaction (Procurement Management, BI/Performance Management, Supply Chain Management, Customer Relationship Management, Human Capital Management, and Service Management).
The comprehensive scorecard also includes Software Reviews' unique "Word Cloud." The Word Cloud "aggregates the most commonly experienced pain points and prevailing opinions held by its users." A few of the words used to describe Acumatica and our cloud ERP software include the following: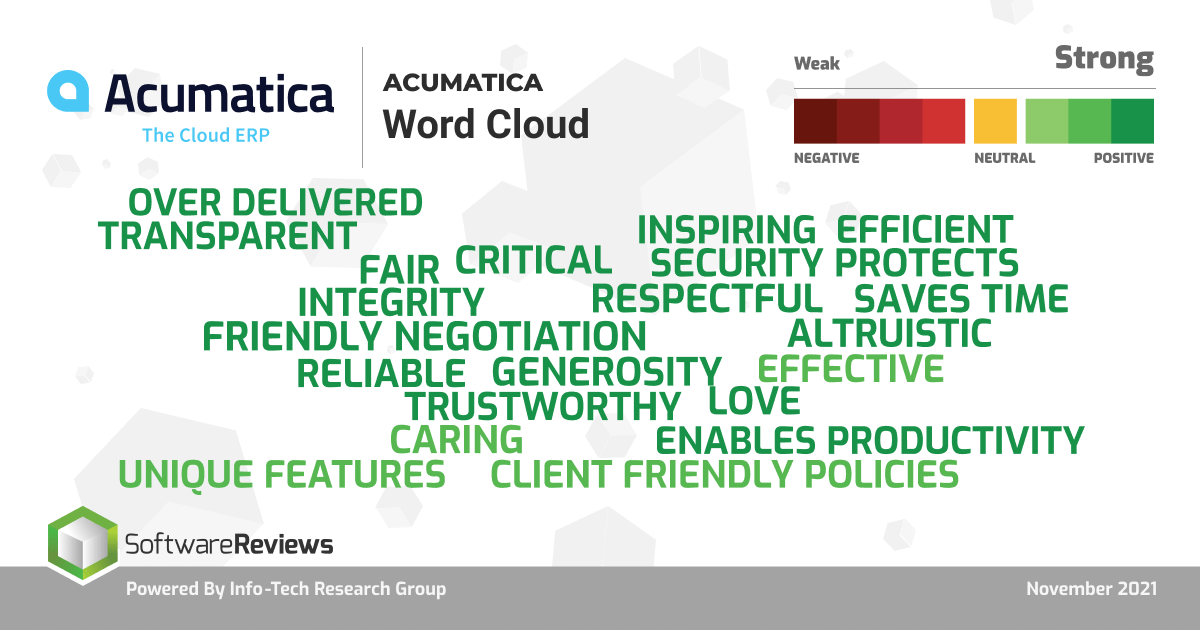 We couldn't be prouder of the praise and support we receive from our customers. As Acumatica CEO Jon Roskill has said many times, we put precedence on people and outcomes, not on processes.
Learn Why 100% of Acumatica Customers Plan to Renew
The amount of data in the 2021 ERP Emotional Footprint for the Midmarket Report is immense, saving companies that are researching their cloud ERP software options time and frustration. Companies that choose to download the reports will learn why 100% of Acumatica's customers plan to renew, and they'll have access to ERP user reviews by Acumatica customers, such as this one by Adriana B.:
"Acumatica Cloud ERP is a tool that offers us an efficient system for remote collaboration, good integrations, advanced quality dashboards, excellent customization, and in general it is the most suitable tool for increasing our business efficiency."
And this review by Derrick E.: "Acumatica truly is able to handle your business within one platform. The single license with unlimited seats is the key to success for Acumatica. It allows us to have everyone operating on the same system affordably. It streamlines communication, process flow and accounting. It is truly quote to cash solution for our company."
The Acumatica user reviews page is another great resource for understanding why consumers and analysts consistently rank Acumatica as an ERP leader and as the ERP with the highest ERP usability.
For any questions about Acumatica's cloud-based ERP solution or to schedule a demonstration, contact our team today.