Every year, the real-world business solutions created in our annual Acumatica Hackathon are impressive, and the applications produced at the Acumatica Summit 2019 Hackathon didn't disappoint.
The third-annual Acumatica Hackathon is in the books. It was an amazing experience that produced amazing solutions. I'm constantly impressed with the talent displayed by our diverse group of developers and non-developers who participate every year, and I'm excited to share with you the unique applications for the Acumatica xRP platform that came out of our time at Acumatica Summit 2019.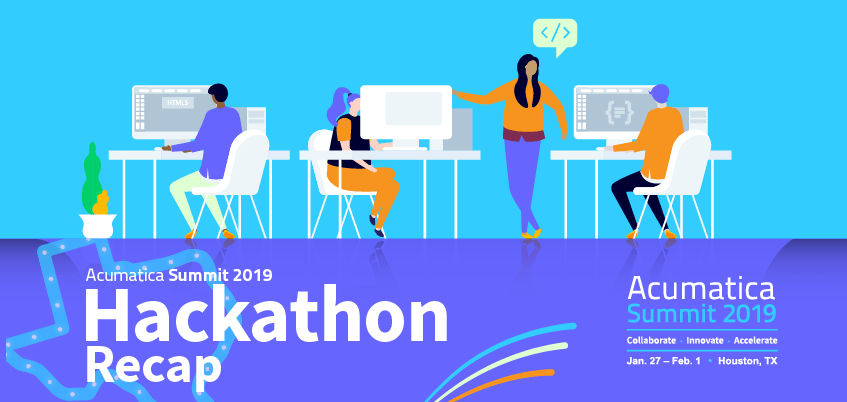 Winners, solutions at Acumatica Summit 2019 Hackathon
As with our two previous Hackathons, teams of developers and non-developers (partners, customers, and Acumatica team members) as well as an assigned Acumatica subject matter expert (SME) were selected in advance, giving them time to ponder ideas and ways to increase functionality to our cloud xRP platform before the event. The nine teams with over 60 participants came raring to go.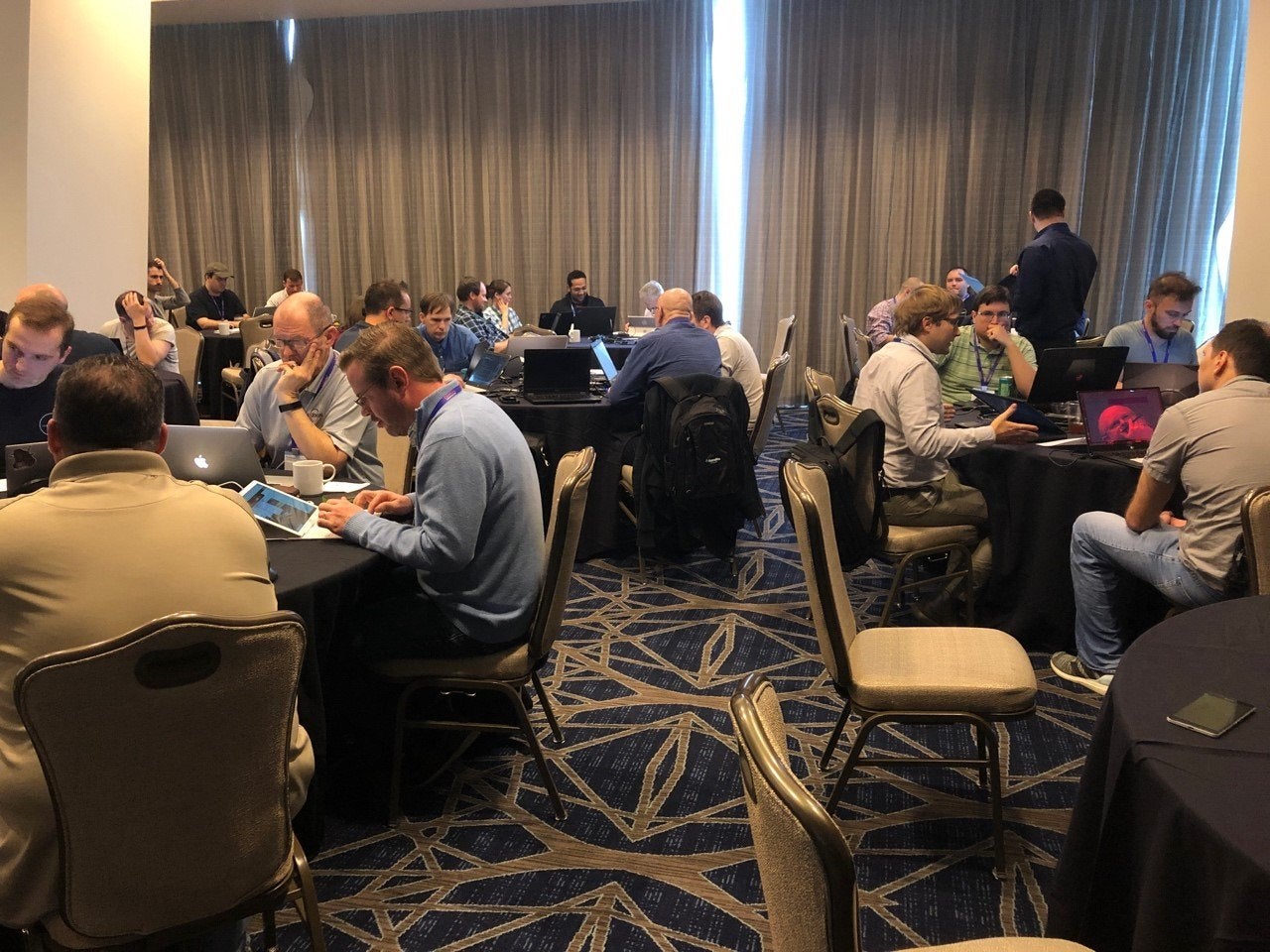 They arrived at 2 PM on Saturday, January 26, 2019 and got down to business. Food, beverage, and an energized atmosphere kept them revved and working until midnight (or later). They then returned on Sunday morning at 10 AM to fine-tune their projects. Lunch at 12 PM provided a much-needed break before team presentations at 1:00 PM to a panel of judges: CTO Mike Chtchelkonogov, CPO Ali Jani, and Ajoy Krishnamoorthy, VP, Platform Strategy.
The solutions were outstanding. Trying to pick the top three proved to be a challenge, but the judges did, awarding prizes shortly after deliberation.
A big congratulations to the top three teams!
Here they are with their winning solutions: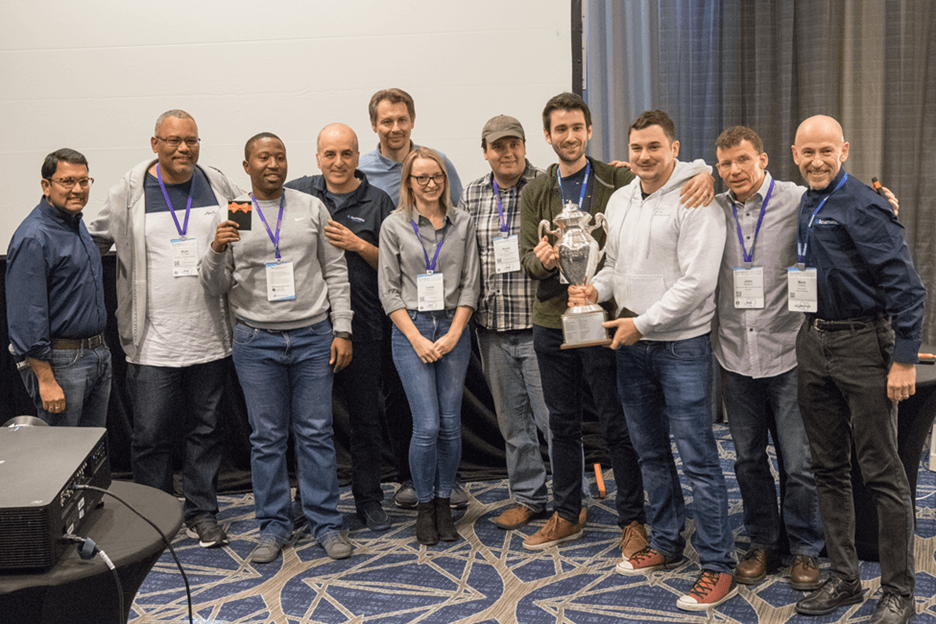 Pictured: Team Eta
The first-place team was Team Eta, which included Kevin Ayler (Kevin Ayler Consulting), Michal Adda (Core Associates, LLC), Laura Lacatusu (Core Associates, LLC), Mark Michael De Wee (Finware Enterprise Systems), Mduduzi Tsabedze (Finware Enterprise Systems), John Edwards (NexVue), and Simon Ménard-Larivière (Acumatica).
Team Eta built a solution to improve the Acumatica University training experience. The classes' documents can be extensive, and there's no real feedback telling you if you're doing things correctly. They created a Chrome plugin that allow the user to choose a class exercise and get redirected to the right screen in Acumatica. They integrated the intro.js framework, which guides the user by highlighting the fields to edit. Once the exercise is done, the user can validate the results. If the validation fails, it is possible to revert to a clean website state to restart the exercise. After successfully completing an exercise, the employee record is updated on the user's real Acumatica server to display his or her progress on certifications.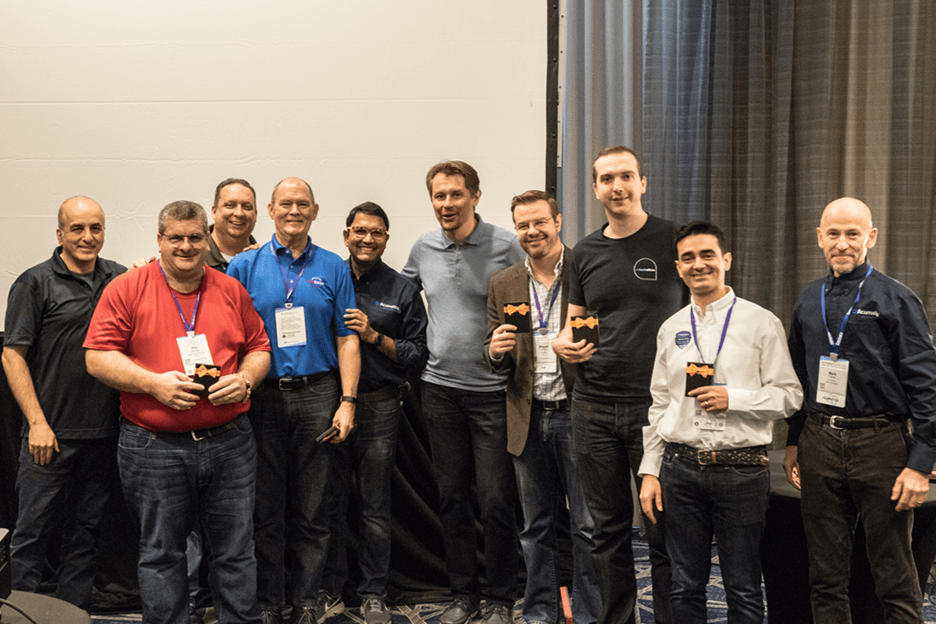 Pictured: Team Gamma
Second-place went to Team Gamma, which includes Marco Villaseñor (Interastar), Miguel Quintana (Interastar), Philip Whirley (Accounting Systems, Inc.), Phillip Marotta (Logan Consulting.com), Shawn Hawkins (Clients First Business Solutions), and Vladimir Perov (Acumatica).
Their solution, PowerTabs, allows users to create a new tab within a profile entity (e.g., Customer, Vendor, Item, Salesperson) and place any related Generic Inquiry or Dashboard so that you can display your chosen insight about that particular entity record without leaving the screen. You can use any of the features of the GI, including pivots filters and sorts. As you move from record to record, the PowerTab information will change dynamically.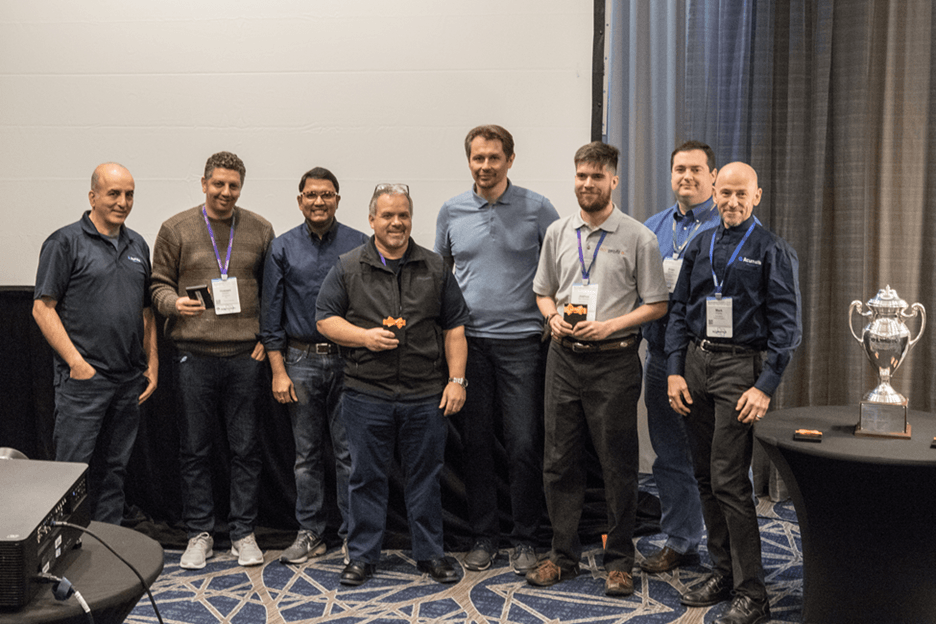 Pictured: Team Delta
And in third-place, Team Delta, which includes Joshua Van Hoesen (Accounting System Integrators LLC), Brian Stevens (Setech Supply Chain Solutions, LLC), Gregg Mercede (Cloud 9 ERP Solutions), Kursad (Kevin) Devecioglu (Bimser International Corporation), Ahmet Demirel (Bimser International Corporation), Hossam Kassem (2B Systems), and Dmitry Nemov (Acumatica).
They built a solution to demonstrate the ability to drive smart devices and integrated technology via the Acumatica platform and connected service IFTTT.
Though the other teams didn't place in the top three, they produced quality business solutions for the Acumatica community, including a MailChimp integration, live access controls, dynamic roles and more.
Impressive, isn't it?
All applications developed during the event are published on GitHub but only the winners received recognition during the Tuesday Keynote by Acumatica CEO Jon Roskill, bragging rights, and their names on our new ADN Hackathon Cup, a silver, handcrafted cup with each year's winners' names inscribed on it.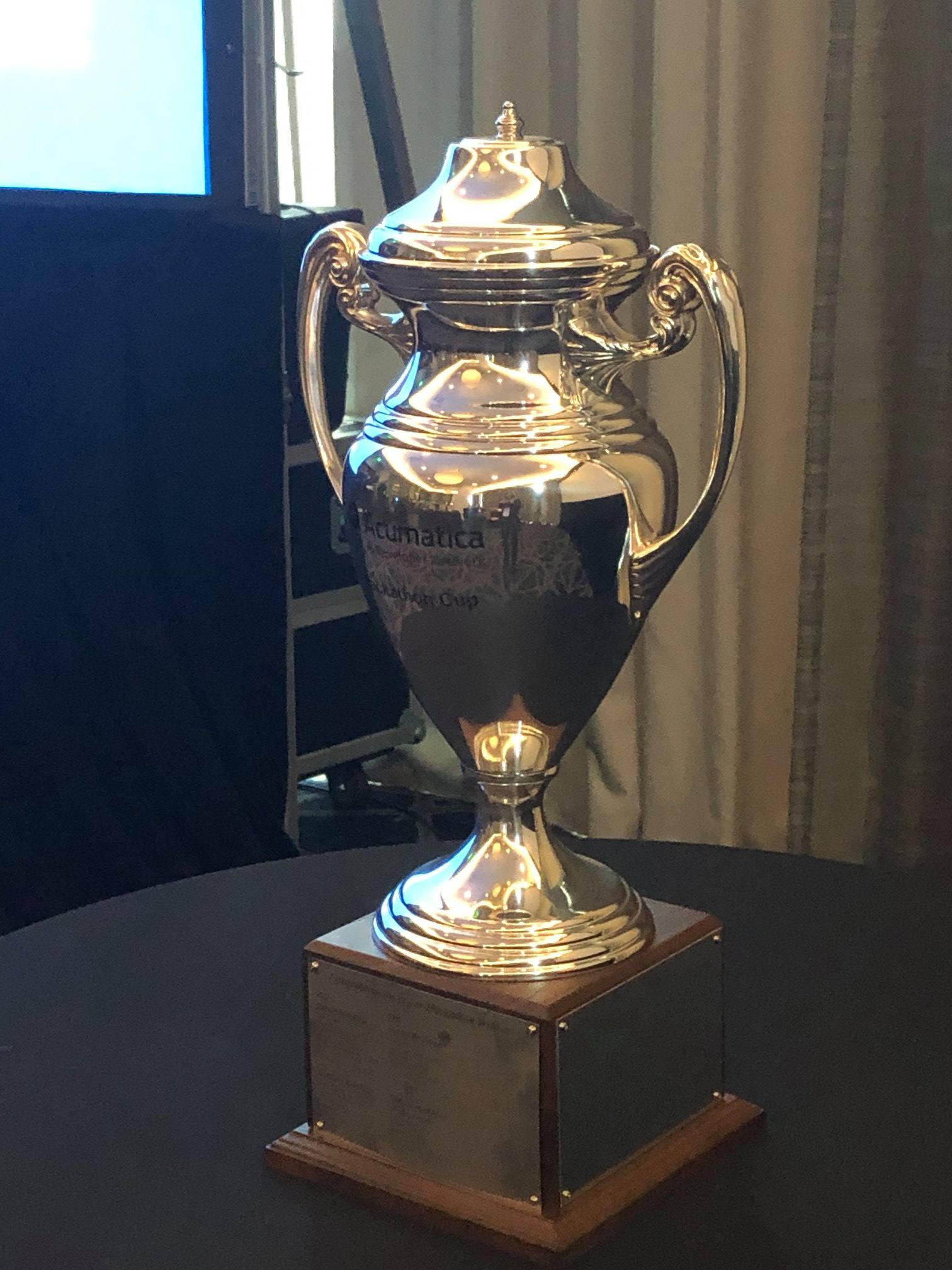 A successful Acumatica Hackathon 2019
Those of you who have either been directly involved in our now-yearly Hackathon or those who have read about it in previous Developer and Hackathon-related posts have a handle on what it's all about. You've seen it evolve from the inaugural Acumatica Hackathon in 2017, where teams were allotted only four hours to spec, code, and document their apps, to Acumatica Summit 2019, where teams had more time and more incentives to win.
Joshua Van Hoesen, Lead Software Engineer for NonProfitPlus, was one of the Hackathon participants. This was his second Acumatica Summit Hackathon after taking a few years off, and he says it's a great learning and collaborating experience. "You work with other developers, you learn different skill sets in the framework, and overall, it's just a great opportunity to grow."
The diversity of the solutions was a definite plus for Joshua, who noted that none of the ideas overlapped even though "a lot of teams were keeping it hush-hush about what they wanted to do beforehand."
For Joshua and his team, their one solution came out of many ideas. He says, "We each had our own ideas, and through collaborative effort, we decided what was the best parts of different portions and how we could fit them all together into something we could showcase."
Their real-world business solution utilized IFTTT, or If This Then That (which is a free way to get your apps and devices connected), and the Acumatica xRP platform. "I've 'smartphoned' my house, so I've used IFTTT a lot, including for my heating system and my pellet stove. Another gentleman uses it for his garage door opener and a variety of other Smart Phone-based tasks."
As for future Hackathons, Joshua says, "I would like to see continued growth and innovation within the framework and within the industry."
Harsha Sarjapur of InfoSourcing, another repeat Hackathon participant, also had a great experience.
"This is my second time back. There were more participants and diversity with brilliant ideas across the board," he says. "The community is really growing. It was great to meet and collaborate with a new team and have fun."
Though their team, BETA, didn't win, he was impressed with every solution. "This year, the solutions were more practical and effective. They were trying to solve the problems they're seeing."
The event continues to be a resounding success, and we can't wait for Acumatica Hackathon 2020. I hope reading about what your peers are able to develop for and with the Acumatica xRP platform has gotten your juices flowing and ready to join us next year. If you're interested in reading about the solutions from the previous year, I recapped the event, highlighting the winners and their solutions as well as the solutions from the other teams, all of whom either based them on customer enhancement requests or by integrating lesser-known services into the platform.
It really is a fun environment as well as a fun community. I encourage developers to connect with the developer community through our Acumatica Developer Network (ADN) and the Acumatica ADN Blog. You'll have access to vast resources, tools, and freely-extended knowledge from experts and peers.
As always, please feel free to connect with our team if you have any questions about our cloud ERP solution at any time.