For Acumatica VARs, Acumatica Summit is the perfect time and place to gather together with the Acumatica community, to be inspired, and to accelerate your cloud ERP knowledge. Graham Gardner of Strategies Group shares why he believes every partner should attend.
 Acumatica Summit 2019 was a blast! As a newer Acumatica VAR, I had the pleasure of attending Summit for my second year in a row, and I can say with certainty that this conference was bigger, better and more interactive (check out the Acumatica Summit 2019 Recap). There was a buzz throughout the Solution Showcase unlike anything I have experienced before. The general excitement surrounding Acumatica was so palpable, you could almost taste it. For those Acumatica VARs that missed it, I hope you'll see why attending next Summit is a must.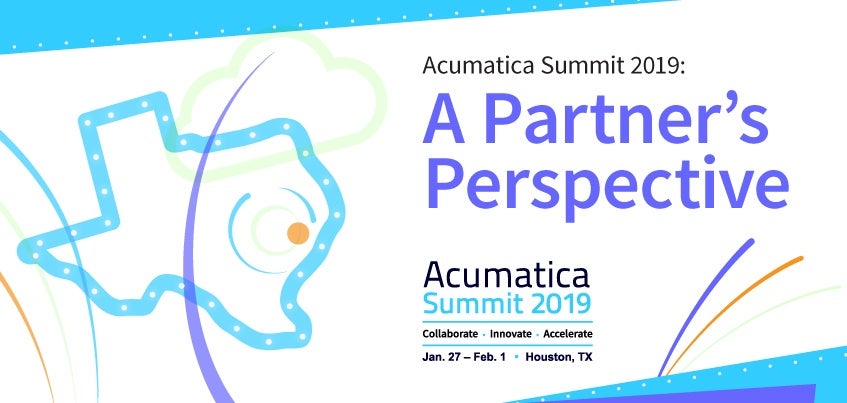 5 reasons every partner should attend Acumatica Summit
There were so many great moments at Acumatica Summit 2019—from the Hackathon to the out-of-this-world Closing Keynote presented by Astronaut Mike Massimino—and  I've compiled a list of five reasons I think all Acumatica VARs should attend Summit.
1. Meet face to face with ISVs
It's not very often we get our entire team in one central location. With over 80 exhibitors at Summit, we knew that we needed to take advantage of this opportunity and connect our critical team members to the solution providers that we felt would be the best fit for our client base.
We set-up a series of informal coffee meetings with a handful of ISVs, allowing for a relaxed conversation around how their solutions can add value to our customers. These meetings allowed our team to meet with a mix of vendors, get to know these vendors beyond a PowerPoint or demo, and share feedback with each other in the moment.
2. Network with Acumatica staff
Acumatica Summit is different than other software conferences. There is no green room or special eating area for Acumatica staff to hide away. While walking around, I could not believe the direct access I had to Acumatica's staff.
For lunch on Tuesday, I sat down with Geoff Ashley and his partner enablement team. We talked about upcoming sales and marketing initiatives for the year. More importantly, we got to know each other better on a personal level. We joked around, we talked about our families—Geoff got to know me as Graham the person rather than just Graham the marketing guy from Strategies Group.
This type of relationship building can only be done face-to-face. Every partner should take advantage of this unfettered access to Acumatica's staff. This is an investment in your people and your long-term Acumatica relationship.
3. See the latest and greatest features of Acumatica firsthand
The Day 2 Keynote at Acumatica Summit is a must-see event for all attendees. Acumatica has made it very clear that they are serious about delivering the best-in-class cloud ERP application. Their investment into the core product and continuous innovation is proof of their commitment to the product. The Day 2 Keynote is where they showed off the path forward for Acumatica and their award-winning cloud ERP software.
I was blown away by some of the new features in Acumatica (Conditional formatting? As a data geek, I am stoked!) More importantly, beyond the newest features, my big take away is that Acumatica is going to keep pushing the envelope forward in the ERP world.
4. Spend time with coworkers outside of the office
As primarily a distributed workforce, the Strategies Group management team made the decision to bring our entire staff to Summit. I can say unequivocally that this decision was the right decision.
Getting our entire team together in person allowed us to connect beyond emails and slack chat. Spending three days together, outside of the office, was a great reminder that we are all real people working together for a common goal.
I highly recommend that you bring your team to Summit next year. Schedule a team dinner and discuss your goals for 2020. Get to know each other better during a fun night out at the Summit Celebration Party or through a team building event.
5. Awesome breakout tracks
While the keynote sessions at Summit provide a giant wow factor, one of my favorite parts of the conference is always the breakout sessions. Acumatica provides partners with sessions designed to help you learn the latest sales strategies and marketing tactics. These sessions are packed with actionable takeaways.
Did you know that there is a customer focused track at Summit? Invite your customers to join you at Summit 2020! Your clients can continue expanding their product knowledge, learn business best practices, and participate in roundtable discussions with other Acumatica customers.
Will I see you at Summit 2020?
Acumatica Summit is about so much more than just Acumatica. Join me in Vegas next year for Acumatica Summit 2020 and experience everything Summit has to offer, from what's new in the world of ERP to making critical business connections that will accelerate your business.
For those not a part of the Acumatica community but thinking about becoming an Acumatica VAR, know that they offer Acumatica VARs a strong business partnership and a premium Acumatica Partner Program. You can contact their team any time with questions.