Why is it a good year for Acumatica's Construction Edition ERP solution? Construction Executive magazine's list of standout tech companies is out for 2021, and Acumatica is on it.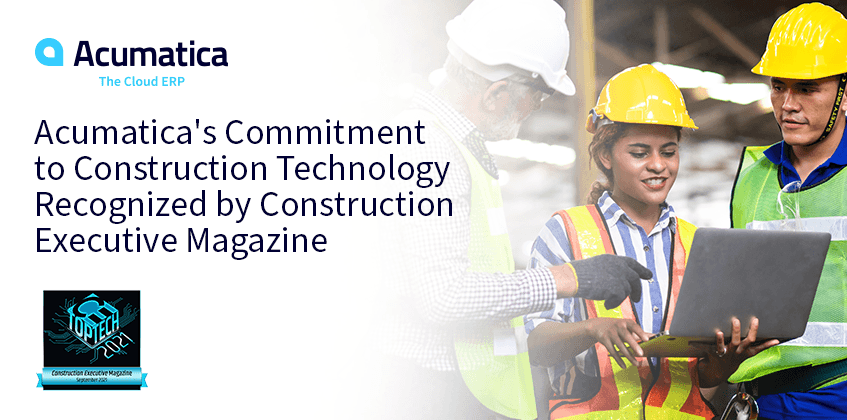 We're pleased to announce that Acumatica has been recognized by Construction Executive in The Top Construction Technology Firms™  list. Acumatica is a relative "newbie" in the construction industry, so we can't help but be proud of our recognition as one of the most influential firms in construction technology based on our cloud construction and accounting software.
Acumatica's award-winning cloud construction ERP technology
Acumatica Construction Edition was introduced and demoed in January 2018 at the International Business Show (IBS) and World of Concrete (WOC). It was made available to customers in March of the same year. As Acumatica's Ajoy Krishnamoorthy, VP, Platform Strategy, noted in Acumatica Construction Edition Launches with a Concrete Start, it was eagerly anticipated by the construction industry.
"It's been well-received by the industry at large and wholeheartedly embraced by key partners with extensive industry experience who were waiting for a modern business solution," he wrote. "Customers, too, have been fast to adopt our construction ERP with several immediate sales and implementations now underway—less than 90 days after its debut!"
Why the excitement on behalf of the construction industry?
Companies relied on multiple stand-alone legacy solutions to handle their complex projects before Acumatica introduced our modern, cloud-based construction management and accounting solution. Businesses using multiple legacy programs cannot easily sync data, leading to siloed records, double data entry, and a lack of real-time information. This is inefficient and prone to errors. It delays information flow from the field to the office and hinders collaboration and efficient decision-making between field teams, office staff, vendors, and subcontractors. This all adds up to slim profit margins, frustrated employees, and potentially dissatisfied customers.
Now, Acumatica's Construction Edition ERP offers integrated, mobile technology that puts them at the forefront of innovation. Born in the cloud, the solution seamlessly integrates front office, back office, and job site needs with specialized applications such as Procore, ProEst, Prophix, and Assignar. Data syncs in real-time across programs and devices, giving every team member a single source of truth. This means project information such as job costing, change management, budgets, commitments, compliance, and billing is updated and synchronized in one central location and can be accessed from anywhere, at any time, with any web-enabled device.
Additionally, because Acumatica Construction Edition was not built as an add-on but as one of Acumatica's core application suites, construction customers have robust financials, inventory, service management, payroll, and a powerful CRM built into a single solution.
Though already a comprehensive ERP solution for the construction industry, circumstances and the marketplace are always evolving. That's why we provide regular updates to all our products, and our latest release, Acumatica 2021 R2, features several improvements for construction customers.
Acumatica Construction Edition updates and benefits
The Acumatica 2021 R2 updates include the following benefits for our Construction Edition customers:
Saving time and simplifying project workflow via project drop shipments
Simplifying management of back charges or reduction in vendor commitments through entry of a negative change order
Streamlining the management of project materials with advanced material management features
Reducing clicks to improve efficiency while tracking time on a mobile device
Correcting data entry errors using the new project reclassification feature
Acumatica Construction Edition customers welcome the updates along with the gains they have already achieved from our cloud construction and accounting software. Spohn Associates, a specialty contractor that installs ornamental metals and railings, canopies, shelters, and more, is a great example of a company building better with Acumatica.
According to CFO Sean Barnett, "Acumatica Construction Edition had everything we were looking for. We are different from a regular construction contractor and liked that we could add different specialty fields and customize it to the way we do business. We're relying on Acumatica Construction Edition to help us be more efficient, more productive, and allow us to do more with less over the coming months and years."
Inquire about Acumatica Construction Edition
It's an honor to be named one of CE's standout tech companies of 2021. It also tells us we're on the right path. We're committed to providing the construction industry and our 500+ construction customers with innovative, affordable, and easy-to-use construction management software that will take them into the future.
If you are looking for viable construction ERP solutions, we welcome your inquiries. Our team is available to answer any questions and to set up demonstrations.