Finding and implementing the right cloud ERP solution that embeds Artificial Intelligence and Machine Learning within its core offering may mean the difference between business growth and stagnation.
A.I.: Artificial Intelligence was a sci-fi movie made in 2001. It was about a robotic boy named David who was programmed to love. He looked and acted like a real boy, but he was a man-made machine. Eighteen years later, the idea of AI is still alive and well, though not as depicted by Steven Spielberg. Businesses across the nation are assessing their SaaS cloud ERP options and an important factor in their choice is the vendor's AI and machine learning (ML) capabilities.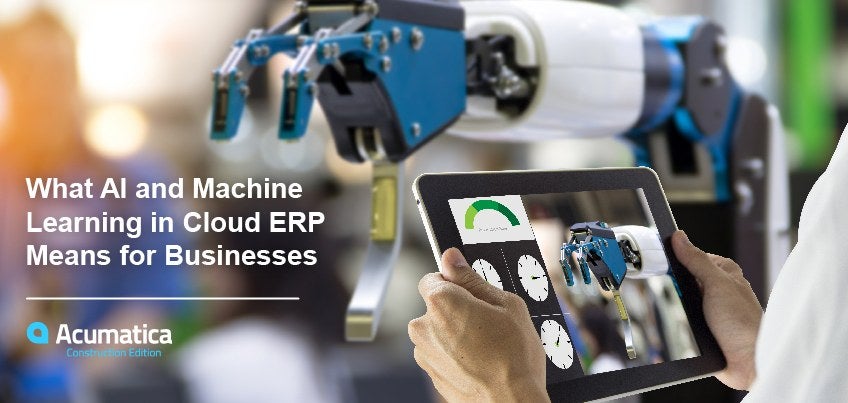 From a system of record to a system of results
Traditionally, ERP is known as a system of record. Data streams in from different disciplines within an organization—general transactions from the financial side, inventory data from the distribution system, customer information from the CRM, and so on. The challenge, however, has been getting that mass of information out and utilizing it for insightful, informed decision making.
From limited access rights to a proprietary system (which means other applications, tools, and services can't access it), businesses have essentially been handcuffed. They've had to sift their immense amounts of data manually. The result? Decision making based on aging and hard-to-come-by information.
So, how do we make the ERP system of record become a system of results?
The answer is letting go of legacy ERP systems and choosing a modern cloud ERP solution that incorporates AI and ML within their core offering. A Forbes post, 10 Ways to Improve Cloud ERP with AI and Machine Learning, hits on a key problem for businesses running on legacy ERP systems, and that's the inability of their technology to provide the data and the insights modern businesses need to survive in today's digital economy.
The Forbes article also highlights the fact that legacy ERPs can't learn on their own, which is how AI and ML in ERP solutions turn the traditional ERP system of record into what we call a system of results.
The results of AI and ML in the right cloud ERP
In their June 2018 research note, A Guide to AI in Postmodern ERP Strategies, Gartner notes that incorporating AI within an organization's business strategy is necessary. Doing so provides game-changing benefits, including:
Accessing and organizing all data within the cloud ERP system
Generating reports with just a click
Analyzing the wealth of data quickly and in real time
Automating complex processes and reducing manual tasks
Predicting future trends
And more
These benefits result in an efficient and profitable business. However, and as mentioned earlier, choosing the right cloud ERP solution and vendor are imperative if a business wants to achieve these results, and Acumatica's cloud ERP solution is worth a look.
From the outset, Acumatica designed a cloud-based ERP platform. It's able to easily incorporate emerging technologies, such as AI and ML. We've broken the barriers put up by other ERP vendors (who have limited their users' access to essential data) by offering our self-service Reporting, Dashboards, and Data Analysis Toolkit and through our work with Power BI and Tableau.
Unlike our competitors, we're not constrained by a closed platform. We have the luxury of working with the best-in-class AI and ML services available, including Amazon Web Services (AWS), Microsoft Azure ML team, and the Google Cloud Platform team. We can pick and choose the best, most innovative services possible for the scenarios we're tackling.
An example of how we've incorporated AI and ML is through Our Help, Acumatica's powerful help documentation system we released earlier this year and demonstrated during Day One of Acumatica Summit 2019. Our Help allows customers to make the same queries they've made in the past, but with the ML we've added behind the scenes, their results are now based on a prior engagement with that application.
There's implicit and explicit learning going on in this example. Explicit learning comes in the form of asking whether the user found the result of their query (e.g. how to create a sales order or I need to close the financial year) to be helpful or not. Implicitly, we're watching the actions they're taking. Are they looking at results and moving on or refining their query? If they're refining their query, then we learn that the result presented wasn't what they needed.
This is an ongoing learning based on user interaction. That's the learning part of ML. There are scenarios where we're offering features powered by ML that our users can offer to their customers and other scenarios that are productivity driven, such as helping businesses catch errors before they occur (e.g. keying in an incorrect account code), which saves users time during reconciliation.
What AI and ML mean for your business
A good definition of AI comes from WhatIs.com. "AI is the simulation of human intelligence processes by machines, especially computer systems." It goes on to say that the process includes "learning, reasoning, and self-correction…without human intervention."
This doesn't mean the human element is taken out completely. On the contrary, the human brain is powerful in terms of understanding data with the context. Machines, however, can see patterns and anomalies in a rapid fashion over a large volume of data.
In a recent post on AI, ML, and the Modern CFO, Acumatica's Product Marketing Manager Bob Garofallou explains what AI and ML mean for your business. "While most ERP systems feature dashboards that can provide real-time information on everything from inventory turnover to employee productivity, dashboards can't tell you when to re-order inventory or hire your next employee. This is where AI and ML can be an essential tool. Using your ERP system, you can quickly gather data and generate reports with the push of a button. But ML can take data gathering one step further and help [businesses] reduce repetitive tasks and make more strategic business decisions."
You can download the Acumatica Summit 2019 Keynotes (specifically Day Two at the 1:00 mark) to see exactly what Acumatica has been doing with AI and ML, including a demonstration of a Google Cloud Vision Product Search that highlights ML within Acumatica as well as the Acumatica Alexa for Business capability, using Natural Language input to accomplish real work, such as looking up inventory and approving expense claims (you can see more during the Day Two Keynote at the 1:20 mark).
If you've delayed the incorporation of AI in ERP for your business, then we recommend you start now. Technology continues to evolve and laying the foundation with the right cloud ERP system today will pay dividends in the future.
Contact our experts today with any questions and to request a demonstration of Acumatica's modern and innovative cloud ERP software.