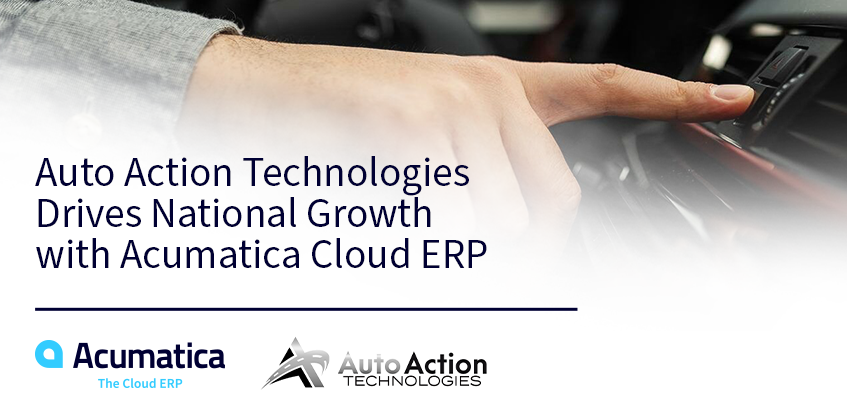 Auto Action Technologies (formerly Auto Action Group) is a leader in Aftermarket Accessory Installations for new and used car dealerships. Over the years, the company has expanded into national markets, serving both public and private clients, such as Siemens and Verizon. Its success was almost thwarted by tragedy, but the actions of the company's current CEO and his business partner, including their decision to implement Acumatica's award-winning cloud software, changed its trajectory.
Auto Action Technologies: Past
Auto Action Technologies was founded by Bruce Cohen in 1978. He initially sold car dealers aftermarket automotive accessories, installing them either at the dealerships or in one of Auto Action Technologies' installation centers. He added other services through the years, including car washes and limo services. After 27 years at the helm, Bruce suddenly passed away from a heart attack.
The question of who would take the reins was answered by Bruce's son, Jared. He had just graduated from college with a degree focused on the restaurant industry, but at his mother Brenda's request, he stepped in to run the family business.
Jared didn't know much about automobiles or the auto industry, but he did know something about the importance of partnerships. He asked Joe Cardinale, head of sales, to be his partner. He accepted, and together, they embarked on an ambitious plan to open new locations. Unfortunately, it was too much, too fast, especially in light of their self-described "archaic" technology. So, in 2006, they upgraded to a Linux system called Millennium Power Base.
Though the system helped them manage sales, GL, and had a custom web app, it didn't help enough for the new locations, and they scaled back to their original installation facility. It wasn't a complete loss as they acquired new clients from the expansion. At the same time, things were changing in the industry, including a shift to car manufacturers supplying the accessories Auto Action Technologies was known for.
Jared and Joe quickly transitioned to installing leather seats, sunroofs, and other types of accessories, but their electronics installers were not being utilized, so they transitioned again when Jared jumped on a rising trend of installing auto safety devices. They won a bid for a big project and grew their clientele to install aftermarket safety devices and accessories on all types of vehicles.
Auto Action Technologies: Present
With Auto Action Technologies' growth came extra pressure on the Millennium Power Base system, a system that required, among other things, a dedicated programmer and spreadsheets. It was time to upgrade, and Jared's research of cloud-based systems led him to Patricia Bennett of PC Bennett Solutions.
Auto Action Technologies needed a cloud business application package that included inventory management software and service management, as well as one that "could run their business from end to end," according to a PC Bennett article. Jared briefly considered Microsoft Dynamics and a few other ERPs, but Patricia's Acumatica demonstration sealed the deal.
"She understood our needs as she has experience in the automotive industry, knew Acumatica's capabilities, and I knew very quickly that she and her team could support us," Jared says.
With Patricia and PC Bennett Solutions, Auto Action Technologies implemented Acumatica Advanced Financials with Service Management, Warehouse Management, Expense Management, CRM, and integrated third-party application Biz-Tech Services Kit Processing. The team tasked with the implementation were able to do so unhindered as the company had temporarily shut down operations due to the pandemic.
According to their Acumatica customer success story, the company's approximately 75 employees are now enjoying Acumatica's:
Unlimited user licensing. "When we grow, it's nice to know we're not going to get nickeled and dimed."
Automated dashboards. "The dashboards help us tremendously. Without a full-time person to analyze the data before, we wouldn't catch things like a wrong standard cost until later in the P&L. Now, we have a dashboard to immediately notify us if something goes awry, items are fixed immediately, and I don't have to worry about making decisions later."
Maps and appointment boards: "We're able to see how long it takes for someone to go from point A to point B and ask the questions necessary to determine why it takes someone else longer. That's a large expense for us: gas, tolls, and drivers' time, so connecting them to the Acumatica brain allows us to look at inefficiencies and determine how to fix them quickly. We never had a grip on that before."
Automated expense process: "Credit card expenses were a nightmare. Now with the mobile app, they are uploaded in real time, which is saving us a lot of time at the end of the month."
User-friendly interface: "[W]e love it. It helped speed 100 percent user adoption. Before, we were using a blue screen. Now we are in the modern era of business."
Mobile application for working from anywhere: "Someone could even be on the beach somewhere, and it wouldn't make a difference. Before we had to VPN, which was difficult to use."
Auto Action Technologies: Future
For the Auto Action Technologies team, the future is limitless, especially with Acumatica and PC Bennett Solutions by their side.
"Due to the nature of our work, every week we need to accommodate something new, and Acumatica allows us to do that with attribute functions or minor customization work by our Partner, PC Bennett Solutions," Jared says. "We are very pleased with Acumatica's functionality, it is very user-friendly, and we really like its ability to integrate with other systems and applications as we grow."
To learn more about Auto Action Technologies and the team's experience with Acumatica, check out the full customer success story. For any questions regarding Acumatica's cloud ERP software, contact our experts today.