Without customers, a business doesn't exist, so it's up to the business to acquire and then keep those customers by ensuring they know what their customers need and want. The right CRM software can help.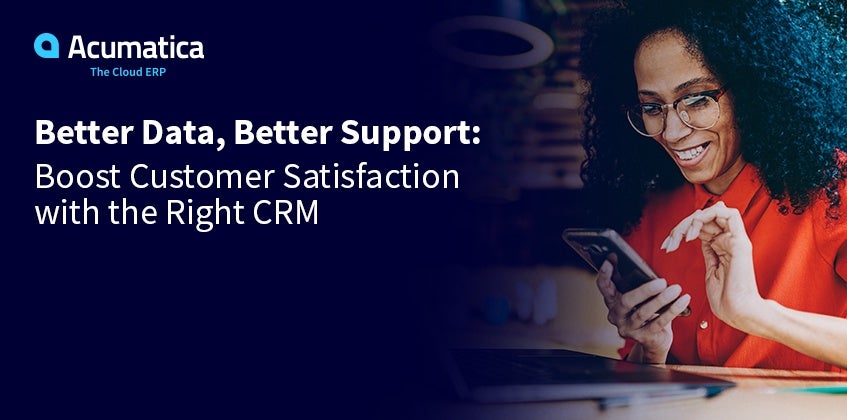 Dedicate your time and your budget to attracting new customers or focus on keeping the ones you've got? According to Invesp, a consulting company that specializes in conversion rate optimization, retaining customers is not only more cost effective, it's also a revenue generator. This does not mean acquiring new customers is not important (it definitely is), but it does highlight the fact that focusing on customer loyalty can help improve customer experiences, customer satisfaction … and the bottom line.
How? Your happy customers will spread the word about your products or services. They will recommend your company to friends and colleagues, and will also likely grow their business with you. On the other hand, unhappy customers will not keep silent: They will speak about their poor experience. Customer service plays a big role in increasing your customers' loyalty…and the right CRM will help you do it.
Increasing loyalty and profitability with right CRM system
CRM, or Customer Relationship Management, is software that manages leads, contacts, opportunities, customer accounts, and customer cases. It is a powerful customer service tool for businesses of all sizes and in all industries. As a customer service tool, it aids in increasing your customer service levels, which leads to increased customer satisfaction and loyalty. And increased customer loyalty leads to increased profitability.
For example, an Invesp infographic shows:
It costs 5x as much to attract a new customer than to retain an existing one
The probability of selling to an existing customer is 60 – 70%
Loyal customers are 50% more likely to try new products and spend 30% more than new customers
These statistics highlight the importance of growing your relationship with existing customers. They also highlight the importance of investing in CRM software, which provides companies with customer information in a consolidated and organized system, eradicating inefficient and ineffective paper-based solutions or storing all information in email mailboxes.
Quotes, invoices, and support cases are easily accessed in one location, instantly providing relevant, updated data. Being able to automatically track customers' interactions with the company, from first contact, sales, and fulfillment to after-sale service support, allows quick and accurate response to customer requests and concerns. It also helps your Customer Service team when they have all information about customer's questions and inquiries by eliminating the need for customers to have to repeat themselves (and we all hate that).
CRM software also helps businesses prioritize customer requests. If you receive 10 requests per day, and you respond first in, first out, you may inadvertently sideline a time-sensitive concern. For example, if your credit card is stolen, you want your credit card company and bank to prioritize your issue above someone asking how they can get points for their purchase.
In addition, a CRM solution tracks customer service metrics and data. Is your business handling customer needs correctly? You'll be able to answer that question and many more based on the data. The right CRM software allows you not only to track necessary support metrics like customer satisfaction and service levels, but also to customize the metrics for your business needs. These metrics, based on what customers are reporting, provide powerful feedback and data on how you can enhance your product or service and create a customer roadmap to excellence.
For the best CRM software, turn to Acumatica
To encourage happy, loyal customers (who will then encourage new happy, loyal customers), it's time to find the right CRM software. Acumatica's Customer Management Suite is worth including in your ERP research and ERP evaluation.
Unlike our competitors, Acumatica's CRM was built as an integrated solution within Acumatica's cloud ERP software. As Stacy Guccione, Sr. Product Manager at Acumatica, explained in 3 Reasons to Integrate Your CRM and ERP, "One of the unique things about the Acumatica CRM solution is it is fully embedded as part of the entire Acumatica ERP. You don't have disconnected information in two separate places. And it gives you the ability to have a complete view of all of your customer's information within a single database in a single user interface. It means that everybody has access to the same information, whether that's somebody in marketing, sales, customer support, or finance."
CRM software allows businesses like yours to proactively address customer needs and concerns. The investment is a strategic initiative rather than a reactionary (and unsatisfactory) process.
Ready to learn more about Acumatica's cloud ERP solution and specifically Acumatica CRM? Contact our team today. Your existing and new customers will thank you.