Looking for a single, agile, and integrated cloud ERP solution to grow your business? See how these cannabis companies did it with Acumatica.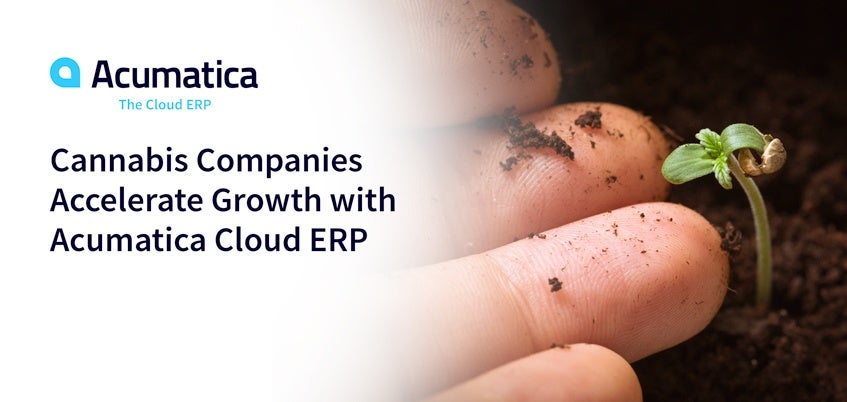 It seems that 2020 was the year of the cannabis, if the statistics by cannabis website Leafly are anything to go by. In 2020, Americans spent over $18 billion on medical-and-adult-use cannabis, which is a 71% increase over 2019. Not surprising considering what 2020 brought us (COVID-19, anyone?). Thankfully, those in the cannabis industry that were already relying on an industry-specific cloud ERP solution were able to easily keep up with the demand while overcoming some of the industry's major pain points.
Addressing Industry Challenges with Acumatica Cloud ERP
The cannabis industry, like most industries, suffers from industry-specific challenges. For example, fluctuating public sentiment, state-specific cannabis laws, and licensing requirements are common challenges cannabis companies face. And you can add staffing challenges due to stigmas and recruiting platforms not willing to work with them to the list.
However, there is a solution. Cloud-based cannabis business software and financial management software are designed to address these challenges and more. The right  cloud ERP software helps maintain compliance mandates; automate processes; track, measure, and document raw materials and finished goods; track the cost of goods; manage staff and assign tasks; and reduce manual error calculations.
Of course, it's easy to say technology is the answer, but where's the proof? The following companies' successful experiences with Acumatica's cannabis software are just two examples that the right technology works.
Mammoth Distribution
Headquartered in Los Angeles, Mammoth Distribution is one of the largest cannabis distribution company in California. With their 100% satisfaction guarantee, Mammoth "specializes in cannabis concentrates and vape products that are of the utmost safety, quality, and potency." They personalize their service to each customer, including managing and restocking inventory, promoting stores through social media, providing effective merchandising displays, and much more.
As the business grew rapidly in the emerging industry, VP of Operations Jeremy Ouaknine began looking for a single, flexible, and integrated cloud ERP system that could handle their unique processes. It had to have robust financial reporting, be highly automated, handle unique operating processes, and able to provide full product traceability.
"We started looking at NetSuite, Acumatica, and Microsoft Dynamics. I also looked at some of the smaller SAP versions but didn't go too far with those," Jeremy says. "After rounds and rounds of product demos and evaluation, we decided that Acumatica was the best solution for us."
They implemented Acumatica Customer Management, Acumatica Manufacturing Edition (with Financial Management, Order Management, Inventory Control, and Warehouse, BOM, MRP and Production Management), and integrated with third-party add on MaxQ Cannabis Management Solution all with help of their Acumatica Partner, Klear Systems.
By becoming an Acumatica customer, they were able to:
Streamline their order tracking and fulfillment
Gain full product traceability and compliance management
Manage inventory and production easily
Gather data and financials for analysis and forecasting in real time
Avoid expensive IT costs for customization which would hold back the pace of business
Automate processes, saving time and money
Eliminate manual entry errors with automated accounting
Says Jeremy, "There are cannabis software systems on the market, and we looked at those. We landed on Acumatica ERP as our platform for growth because it hit everything we needed and gave us a holistic business operating solution without the need to bolt on expensive add-ons."
Pure Sunfarms
Pure Sunfarms is located in Delta, British Columbia in the beautiful and mild Fraser Valley. It was established in 2017 as a joint venture between Village Farms International, Inc. and Emerald Health Therapeutics Inc. Since November 2020, Pure Sunfarms is a wholly owned subsidiary of Village Farms International, Inc.
The company produces 75,000 kg of dried cannabis annually in a 1.1 million square foot greenhouse and is in the process of doubling their space and output with another 1.1 million square foot greenhouse. Needless to say, Pure Sunfarms was experiencing serious growth and increasing their operational complexity along with it.
Tarlyn Campbell, Director of Project Office, and the team at Pure Sunfarms knew they needed an integrated ERP system. "One that could serve as our foundation for the future to help us prepare for the continued growth that was ahead of us."
On the recommendation of a leading business consulting firm, they chose Acumatica's cloud ERP software with a cannabis management solution add-on. Their Acumatica partner, NexTec, provided expert guidance throughout the implementation. Tarlyn considered it a smooth process with "hardly any disruptions," which is impressive considering it was completed remotely during the COVID-19 pandemic…and under budget.
The resulting benefits included:
An integrated view of the company, gaining insight/visibility for strategic decision making
Ability to forecast demand based on historical data
Manage incoming orders under a just-in-time production model
Remote access for employees from anywhere, at any time
"We now have a platform for expansion," Tarlyn says. "We are united in our operations, guided by a system that provides a strong foundation to support efficiency, productivity, and future growth."
Growing Forward with Acumatica Cloud ERP
With the rise in cannabis sales in 2020 and the expectancy of further growth, cannabis companies must be agile in an industry that continues to change and expand. A mobile, adaptable business management solution, like Acumatica, provides integrated financials, inventory management, sales, and operations that helps cannabis providers track, monitor, and report on raw materials from seed to sale all under a single pane of glass.
For companies looking for an ERP solution that can help them grow without limits, contact our experts today.