Getting buy-in for a cloud ERP implementation seems like it should be easy, but is it? Acumatica's Senior Director of Professional Services explains why it may require some convincing and how to go about it wisely.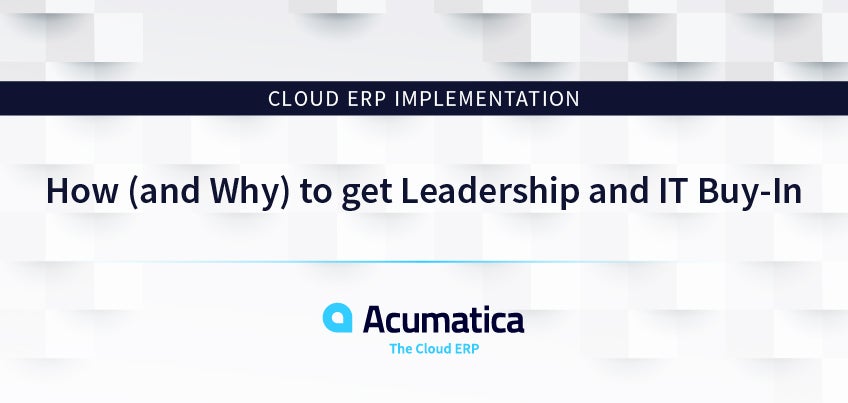 If your organization is considering undergoing a cloud ERP implementation, then you already know that you will be embarking and investing in a time-consuming, multi-step project. It involves researching and evaluating your ERP options before finally selecting a solution that meets your business needs.
However, if the journey begins without first consulting and ultimately receiving the nod of approval from your company's IT and leadership teams, then your efforts will have been for naught.
Cloud ERP implementation: Leadership buy-in is critical
Beyond ERP implementation, leadership buy-in is critical to the success of any kind of organizational change. In general, big ideas will never reach their potential unless the team is supportive, says Dr. John Kotter, an author, thought leader, and Harvard professor.
"Our research has shown that 70% of all organizational change efforts fail, and one reason for this is executives simply don't get enough buy-in, from enough people, for their initiatives and ideas," he says.
While his comment is focused on failure because executives don't garner buy-in from the organization as a whole, it is equally true that failure can be attributed to lack of buy-in from the C-suite, and in the specific case of implementing ERP technology, from IT team. Their support is the only way a cloud ERP implementation will ever come to fruition.
For example, as Sean Chatterjee previously wrote on the Acumatica blog, an implementation requires a champion, manpower, and staff support—and all three require leadership involvement. A champion is the central figure that keeps the ERP project moving forward, and it is someone that comes from the leadership team. It is the leadership team who provides the people to help throughout the implementation process. And staff support—or buy-in—is often influenced by the leadership team's own response; if leadership support is not there, then organizational buy-in is unlikely.
IT buy-in can make or break a cloud ERP implementation before it even begins.
Cloud ERP implementation: Leadership and IT buy-in how-to
Knowing how critical leadership and IT buy-in is for successful ERP implementations is important. Knowing how to get the buy-in is equally important. The following suggestions can help pave the way to getting your leadership team's approval.
First, do your homework. You must be able to explain why your company should replace your current legacy solution with a modern, cloud ERP solution, which includes a thorough look at the possible return on investment (ROI) as well as providing a list of significant benefits and features. While the solution you choose will dictate what those benefits and features are, Acumatica's cloud ERP software provides:
Second, doing your homework dictates that you do not shy away from the risks. As you gain knowledge on the topic of ERP solutions (including the costs, such as licensing, implementation, training, and maintenance), you must prepare for push back.
There will be those who hear the facts and see the data, but they may not see the need to change the status quo or may have concerns about the complexity of the implementation. Addressing any negatives—real or imagined—head on and being open to IT and leadership's concerns will keep communication lines open.
Third, recognize that members of the IT team will have insights and the expertise that can help guide you through the research, evaluation, and selection process. Ask them for their input on ERP options even as you are in the middle of courting their favor. The IT team will appreciate being included in the decision making and easier to get their approval.
Cloud ERP implementation: Leadership and IT buy-in success
The road to a successful cloud ERP implementation may include conflict, but conflict can be good.
Says Dr. Kotter: "Conflict engages. Conflict shakes people up and gets them to pay attention in a novel way. This gives you the opportunity to say why your idea really is valuable and explain it in a way that wins over hearts and minds—securing their commitment to implementing the solution."
In your case, a cloud-based ERP solution. By no means does this mean leadership or IT buy-in guaranteed. There are many factors that affect the final decision, but if you follow the aforementioned suggestions, you can be confident that you have given the leadership and IT much to consider. This is especially true in the midst of the COVID-19 pandemic.
Businesses that embrace a new way to work through the power of cloud ERP technology during this crisis are ensuring business continuity and connection. Businesses that have not are struggling to make the move to a remote workforce successful.
Contact the Acumatica team today to discuss how our award-winning cloud-based ERP solution—which provides rapid integrations, scalability, and ease of use to your business needs in order to succeed in these unprecedented times—can help you secure your IT leadership buy-in.