The cloud ERP implementation journey doesn't end after going live. With continuous support and improvements based on customer feedback, Acumatica Cloud ERP is with you every step of the way.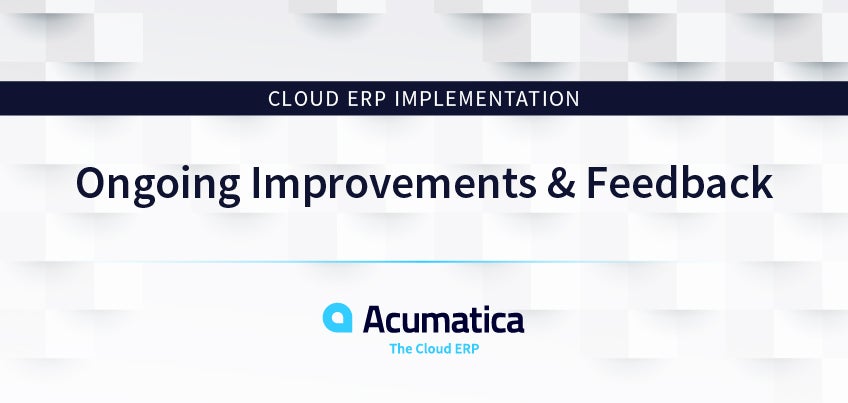 In Acumatica's eight steps to ERP implementation success series, we've broken down each step. The steps include the pre-steps of getting leadership and IT buy-in and making your ERP selection followed by choosing your deployment option, assembling your team, defining your requirements, developing a project plan, developing a data migration plan, developing a test plan, developing a training plan, and planning for go-live. Though go-live may appear to be the ending of the cloud ERP implementation journey, it's not.
For Acumatica, there isn't a destination point. We believe the cloud ERP implementation journey is an ongoing process that sustains the value, use, and quality of your cloud ERP investment. Ensuring sustainability occurs as we, along with our valued Acumatica partners, focus on customer feedback and continuous improvement.
The ongoing cloud ERP implementation journey
After go-live, companies heave a sigh of relief, grateful they finally start utilizing Acumatica's features and become a connected, streamlined, and more productive business. What they don't always realize is that there can be further review of current setup, additional features available to enhance current business processes not required for initial go-live and changes to business with new requirements once they are on their way.
Their cloud ERP vendor and partner should be available to address these concerns. Saddleback Leather, a thriving company that manufactures and sells quality leather products, experienced this after-implementation support with Acumatica.
Before switching to Acumatica Cloud ERP, the company was managing their business processes with Oracle NetSuite. Founder and CEO Dave Munson explains why the switch. "I had a million ideas but all of them were impossible with Oracle NetSuite. Now, I sleep, dream, and hope—three things I was not able to do with NetSuite."
With Acumatica, they boosted sales and saved millions of dollars. Their benefits include cutting technology costs down by 33%, increasing functionality by 10%, and seeing organic traffic rise by 45%. They also now enjoy accurate inventory, one version of their financial truth in real time, faster decision making, and more. Perhaps even better, Acumatica and Acumatica partners were there to help them fine tune their solution after they were up and running.
Dave spoke with digonomica's Jon Reed about the support they received. Jon writes, "[With] the help of their Acumatica partner, Saddleback gradually got the nits sorted."
Every Acumatica customer receives the same support that Saddleback experienced with Acumatica and their Acumatica partner after going live. They are also recipients of the continuous improvements made based on feedback, which we garner through community portal, contacting customers directly and through surveys.
This feedback and improvement cycle is vital to keeping everyone on track as well as to help us and our customers avoid future mistakes. Additional benefits include decreasing costs while improving process quality, efficiency, productivity, and employee and customer satisfaction.
"Our culture and atmosphere are so much more positive, and people are in a good mood," Dave says in the company's Acumatica customer success story. "Everything is coming together, and our company is growing at a fast rate. It's fantastic."
Acumatica Cloud ERP: With you every step of the way
In addition to the support, feedback, and improvements, Acumatica partners address other considerations during your cloud ERP implementation journey. One such consideration is whether your company still needs third-party and custom applications that were purchased due to the deficiencies of your old ERP system. Acumatica may be able to fulfill your needs, and if not, may already integrate with your custom software application(s) and/or provide replacement applications in the Acumatica Marketplace.
Another consideration is whether you're working with inefficient, manual processes. If so, Acumatica easily automates routine tasks, and your partner can help you recognize what business processes that were once necessary are now obsolete.
The steps to cloud ERP implementation success are designed to address the ERP deployment needs of companies in every industry. Those companies that choose to embark on the journey will find themselves working closely with their Acumatica partners, who will be with them every step of the way.
If you're interested in learning more about Acumatica's cloud ERP software, have questions about ERP implementations, or would like to offer your own feedback on how we can better our cloud-based ERP offering, our experts are standing by.