Knowing the costs associated with cloud ERP implementations before they begin is key when choosing your cloud ERP solution. Too bad not every vendor is honest about their fees.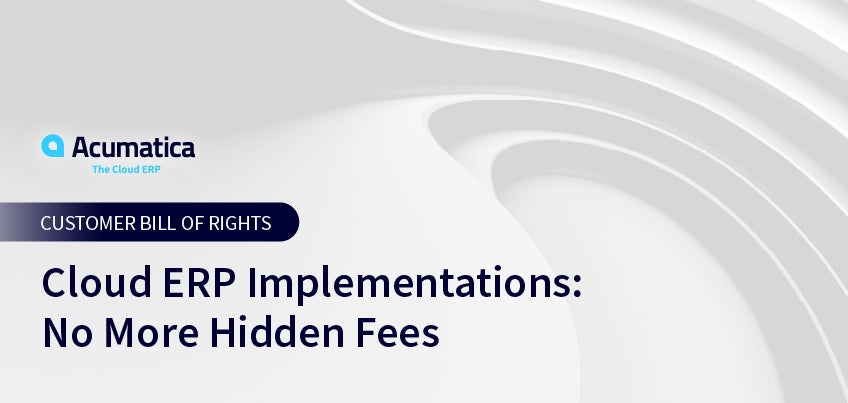 Have you ever spoken with a vendor about cloud ERP implementations, and they promised you they would be fast and easy while providing a "reasonable" (e.g. surprisingly inexpensive) quote to make it all happen? If so, your Spidey-senses should have been tingling.
While it's not impossible for implementations to be fast and easy (Acumatica's VARs do it all the time), it's rare they won't require customizations, such as dashboards and reports unique to your business. The problem is, not all vendors include the cost of these customizations within their original quote. That's why Acumatica and our expert Acumatica VARs have promised implementations without hidden fees, and we've solidified the promise by including it in the Acumatica Customer Bill of Rights.
Beware of hidden cloud ERP implementation fees
A cloud-based ERP solution is a long-term investment into becoming a successful, connected business. Though the gains of increased efficiency and improved operations are huge (and necessary), it's a large expenditure and a substantial financial commitment. You should know how much of a commitment before you sign the dotted line.
For instance, if you assumed that training would be included within the implementation, you assumed wrong. Many vendors tack on a fee (up to $1,000 per employee/per day) to train them on the new cloud ERP software, but you may not know that until after you sign the contract. Or, you may have assumed that ongoing support of your system is free. Wrong again. With Acumatica, you're assured that cloud ERP implementations include free online training for implementers and system users through the Acumatica Open University.
Then there are those cloud ERP vendors who do not include fees for integrations or implementation licensing in their initial quote. Integrations can be a costly requirement, especially with solutions that do not rest on a flexible, open platform, like the Acumatica Cloud xRP Platform, which provides seamless internal and external integrations. And, unlike vendors who charge per user, our unlimited users, consumption-based licensing model means Acumatica users won't be surprised by additional user/licensing fees either before or after going live.
Unscrupulous business practices, such as hiding these types of fees, are the reason we established the Acumatica Customer Bill of Rights. We've pledged to eliminate the implementation mayhem that comes when cloud ERP vendors aren't honest about the cost—and the dynamic nature—of cloud ERP implementations.
Fast, easy, and honest cloud ERP implementations
It's easy to give lip service to an ideal, but we have many Acumatica customers that can verify our commitment to providing cloud ERP implementations without hidden fees. One example is Fabuwood Cabinetry.
Fabuwood is one of the largest kitchen cabinet manufacturers in the U.S. Located in Newark, New Jersey, the company manufactures quality cabinets out of their 1 million square foot facility and delivers them to their customers within a three-day time period. Their lightning-fast turnaround is due to investing millions into machinery, equipment, and manufacturing technology—and to choosing Acumatica to be the hub of their multiple systems.
"Within five months, we were live," says Sendy Stern, Vice President of Technology. "[Acumatica] has a great platform and a great system that helped us go so fast."
Acumatica VAR NexVue teamed with Fabuwood to implement Acumatica Manufacturing Edition and complete nine integrations. Though it was a complex implementation, Fabuwood put their all into it and earned the 2018 Customer of the Year Award.
"Acumatica is definitely the right choice," Sendy says. "When we were looking at an ERP platform, we were looking for two main things: it should be easy and have great integrations. Definitely, of all the systems we looked at, Acumatica won out big time."
And they weren't surprised by hidden fees.
Companies that have trusted Acumatica as their cloud ERP solution, and Acumatica VARs with their implementations, know where they stand throughout the process. If you would like to partner with a cloud ERP vendor that acknowledges your rights as a customer, including being upfront about the costs associated with cloud ERP implementations, then contact our team today.
For more information on the Acumatica Customer Bill of Rights, check out our recent blog posts on the importance of an easy-to-understand SaaS end-user license agreement and choosing the right cloud ERP license for growth.