For the second year in a row, Acumatica's Geoff Ashley has made CRN's 2019 Channel Chiefs List. And like last year, we're not surprised. His passionate support of the partner channel has been instrumental in Acumatica's continued growth.
It's only been a little over a year since Geoff Ashely joined the Acumatica team as VP of Partner Strategy & Programs, and in that short timeframe he has earned a spot on CRN's annual Channel Chiefs List twice. His inclusion on CRN's 2019 Channel Chiefs List is well deserved, and the Acumatica partner channel has benefitted from his exceptional leadership, expertise, and commitment.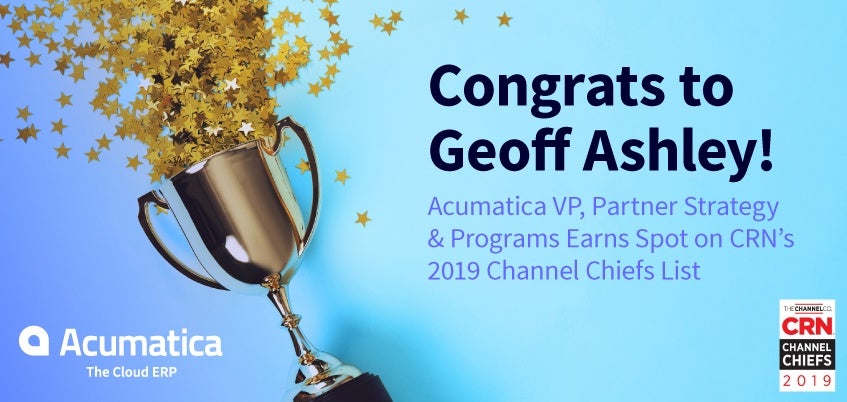 Why Geoff made CRN's 2019 Channel Chiefs List
CRN provides news and analysis for solution providers and technology integrators. Their annual Channel Chiefs List recognizes the 50 most influential executives who support, drive, and grow channel partnerships.
Geoff, who has over 30 years creating successful partner sales channels in the ERP industry, exemplifies not only what CRN looks for when they evaluate Channel Chiefs but also what Acumatica cloud ERP stands for as an organization. When Geoff joined Acumatica in October 2017, Acumatica CEO Jon Roskill noted, "Geoff has the channel-centric views and abilities that perfectly align with our business practices."
Since his arrival, Geoff's focus has been on continuing and improving the Acumatica Partner Program, which offers Acumatica VARS access to unparalleled training resources, marketing information, and competitive insights. Acumatica VARs also receive the best margins available, a comprehensive enablement program, assistance with implementing their first deal, free technical support, and more.
Part of that "more" is Geoff's expertise and unique take on becoming a Modern VAR in the 21st Century. He's been open about sharing his knowledge on how ERP VAR organizations can improve, including recognizing in his first Modern VAR post that "the way we buy has changed dramatically, but the way we sell and support hasn't changed at all."
Through Geoff's trainings, Acumatica VARs have learned what it means to shift from a professional services model to a 21st Century business model and why it's important to their success. From changing culture and behavior to using tried and true networking tactics, and from the 3 things the Modern VAR must focus on to the 21st Century buyer's experience, Geoff has instilled new ideas into Acumatica's partner community and invigorated it with his growth-building strategies. His support of Acumatica's partner-and-customer-first mentality is constant and whole-hearted.
As he said when he became Acumatica's Channel Chief, "Balancing Acumatica's channel capabilities and their runaway success in the marketplace is just a great problem to have."
Get to know Geoff and Acumatica cloud ERP
For anyone who is looking for a solid business partnership without conflict, you've found it in Acumatica cloud ERP.
With Geoff at the helm, our global team of Acumatica VARs are finding success as the sole sellers and implementers of our award-winning, modern enterprise software. They know that the Acumatica team is standing by, ready to help them succeed. In fact, an impressive number of Acumatica VARs made Bob Scott's VAR Stars List for 2018, a testament to his skilled mentoring and support.
If you're interested in becoming a VAR partner, you can schedule an appointment today and explore all that Acumatica has to offer. Geoff and his team would love to meet with you. You can also contact us with any questions you may have about Acumatica's true cloud ERP software or to request a demonstration.
Again, we congratulate Geoff on being named to CRN's 2019 Channel Chiefs List. It's an honor he's earned, and we look forward to seeing what his future holds at Acumatica!