The construction industry may be interested in knowing that the Acumatica Construction Edition was "born in the cloud" and that it provides incredible benefits not found in other construction software. Acumatica's VP of Platform Strategy explains further.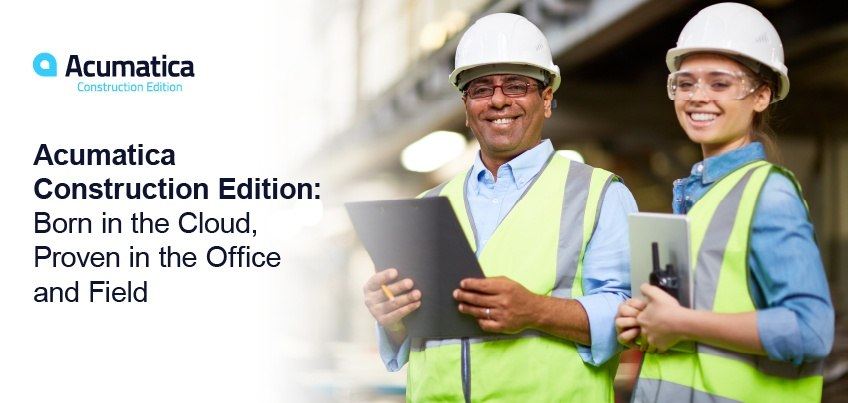 At what point and time must construction companies see cloud construction and accounting software not just for the office but as a competitive advantage in the field? The answer is yesterday. Bluntly speaking, being competitive in this digital economy while operating on a legacy system is not possible. As we celebrate the second anniversary of Acumatica Construction Edition, we're excited to share how our born-in- the-cloud construction and accounting software can change the competitive landscape of construction firms.
Construction industry's cloud construction and accounting software options
The construction industry is growing, and technology innovation plays a key role in its future. Next level success means utilizing integrated, automated, and innovative software approved by both the back office and field service personnel, which is quickly becoming populated by members of the Gen X, Millennial, and Gen Z generations. Even so, is the construction industry ready to embrace modern, cloud-based construction and accounting software?
According to the JBKnowledge 2019 Construction Technology Report, many of the respondents were fairly comfortable implementing new technology. IT spending, however, is not happening as quickly as Gartner had predicted.
"…Gartner's prediction of a 6% increase in IT spending remains unrealized for the construction industry. The fact that IT spending has remained at a virtual standstill for its third year is beginning to cause concerns," the analysts note.
Perhaps one reason for the stagnant IT spending has been the lack of comprehensive construction and accounting software options available to the industry. If so, that changed with the introduction of Acumatica Construction Edition.
Construction professionals of all generations now have access to a modern solution that was born in the cloud, allowing for seamless integration of their front, back-office, and field needs and of their specialty applications. The entire organization can operate from a single source of truth in real time. Job costing, project management, contracts, budgets, commitments, subcontracts, workflows, compliance, billing, payroll, construction mobile app (and more) from one solution? Yes.
The efficacy of Acumatica Construction Edition is not theory. It's been proven by actual users in the office and in the field, such as Anderson Pinto, Owner and CEO of Hartzell Construction. "I needed a system that my accounting department, which is the heart of the company, could utilize. I also needed a system that could communicate with my scheduling and estimating departments. I was looking for a complete system. I couldn't find exactly what I wanted until we came across Acumatica."
His company, which provides commercial remodeling, residential, local and federal government, new construction, windows, and plumbing services, had complex project management duties. He first chose outdated construction accounting software but quickly realized he had made a mistake. He rectified it by replacing the legacy system with Acumatica Construction Edition.
"When I looked at Acumatica Construction Edition for the first time, I saw how easy it was to use," Anderson says in the company's success story. "I truly believed Acumatica would be good to partner with after seeing the innovative technology Acumatica is bringing to help modernize the industry."
The benefits for Hartzell Construction included rapid growth and improved profitability. The team also enjoyed having multiple users on the system at the same time without extra cost, increased communication and efficiency, a 60-to-70 percent reduction in paperwork, and more.
Are you curious about why Construction companies need to use Cloud ERP? Learn more about how Cloud ERP systems help fulfill the unique needs and challenges of the construction industry.
Competitive edge with construction and accounting software
As aforementioned, there has been, up to this point, a lack of comprehensive, cloud construction and accounting software available to construction professionals. That doesn't mean there haven't been any options, it just means what has been available has not been getting the job done—especially when the options are legacy systems imitating cloud solutions. To the other software vendors' credit, they're trying. Acumatica, however, is proud to have taken the lead by designing innovative construction and accounting software that gives our customers a competitive edge.
"Construction is evolving, but it's still pretty much as it was forever, where it's the low-dollar guy that wins. Because of that, you need every competitive edge that you can get," says Ron Fairchild, CFO of Texas Scenic Company, a company that designs, manufactures, and installs theatrical stage equipment, spanning the construction, manufacturing, and retail industries.
The competitive edge for Ron came when he chose Acumatica's construction and accounting software. "It's a modern cloud solution that handles our manufacturing, service, distribution, and construction business in one cohesive integrated solution allowing a seamless flow of data."
And the company's ability to integrate with essential third-party applications, such as Procore, Smartsheet, Power BI, Tableau, and more, has allowed them to compete at the highest level.
Construction industry thrives
The construction industry is rapidly growing and technology innovation, which can eliminate silos and improve collaboration, plays a key role in its future.
Not convinced?
Ask yourself these questions:
Is the software you're currently using easy to learn and does it allow everyone in the organization to see the same data at the same time?
Does it automate, control, and streamline your accounting and back-office construction processes?
Can your field team members access your system from any device, anytime, anywhere?
Is your current system based on a scalable platform with open APIs for seamless integration with third-party applications?
If you said "no" to any of these questions, you may want to consider researching Acumatica Construction Edition—modern construction and accounting software with accounting, project management, inventory, payroll, service management, CRM and mobile capabilities. It enables connected teams, better customer service, and increased profits.
A solution born in the cloud, proven in the office and field? Yes.
Contact our team today to schedule a demonstration.