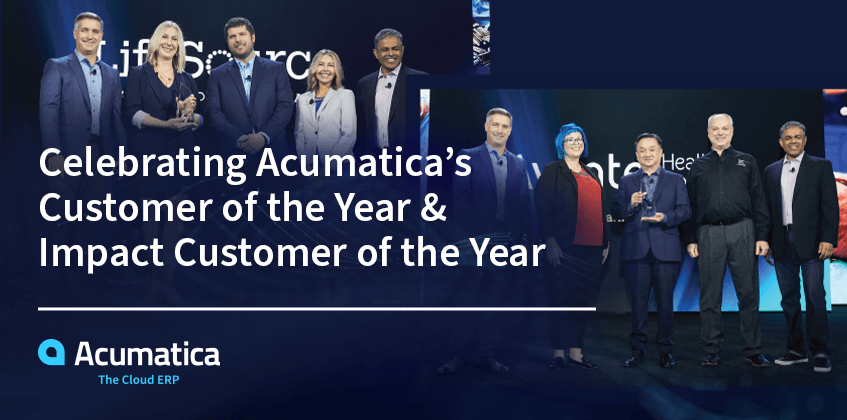 Almost two months ago, over 2,800 Acumatica customers, partners, developers, and media analysts assembled at the Wynn Las Vegas for Acumatica Summit 2023. We celebrated our customers' cloud ERP successes and discussed our vision for achieving success in the year—and years—ahead with our award-winning technology and strong community. And during the Day One Keynote session, CEO John Case introduced our community to our new Rallying Cry: "Building the Future of Business, Together."
The fact is, working together is not a new concept for Acumatica. From day one, we've consistently prioritized the needs and wants of our community members by including their feedback, experiences, and ideas into each innovative iteration of our cloud ERP solution. But as the future of business is always an unknown, we understand that it takes a special kind of community to succeed—a community like Acumatica's.
"Every company says they have a great community. Every company says, 'Ours is different. Our ecosystem is thriving.' And some of those stories stretch the truth," John said. "But, at Acumatica, that story is so real."
To highlight this truth, we recognized and awarded many of our members as Acumatica Cloud ERP 2023 Award winners for their wholehearted and outstanding contribution to Acumatica's success, and today, we're putting the spotlight on our Customer of the Year and Impact Customer of the Year winners.
Acumatica Customer of the Year: Avante Health Solutions
Avante Health Solutions is a leading, single-source provider of medical, surgical, diagnostic imaging, and radiation oncology equipment. From providing sales, service, and repair to parts, refurbishing, and installation, the company is dedicated to making it "easier and more affordable for every hospital, clinic, and medical practice to have the very best equipment, supplies, and service."
Avante began as eight independent divisions that, through a series of mergers and acquisitions, became one company. Prior to becoming a unified company, each of these divisions operated on individual ERP systems, leading to disconnected transactions and operational inefficiencies.
"We really needed a tool that would allow us to grow and become one Avante because if we can present ourselves as one Avante to our customers, then we are moving healthcare forward, and we are improving patient care," explained Amy Behl, Customer Administration Manager, during the Day One Keynote.
According to Avante CTO Khan Tran, Avante turned to expert and experienced Acumatica partner Kensium for help in implementing the right tool. Kensium CEO Paul Prickett described Avante's need to integrate its multiple operations as a "large, really complicated business problem" that would require collaboration between the two teams for it to be successful.
"One of the great things is right after the contract was signed, immediately, Avante started working to become subject matter experts in the Acumatica platform," Prickett said.
Prickett also noted that, when implementation challenges arose, the two teams came together to address and solve them.
That not only helped us get to the go-live but as we've continued to move forward for the last several years in continuing to imagine new ways that Avante can grow and leverage the Acumatica environment to really push their business forward.
Now, Avante's divisions are able to operate separately but also present themselves as one Avante with a holistic and unified view of the customer. They've streamlined their operations and processes, and in some cases, have achieved an over 50% efficiency gain. And Avante has also been able to tailor Acumatica's flexible, easy-to-use solution to meet the needs of its stakeholders.
Said Tran:
Acumatica was the catalyst that helped us to reimagine our business services to better serve our customers. With the introduction of this digital superstructure founded on Acumatica, we started our digital transformation journey with a single, consolidated system of actions, not just insight.
Avante's ongoing and successful digital transformation journey is just one of the reasons why John Case presented Avante with Acumatica's Customer of the Year award. The company's ability to use our solution to create significant business value combined with being a customer that greatly contributes to our community and that pushes us to be better also helped the company secure this prestigious recognition.
Thank you to the Avante team for helping us make the future of business a bright one!
Impact Customer of the Year: LifeSource
LifeSource is a leading Organ Procurement Organization (OPO) operating in Minnesota, North Dakota, and South Dakota. The non-profit organization facilitates organ, eye, and tissue donation between hospitals and transplant centers with the mission of saving lives and offering hope and healing.
According to CEO Kelly White, over 100,000 people are waiting for a lifesaving transplant—3,000 of which are in the company's Upper Midwest region. LifeSource works with grieving families through the donation process, surgically recovers the donated organs, and transports the organs to the recipients.
It's a complicated, detailed process that must be seamless, but the business management system the company was using had too many pain points. Matt Forse, Staff Accountant, explained what those pain points were during the Day One Keynote. "We were not able to access it remotely. The reporting capabilities were very limited, and the reports that we did have were not formatted very well. The user interface was also not very friendly."
Ultimately, the team knew they needed a cloud-based solution that could provide them with the features and functionalities they needed to successfully fulfill their mission. With the help of Acumatica partner Blytheco, LifeSource chose and implemented Acumatica.
Said Blytheco CEO Lori Seal:
We began our implementation journey with deep collaboration and respect for the process, knowing what was at stake. The team worked hard to gain all the value that we could from Acumatica's powerful platform. The result? A complete transformation of LifeSource's back office:  efficiency, automation, and visibility.
The whole team is enjoying faster approvals and payments due to automated document scanning and notifications. And they've logged some amazing efficiency statistics, including:
Reducing aged invoices over 90 days by over 50%.
Increased efficiency with Acumatica workflows by 33%.
Improved automation and data entry efficiency by 40%.
"Acumatica has saved us so much valuable time," Forse said. "The ability to access it on the cloud has been a huge game changer for us."
Because of its success with Acumatica, the LifeSource team highly recommends our cloud ERP software to other companies trying to decide which ERP solution to choose. Said White:
The best part about it is there were no tears during implementation, so if that doesn't tell you that Acumatica is amazing—and Blytheco is a great partner—then I don't know what does.
She added, "The other piece is the affordability, and I know that Acumatica will continue to innovate so we can focus on what we do best, which is saving lives."
Saving lives and making a huge difference in their community is why LifeSource is Acumatica's Impact Customer of the Year. As John Case noted during the award presentation, "We're so honored at Acumatica to be able to participate and support organizations like LifeSource."
Celebrating Customer Achievements Every Day
Though Summit allows us to celebrate customer achievements live in front of the Acumatica community, we don't limit our celebration to just a few days out of the year. Every day, we acknowledge the vital contributions our customers make to our success, and we work diligently to provide them with the most advanced, comprehensive ERP solution that will let them focus on meeting their goals—not their technology—year after year.
Jon Reed, blogger/analyst and digonomica co-founder, addressed this very topic in a recent article. In it, he asked whether ERP solutions—like Acumatica—help companies serve their customers better, and after speaking with both LifeSource and Avante team members at Summit, he got his answer.
"Is LifeSource serving customers better with modern ERP—even if they have a lot more they still want to do with Acumatica? The answer is definitely yes. The LifeSource team gave me examples, including getting invoices approved faster, signing checks and managing payables remotely—even while at Summit," Jon writes.
As for Avante, Jon got an affirmative vote from them, as well. "Yes, I also asked Avante Health team my ERP customer value question. One example they gave me? The speed and efficiency of financial audits—freeing up time for value-add projects."
Reed provides additional examples, but it's clear that Acumatica's modern cloud ERP solution helps our customers serve their own customers well and achieve tangible success. Congratulations again to Avante Health Solutions and LifeSource for their well-deserved awards, and we're excited to build the future of business together.
For more information about our customer-focused cloud ERP software and our growing community, contact our experts today.