Over the past several years, we have evolved the Acumatica Summit to make it a vital place for connection. It's where our Community members engage with and learn from one another. It's where we showcase new innovations and share our vision for the future of business technology.
For the recently concluded Acumatica Summit 2023, over 2,800 attendees joined us in-person at Wynn Las Vegas, and over 1,000 watched online, as we kicked off a new year of innovation and collaboration. The Marketplace was packed with a record number of partner booths, and over 90 breakout sessions provided training, details, and insights about Acumatica features.
At Summit 2023, we celebrated our Community by presenting awards and recognizing successes. We discovered best practices, new software enhancements, and exciting knowledge and resources. And we imagined where technology will take us, and where we will take technology, in the future. Let me share some of the highlights with you.
Celebrate: The Acumatica Community
During the Day 1 Keynote Presentation, John Case shared that, as CEO, he quickly discovered something special about the Acumatica Community.
"Every company says they have a great community. Every company says, 'Ours is different. Our ecosystem is thriving.' And some of those stories stretch the truth. But, at Acumatica, that story is so real," he said.
John introduced our new Rallying Cry, "Building the Future of Business, Together," which reflects our Community's unique commitment to customer-driven innovations that address real-world needs.
This Community-led approach spurs significant growth. In 2022, Acumatica "flew past the 10,000-customer milestone," which was reflected in:
132 million+ logins.
840 million+ transactions.
$250 billion+ dollars transacted.
All this was delivered with no security breaches and 99.999% uptime.
The Day 1 Keynote Presentation also included an announcement of our revised and updated Customer Bill of Rights, outstanding customer interviews and panels featuring Inspirus, as well as our Customer of the Year, Avante Health Solutions, and Impact Customer of the Year, LifeSource, and more.
Discover: Acumatica 2023 R1
The Day 2 Keynote Presentation, which focused on our product portfolio, highlighted the active role our Community plays in product development. Ali Jani noted that Acumatica relies on customer feedback to make informed decisions on new product capabilities. This "customer-driven innovation" is based on understanding what businesses are looking for and responding to their needs.
In the 2023 R1 release (coming in April, with the beta version available now!), Acumatica is helping customers address real-world needs by:
Empowering users with exceptional usability.
Evolving businesses with an intelligent platform.
Dominating vertical segments with industry-focused functionality.
Continuing the Day 2 Keynote Presentation, Doug Johnson, Acumatica's VP of core product management, brought 2023 R1 capabilities to life, demonstrating greater efficiencies, enhanced clarity, and new features based on feedback from customers (like Deslaurier and Curran).
Acting on customer input and solving real-world problems also drove key updates to our Acumatica Industry Editions. The Day 2 Keynote Presentation highlighted examples of these enhancements, like the new MRP Display Screen side panels we've added to our Manufacturing Edition (based on feedback from Keynote participant Fabuwood); improvements to the reporting functions in our Construction Edition, which draw on ideas from innovative customers like Spohn Associates; enhancements to our Distribution Edition based on feedback from Dakota Red Corporation and Keynote participant Jeffree Star Cosmetics; and exciting Retail upgrades based on feedback from Opus Art Supplies and American Meadows.
As if all these improvements weren't enough, Ali Jani announced our Experimental Release features, which users can test and review. We'll apply your feedback to perfect these features, including Special Orders, SendGrid Templates, and a transformed Microsoft Teams integration. The program also introduces Acumatica Payments, a modern approach to the ever-changing payment landscape, which will be available in the second half of 2023.
Imagine: A Future-Focused Community
Each of the keynotes provided a vision of the future and how innovations and advances in technologies can empower organizations and individuals alike with intelligence and data to be more productive and to imagine new possibilities. The transformative power of technology is made more impactful through a community-led approach to innovation where new features and capabilities are driven by the input of customers, partners and users to address real-world needs. This theme was prominent in the vision discussion on Day One with John Case and Ali Jani, it was seen in the Day Two Keynote focus on new features in 2023 R1 and throughout the individual Summit Breakout sessions.
The Summit Experience
Acumatica Marketplace
The hallways of Wynn Las Vegas were brimming with activity throughout Summit—especially in the expanded Marketplace.
With a record number of booths populating two large ballrooms, our Acumatica Marketplace was the center for both business and social activity. This year's event also included new and instantly popular activations within the Marketplace, like the Joe Gibbs Racing's Acumatica-sponsored NASCAR activation, where attendees had the opportunity to change racing tires and experience a simulated run around the track; the professional portrait booth (including hair and makeup); and three Sponsor Showcase Theaters, where Acumatica ISVs delivered compelling presentations throughout the event.
Enjoying the Summit Experience
Lest we give the impression that Summit is all work and no play, here's a look at the fun social events Summit attendees enjoyed.
Our Sunday evening Welcome Reception saw customers, partners, developers, and analysts enjoying one another's company while exploring the Acumatica Marketplace. Our Acumatica 2023 MVPs were also recognized.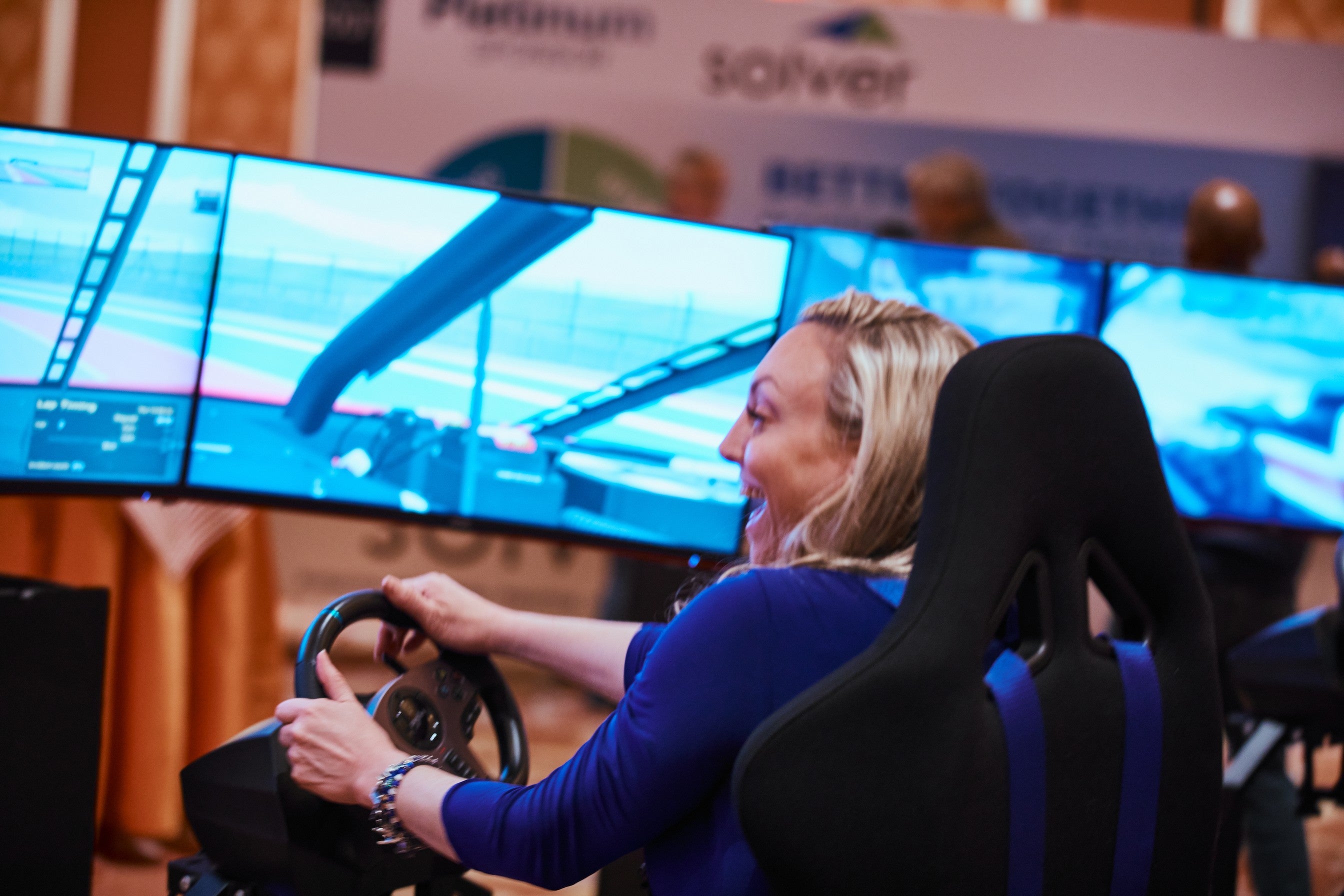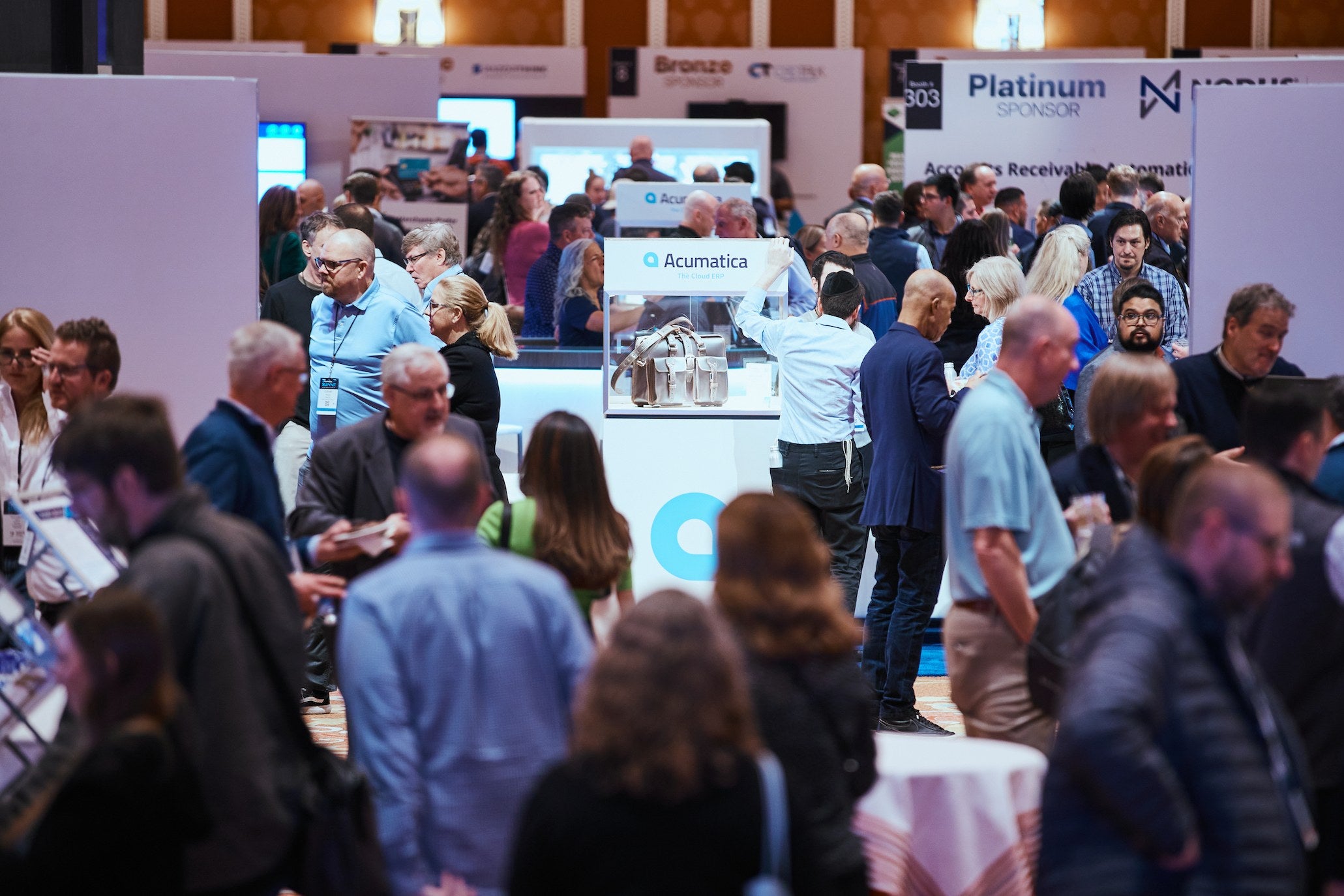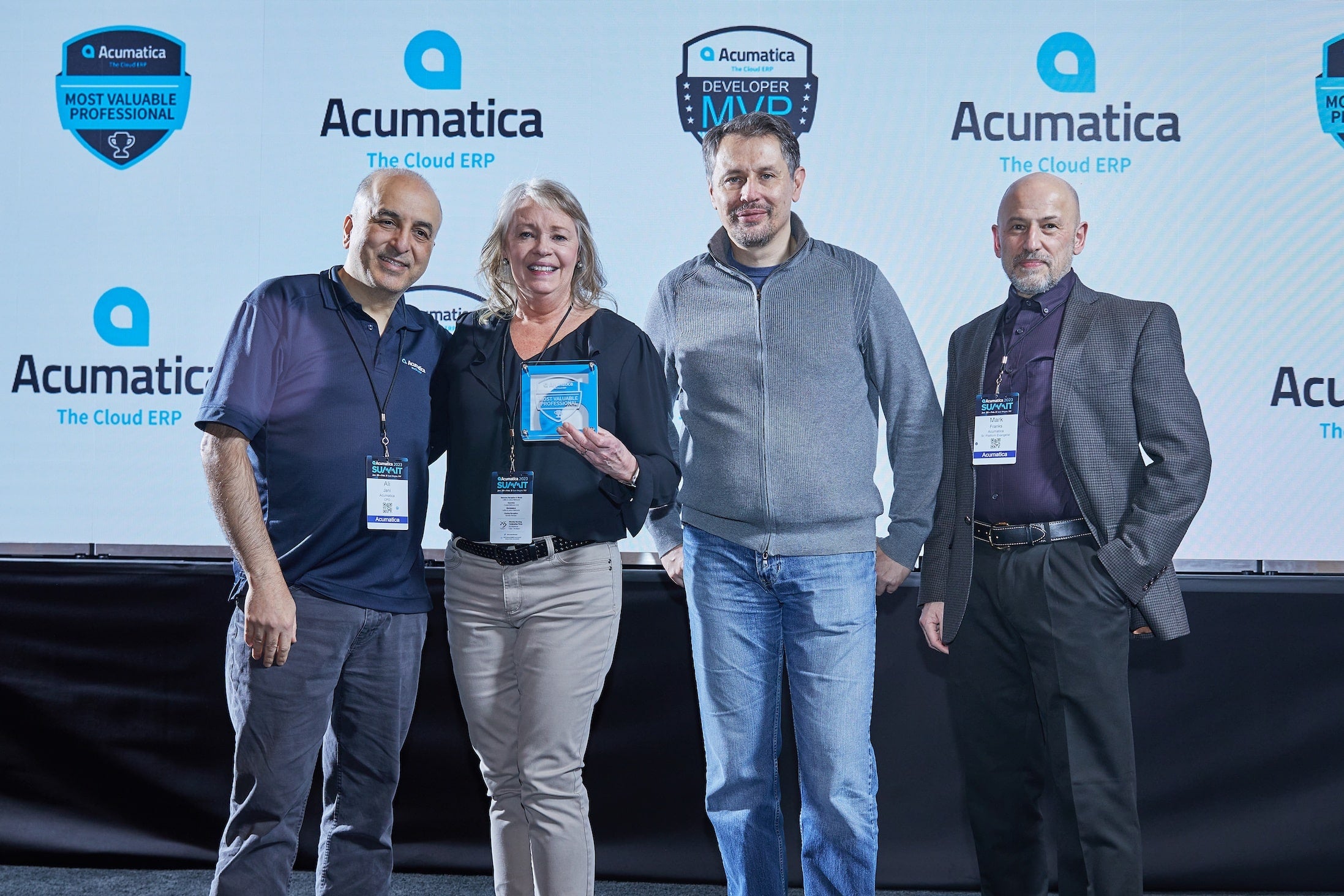 Monday afternoon and evening, the Women in Tech Luncheon and our all-new Women in Tech Networking Workshop and Reception overflowed with attendees eager to hear what Nada Lena Nasserdeen—bestselling author, TEDx speaker, and founder of Rise Up For You—had to say about being heard, seen, and relevant in the workplace. Attendees also had fun testing out her networking tips in real-time.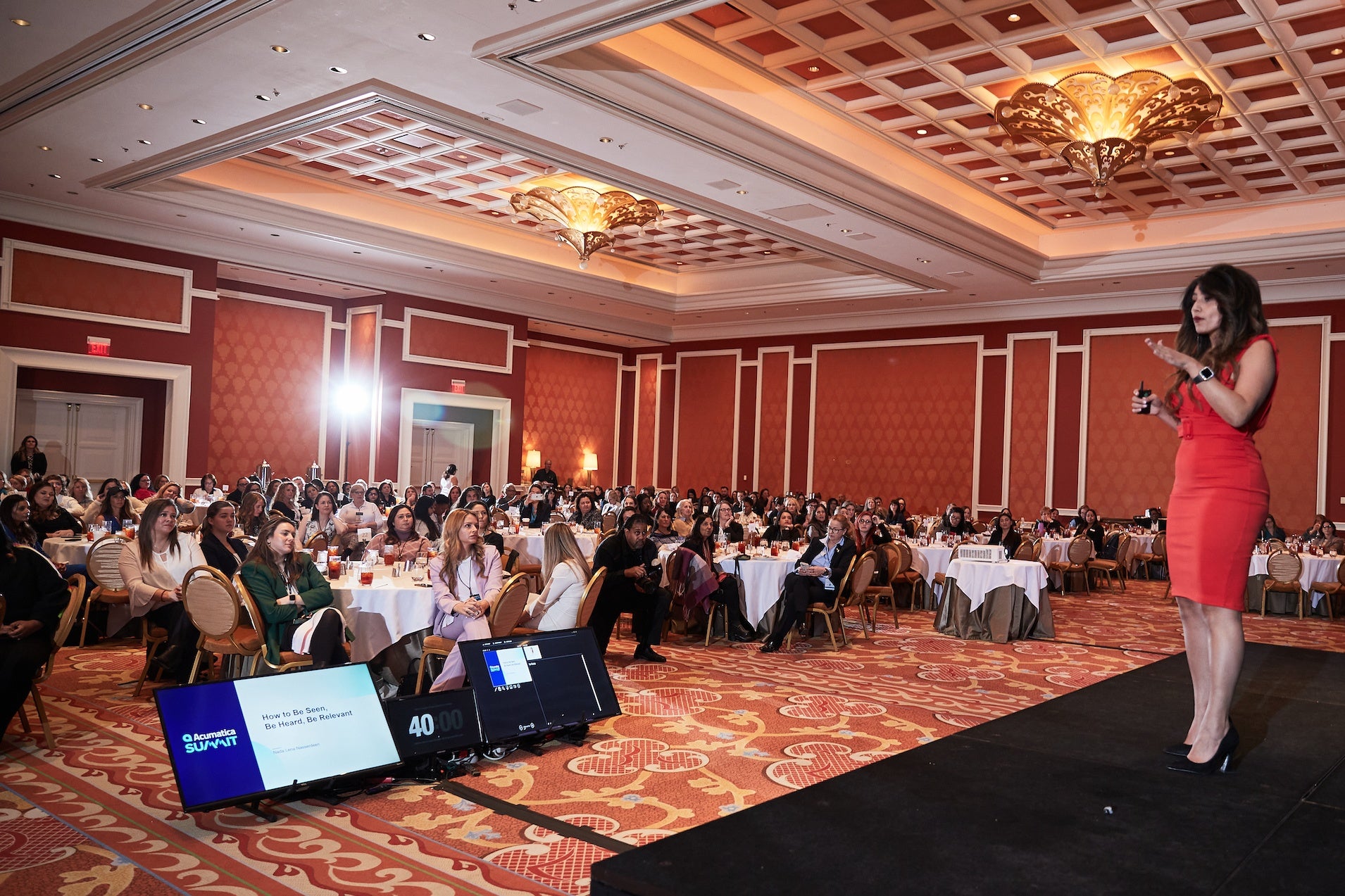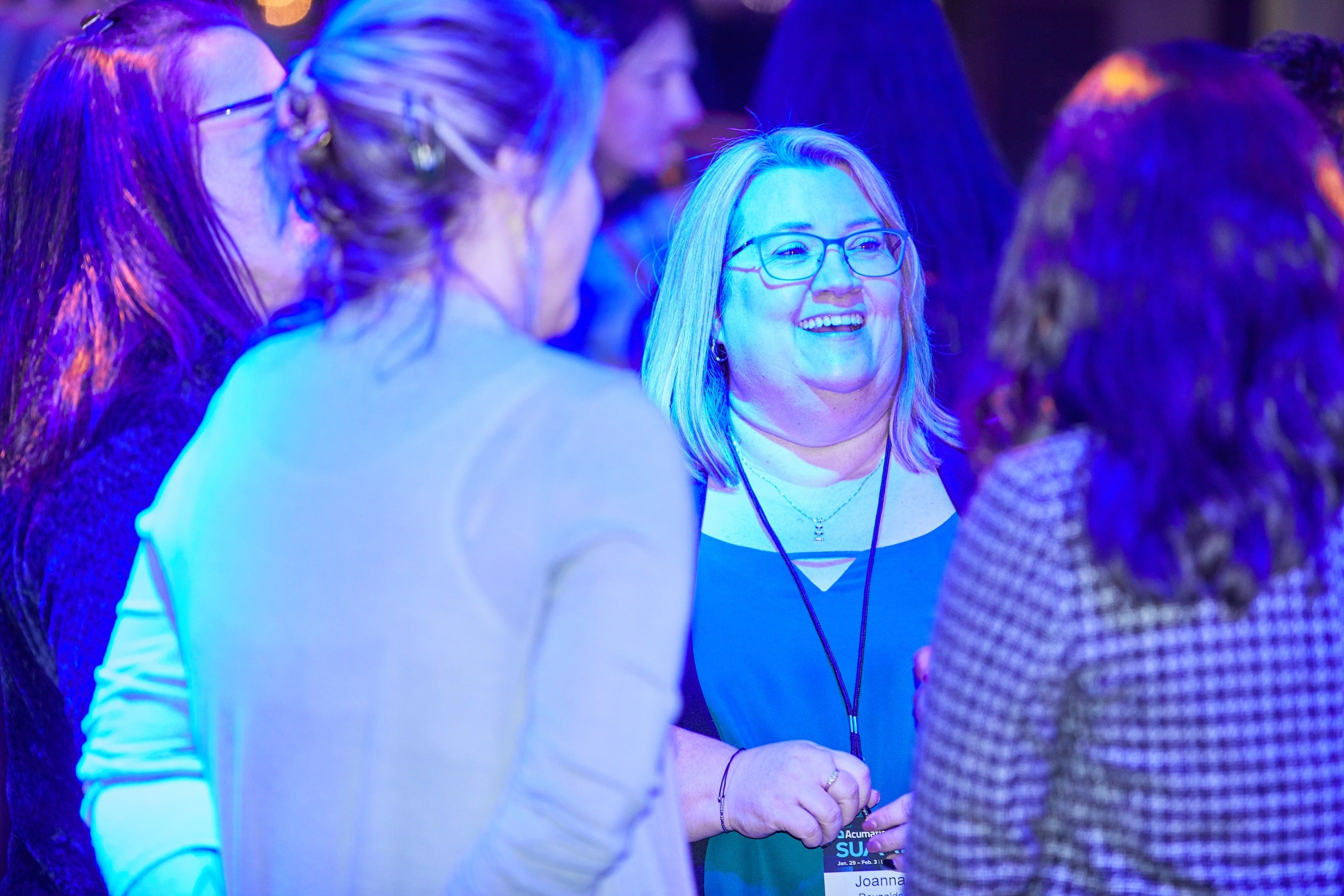 On Monday night, after a day of detailed and inspiring breakout/training sessions, Summit attendees filled Wynn's XS Nightclub, where they danced the night away to DJ Kara's mixes at the Summit Celebration Party and Dinner.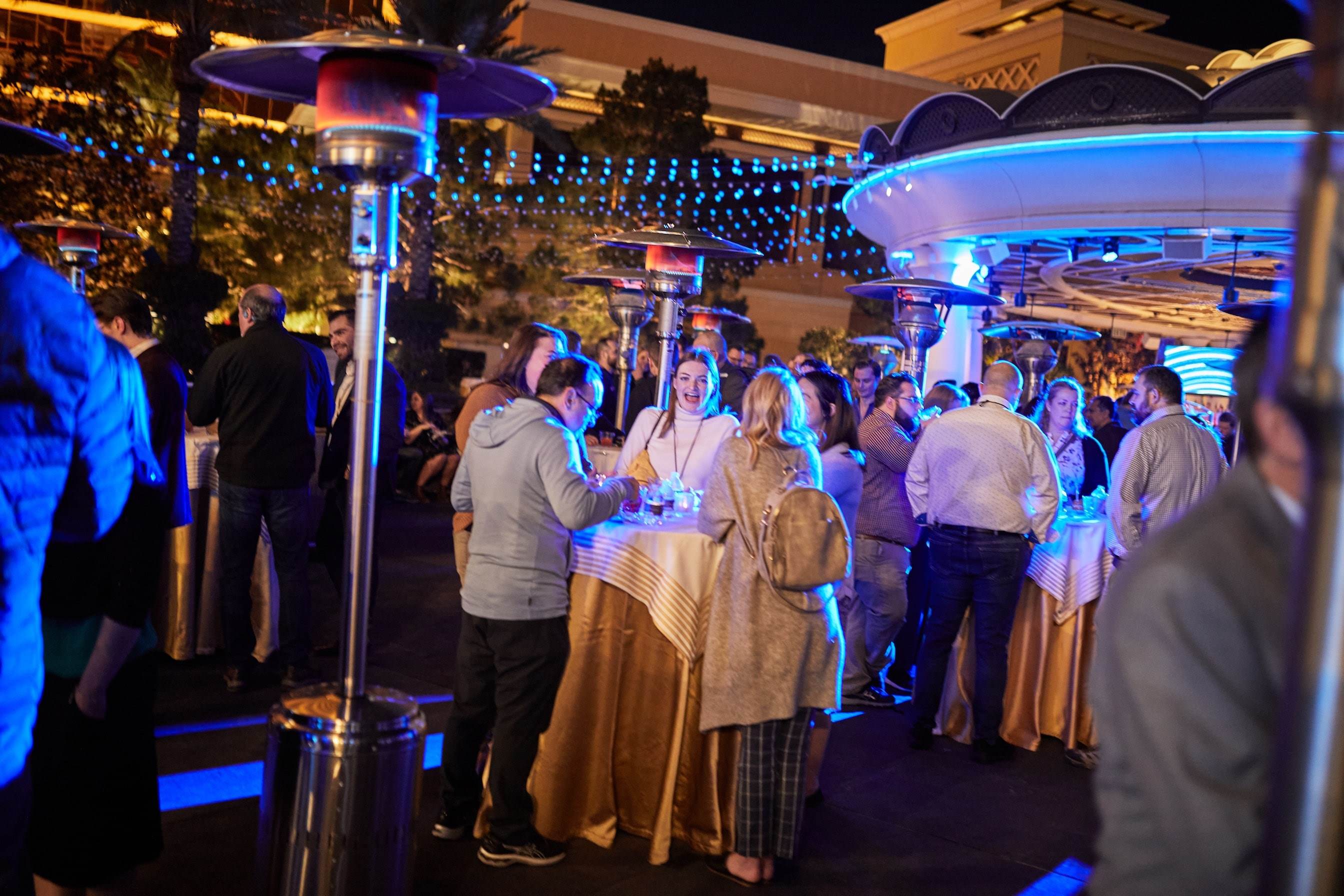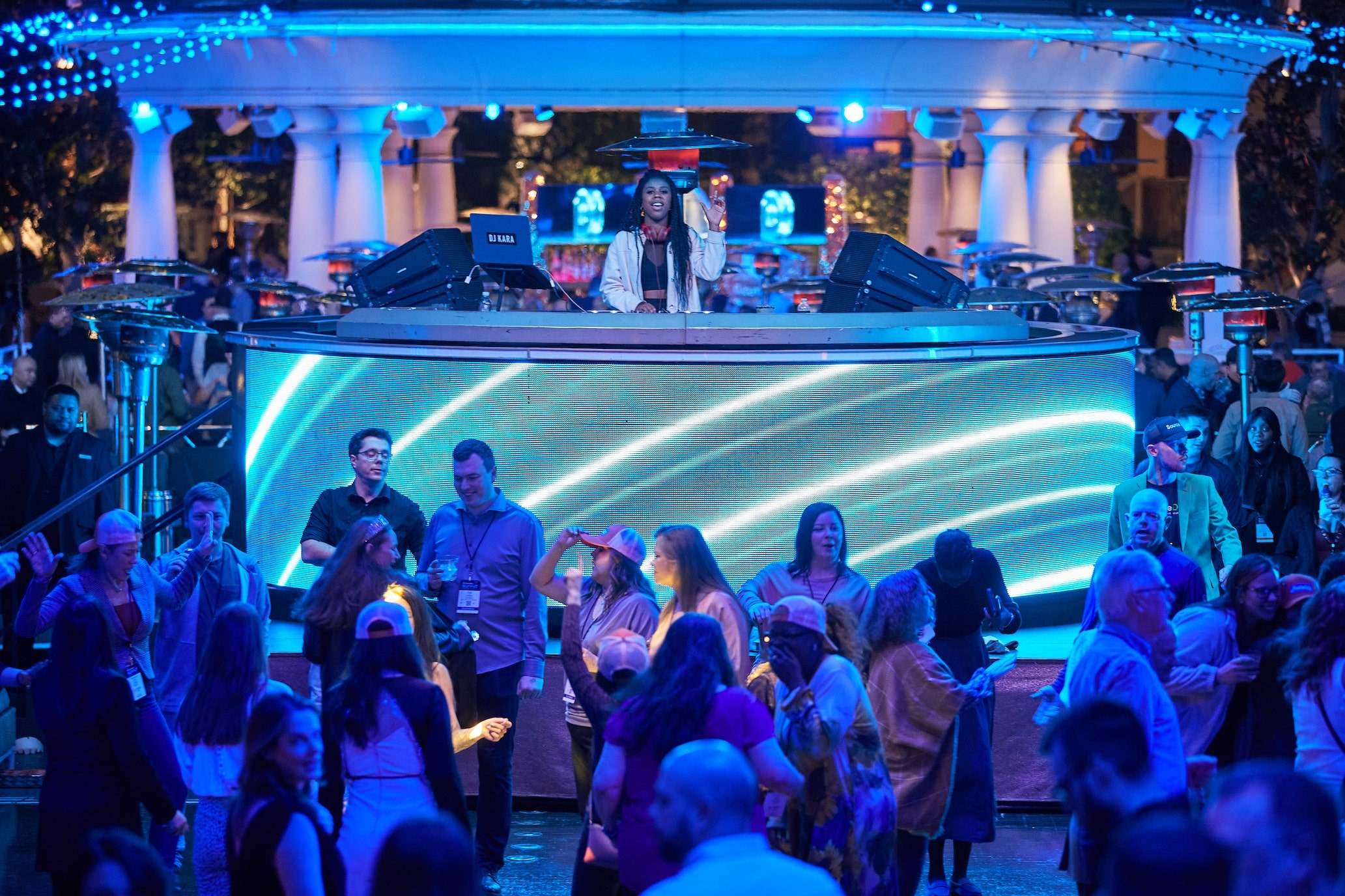 Our second-annual Closing Reception was a huge hit as attendees gathered once more to visit the Marketplace, network with peers and the Acumatica executive team, and enjoy live music and delicious food and beverages.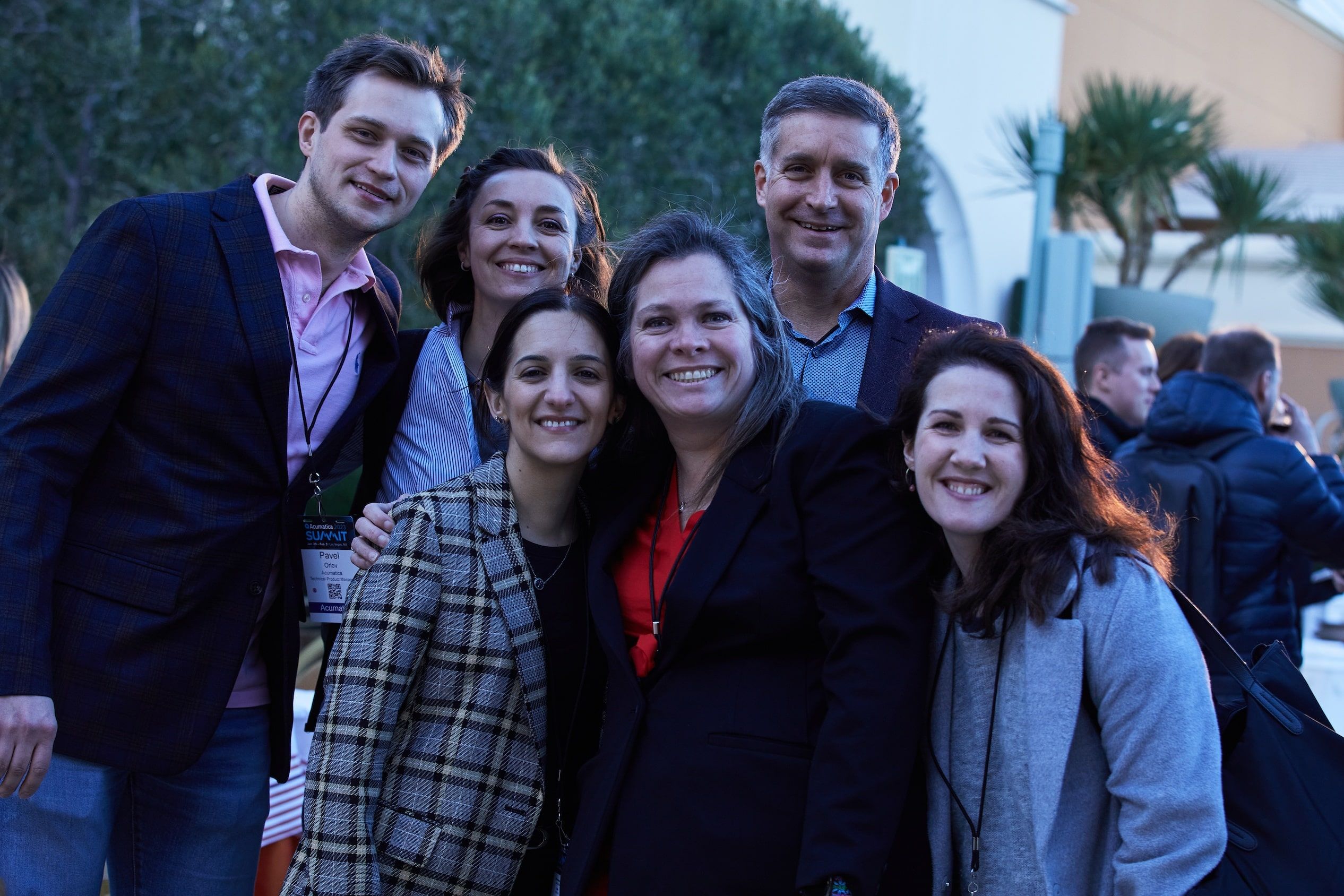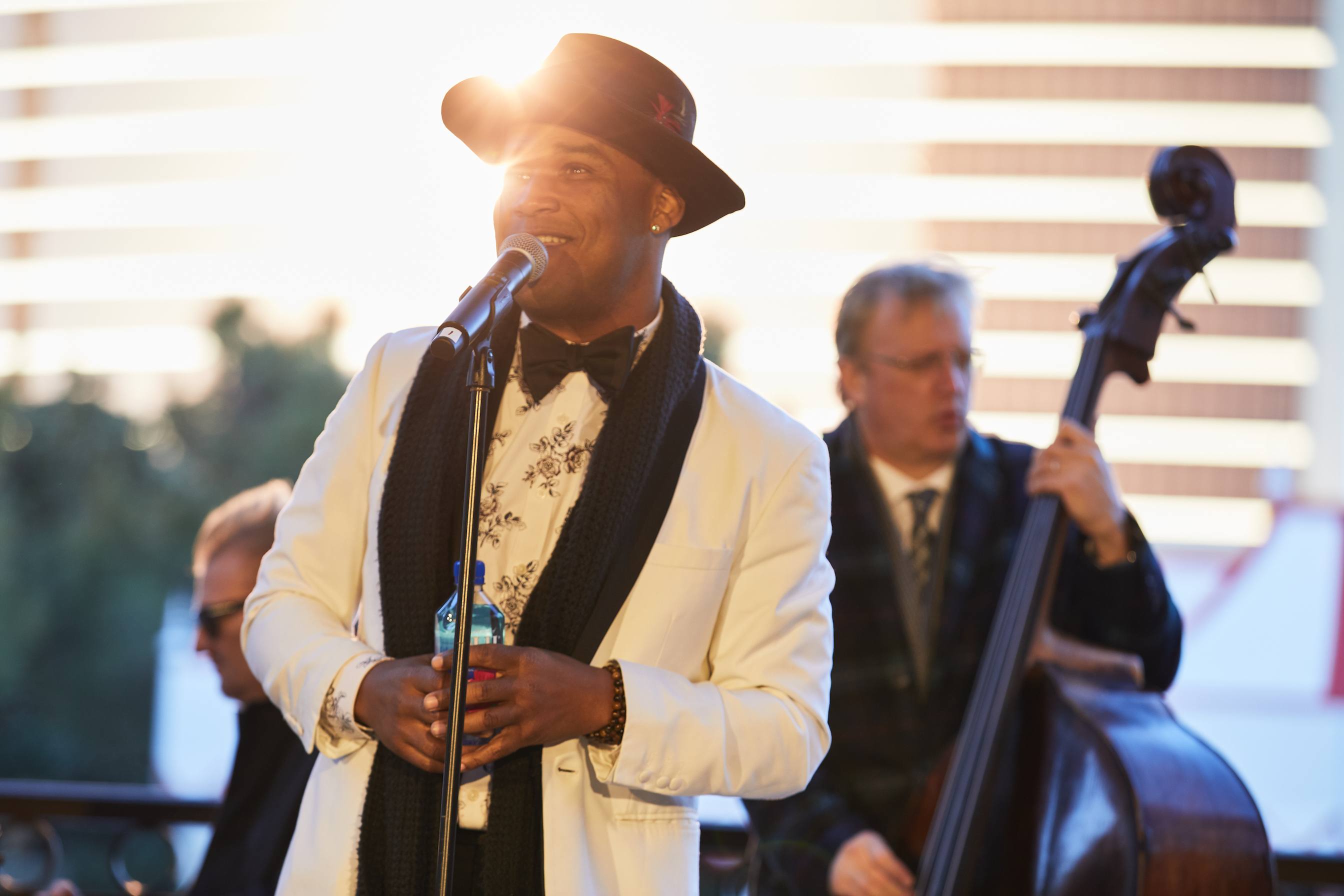 Growing with Acumatica in 2023
As John said, Summit "is the culmination of everything that makes Acumatica unique." We can't thank our attendees, award-winning partners, and Summit 2023 sponsors enough for making this another exceptional event.
The Summit 2023 Keynote Presentations are available for on-demand viewing. We hope to see you all at Acumatica Summit 2024 (January 28–31, 2024) at Wynn Las Vegas.
Contact our team today if you're interested in joining the Acumatica Community and/or learning more about our award-winning cloud ERP software. Our experts are always ready to answer questions or schedule a demonstration.