Acumatica Developers will find there are many things to love about attending Acumatica Summit 2020. Acumatica's Mark Franks discusses the three he believes dominate the rest.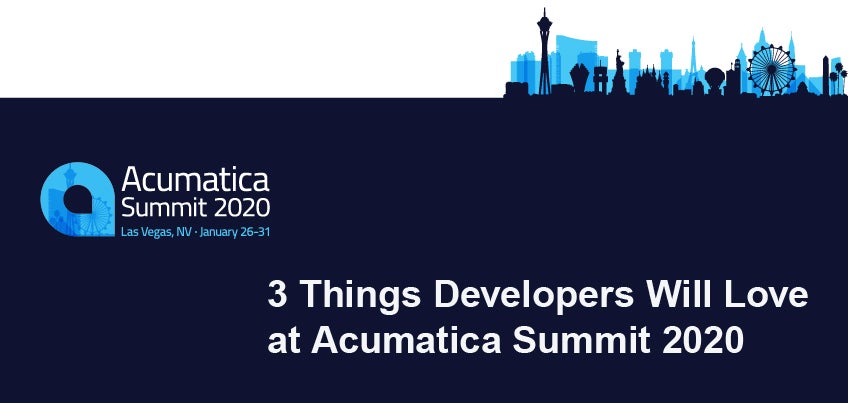 One of the best things about working at Acumatica is the emphasis on community development. Every team member is encouraged to connect with and support others within the community, and as Acumatica's Platform Evangelist, my job perfectly aligns with this goal. I have the pleasure of extolling the amazing benefits of the Acumatica cloud xRP platform and aiding Acumatica developers in learning all they need to know for building great solutions for their company and customers. To accomplish this, I always recommend they attend our annual Summit and registration for Acumatica Summit 2020—coming January 26-31, 2020 in Las Vegas, Nevada at The Cosmopolitan of Las Vegas—is already open.
Attending Acumatica Summit 2020 is the perfect opportunity to focus exclusively on Acumatica's cloud ERP solution within a fun and supportive environment. Today, I'll share the top three things I believe Acumatica developers will love about the Summit, starting with our fourth-annual Acumatica Hackathon 2020.
Acumatica Hackathon 2020
Acumatica's now four-year-old Hackathon has come a long way. We started with a group of 60 participants made up of developers, partners, customers, and Acumatica team members who had only four hours to come up with applications for the Acumatica xRP platform that helped solve real-world business scenarios. With the help of an Acumatica subject matter expert (SME), the teams produced some great solutions to increase our platform's functionality.
The success of the Hackathon led to an improved version, including more time to complete projects. As in the previous two years, Acumatica Hackathon 2020 will give teams (which are put together in advance) 24 hours to work on their applications. Teams are encouraged to start brainstorming way before the Hackathon commences (this year's start date is Saturday, January 25 at 2 pm) as competition is fierce, with many working until midnight or later and returning on Sunday at 10 am to make their application the best of the best.
Judging takes place at 12:30 pm by Acumatica executive team members. The winning team will receive recognition by VP of Platform Strategy Ajoy Krishnamoorthy and Acumatica CEO Jon Roskill during the Tuesday Keynote, have their project published in GitHub, enjoy bragging rights, and have their names inscribed on the handcrafted ADN Hackathon Cup (introduced last year!).
Every year, we see more and more participants, including the number of women developers. In fact, we've had some calling for a women-only team (or teams), upping the excitement and competition even more.
Registering early ensures that developers not only have a reserved spot in the Hackathon but have plenty of time to think up some unique ideas for their developer applications. It will also mean taking advantage of our early bird pricing (ending in early November) and our negotiated hotel guestroom rate (limited availability).
As you can see, the Hackathon is my number one reason developers will love attending Acumatica Summit 2020, but I have two more, both revolving around our dedicated Developer Track.
Developer Track: General Session
Starting on Monday, January 27, 2020, the Acumatica Summit 2020 will open with our huge Solutions Showcase, where attendees can meet face-to-face with Acumatica ISVs and discuss how their solutions extend Acumatica's already comprehensive cloud ERP software, followed by the Day One Opening Keynote. While these are both incentives to attend, our dedicated Developer Track puts the cherry on top.
The Developer General Session is for all developers. We don't separate by industry, opening the door to gaining insight from developers across the board who may use Acumatica's cloud xRP platform in ways that can benefit other developers. Developers will also hear Acumatica CTO Mike Chtchelkonogov discuss Acumatica's platform and technology investments and find out who won the coveted "Developer of the Year" Award.
Developer Track: Breakout Sessions
On both Day One and Day Two (Tuesday, January 28, 2020), developers can attend developer-focused Breakout Sessions. We will have some returning sessions, such as our Framework Session, Open API with Web Services Session, and our Lightning Sessions (presentations done TedTalk-style), all presented with a fresh take. We pride ourselves on not providing cookie-cutter information and supplying our attendees with new, interesting topics and sessions every year.
One new session this year is our Developer Open Discussion session. It's a "birds of a feather" or BoF session where developers are free to gather into groups and discuss any developer-related topics, such as Acumatica's platform or Visual Studio/language topics, and have access to Acumatica engineers, support people, and code writers while doing it. We may provide three starter questions to get things moving, but this session will open the door to networking and learning directly from experts as well as will allow developers to offer feedback and ask questions.
Acumatica developers can expect in-depth and up-to-date information about Acumatica's cloud ERP platform from all the Breakout Sessions, including best practices and programming techniques. The details are being worked on as we speak, so stay tuned for more information coming soon.
Love for Acumatica Summit 2020
Unlike many other cloud-based ERP vendors, Acumatica understands that our developer audience is not only growing but deserves the same importance we place on our customers and partners. As such, we continue to work on meeting their unique needs through developer-specific content and resources and Acumatica Summit 2020 promises to be a superb event.
And I don't want to forget our incredible Training Sessions. They take place on Wednesday, Thursday, and Friday and address practical, real-world and technical scenarios developers can use to increase their success.
I encourage our developer community to register for Acumatica Summit 2020. While Acumatica has other great events, such as the Cloud xRP Summit—a deep diving virtual developer conference now available on demand, which offers developers fundamental and advanced content from the comfort of one's home or office—the Summit provides developers with a face-to-face, in-person experience they'll love as well as provides them with a place to make their creative mark.
If you can't tell, I'm excited for this year's Summit, and I look forward to seeing you there!
For any questions about attending Acumatica Summit 2020, please contact our team directly. And for anyone desiring to become a Summit sponsor, please contact our sponsorship team at sponsorships@acumatica.com.