Acumatica's recent series of posts focused on the top technology challenges of the Modern CFO have now been combined into one complimentary eBook. Download it today and learn strategies for overcoming these challenges.
We're in the midst of an extensive series covering the top technology challenges of the Modern CFO, including KPIs & reporting, planning for growth, communicating financial information, achieving auditability and handling compliance (and more topics are to come). Because Acumatica is all about usability, we've decided to compile the posts into a single, comprehensive, and free eBook, which is available to download right now.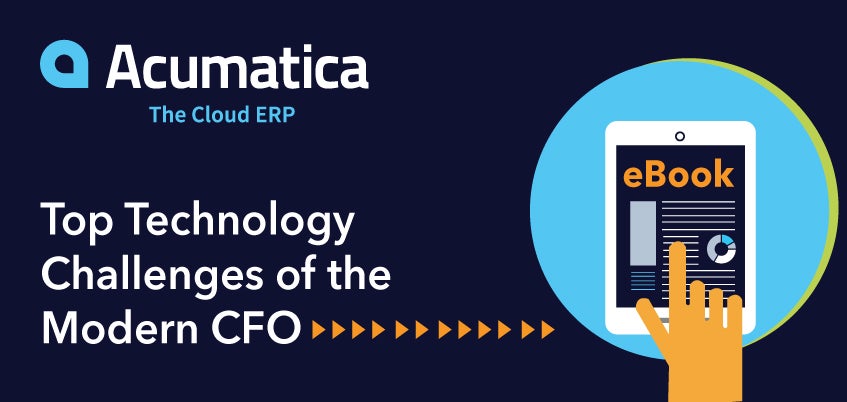 Summary of the Modern CFO eBook
Let's take a brief look at what's covered in the Modern CFO eBook.
KPIs & reporting: Technological advances have created new expectations for every business and for every Modern CFO. They need to not only make sound business decisions, but they need to be able to do so quickly. The right financial software with key performance indicators (KPIs) can provide the data, as well as the drill-down capabilities, they need to succeed. Additionally, the ERP software should also provide the financial reporting and analytical tools to track the data in a way their specific business can use.
Planning for growth: The Modern CFO sees Growth Strategy as one of their top priorities. With business accounting software becoming more sophisticated, they have the tools required to affect change leading to growth. However, just having financial reporting and analytical capabilities doesn't automatically ensure success. Every person in the organization needs to be on board.
Communicating financial information to non-financial people: The role of the Modern CFO and his team is changing. Effecting procedures and controls, delivering information, connecting data from disconnected systems, managing version control, and more are all necessary functions. These activities must make sense, and be applicable, to everyone in the organization or these efforts may be for naught.
Achieving auditability: Audits are a reality, and it's within the Modern CFO's power to make them as easy as possible. How so? By increasing your level of auditability with effective, modern financial management software.
Handling compliance: Staying abreast of laws, regulations, and industry standards is a major concern of the Modern CFO, and a time-consuming one at that. CFOs of SMBs may lack the resources of their larger counterparts to deal with these compliance issues and feel they can't compete. There are steps these smaller organizations can take to overcome these seeming limitations, including (but not limited to) proper training, staying current with statutes and industry standards, and investing in a cloud ERP system.
Keeping your company's data secure: From compliance to data security, the Modern CFO has a full plate. He or she is responsible for staving off cyber-attacks—and even internal attacks—on the company's sensitive financial information. How can CFOs control this high-risk situation? What happens if they don't? These attacks aren't going away, and every organization will need to take measures to combat them.
Artificial Intelligence and Machine Learning: The advent of Artificial Intelligence (AI) and Machine Learning (ML) has given the Modern CFO resources their predecessors could only dream about. Analyzing data from every aspect of the business, and doing so quickly, leads to faster, deeper insights and better decision making. They also provide increased efficiency with automation, insight into future trends, the ability to identify patterns in performance, and much more. AI and ML paired with the right ERP software is necessary for today's CFOs.
Download the Modern CFO eBook today
As you can see, these Modern CFO challenges effect every organization and every industry. If you download our complimentary eBook, you'll have access to all seven posts in one place, each one delivering deeper information into the measures and the technology that will help you address these challenges effectively.
You're also welcome to contact our team directly with any questions or to request a demonstration of our cloud ERP solution, including our Acumatica Financial Management edition and our Reporting, Dashboards, and Data Analysis Toolkit. We're here to help you overcome these challenges and succeed. And you can visit our knowledge base of ERP software selection resources to find FAQs, checklists, whitepapers, and more to help you select your next ERP system.