Your payroll options are no longer limited to two. According to Acumatica's eBook, outsourced solutions and industry-specific systems can now be replaced with online and configurable payment management solutions, like Acumatica Payroll.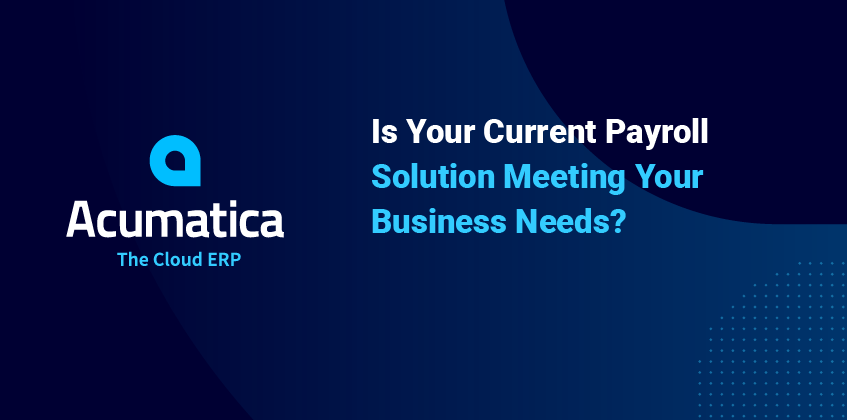 As a small to medium-sized business (SMB), you know payroll can be complex and time-consuming—especially if you have a solution that can't keep up with your changing needs. In Acumatica's eBook, Is Your Current Payroll Solution Meeting Your Business Needs?, you'll learn that suffering with traditional payroll solutions is unnecessary when a comprehensive, cloud-based, and seamless payroll module, like Acumatica Payroll, can streamline and simplify your payroll efforts.
Why outsourced and in-house aging payroll solutions are not the answer
You've heard there's safety in numbers. People take it to mean that, statistically, the chances of an individual suffering a mishap go down when part of a larger group. Unfortunately, this theory is not always true. For example, even though you're surrounded by many other SMBs that are doing exactly what you're doing—outsourcing their payroll obligations or using an industry-specific system—your business and their businesses will all experience challenges. No one is exempt.
The eBook breaks down these challenges by payroll option.
Businesses using the Outsourced Service Provider option, while able to reduce the stress of filing and remittance, must still capture time, code payroll to the proper categories, and track changes in employee status/pay rates within their accounting software. Additionally, they have costs associated with retaining a payroll provider and maintaining an accounting department for administrative tasks.
Businesses utilizing In-House Old Technology usually have more complex payroll requirements. This option provides its own set of challenges centered around its lack of functionality, accessibility, and usability.
Thankfully, these two payroll options are no longer running the show. The eBook highlights SMBs' third, comprehensive option: Online and Configurable. "[It] is time to reconsider not just the best way to manage payroll, but to look beyond payroll to the reporting and operational needs of the entire business. With the advances in programming capabilities, remote access, and user expectations, it is time to look for payroll features that are part of a complete, end-to-end solution."
The eBook provides 12 reasons why and how cloud-based, seamless payroll management software transforms the way payroll obligations are handled. The first six are listed below.
Flexibility
Agility
Integrated
Timely
Accurate
Automatic
The final six cover the benefits in cost, accessibility, and mobility, and the benefits from the seamless flow of information, data in real time, access to certified payroll reports, multi-state/multi-entity capabilities, and more.
Acumatica Payroll for all
As a complete payroll solution, Acumatica Payroll is designed to meet the simplest and the most sophisticated of payroll needs. You'll learn more when you download Is Your Current Payroll Solution Meeting Your Business Needs?, but here's a quick recap of how Acumatica Payroll can help you simplify your payroll setup, processing, and reporting:
Pay employees via check or direct deposit
Automatically pull time entry data entered into Acumatica Employee Portal into the payroll system
Eliminate the cost of maintaining an interface to an external payroll system
Experience a seamless flow of time data across Acumatica financials, project accounting, costing, business intelligence, distribution, manufacturing, construction, and field service
Process payroll anywhere
Streamline government taxes, forms, and reporting
And that's not all. You can set up multiple pay groups, employee classes, tax rates, overtime rules, and deductions and benefits directly within the system.
Here's what Acumatica customer Sam Fisher of Fisher Brother Exteriors had to say about his experience with Acumatica Payroll. "With Acumatica Payroll, processing is streamlined from start to finish, and we have access to real-time labor costs as part of job costing to make smart, strategic decisions."
For more details, download the eBook and check out the Acumatica Payroll page. You're also welcome to contact our team with any questions about our cloud ERP and payroll software.